Discover more from Rationalist Judaism
Exploring the legacy of the rationalist Rishonim (medieval sages), and various other notes, by Rabbi Dr. Natan Slifkin, director of The Biblical Museum of Natural History in Beit Shemesh. The views are those of the author, not the institution.
Over 4,000 subscribers
The Things We Discussed in 5781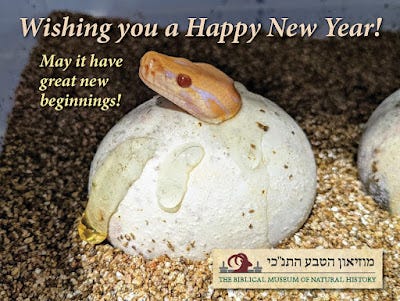 It occurred to me that by expanding the links on the right, I could create an index of all the posts on this blog this past year. The major topic was Coronavirus and the various theological and societal Orthodox Jewish responses, along with the Meron tragedy, both of which had significant connections to the rationalist vs. non-rationalist perspectives. Other significant topics were the Gaza War, different types of UnOrthodox Jews, supporting people in kollel, elections, and trying to understand partisanship and various other biases. Then there were the usual eclectic range of topics, from leviathans to locusts to the Karate Kid to Noah's Ark. I hope that you gained from these discussions, and if you'd like to express your appreciation and help support inspiring and educating people about the relationship between Torah and the natural sciences, please make a donation to the Biblical Museum of Natural History at this link. 
Wishing you all a sweet, happy, healthy, and successful new year, and may we all be inscribed in the Book of Life!