Discover more from Rationalist Judaism
Exploring the legacy of the rationalist Rishonim (medieval sages), and various other notes, by Rabbi Dr. Natan Slifkin, director of The Biblical Museum of Natural History in Beit Shemesh. The views are those of the author, not the institution.
Over 4,000 subscribers
Rambam, Aristotle, and Creation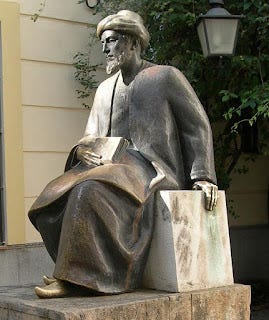 Rabbi Chaim (Howard) Jachter recently published a book called Reason to Believe. I haven't seen it, but someone sent me a few pages of it in which he discusses various approaches to Torah and science, including my own. While I greatly value Rabbi Jachter's writings in general, and I am honored that he engages in a serious presentation of my views, there is an unfortunate serious distortion of my position, which I would like to correct.

Rabbi Jachter writes that "a primary source" for my approach is Rambam saying that he would have accommodated Aristotle's eternity of the universe, had it been proven. In fact, I did not refer to any such statement by Rambam. And with good reason - he says no such thing!

According to the Rambam (Guide 2:25) only Plato's view (that the universe was created from timeless matter) could theoretically be brought in line with Torah. Rambam admits that the verses of the Torah could also be theoretically reinterpreted according to Aristotle (who maintains that the universe always existed in its present form), but he says that such an accommodation would be impossible, due to the fundamental theological incompatibility of Judaism with the Aristotelian worldview.

Incidentally, R. Jachter is not the only person to misunderstand Rambam's position here; I have seen Prof. Nathan Aviezer make the same error. And there are, of course, those who claim that Rambam secretly really did accept Aristotle's approach, despite his vehement stated opposition to it, but personally I have no patience for such Straussian quasi-conspiracy theories (notwithstanding the claims by certain maniacal zealots that I subscribe to such things).

So, that was not the source in Rambam that I based myself on, because it does not exist. Instead, the source in Rambam that I used was Rambam explicitly saying that the account of creation is not all to be interpreted literally, and his cryptic statements which his interpreters revealed to mean that he held that the Six Days were not actually periods of time.

Note that there is a world of difference between this and the Straussian approach of claiming that Rambam was a secret Aristotelian. With regard to the nature of the account of the six days, Rambam openly states that he is presenting his view in a cryptic manner:

"The following point now claims our attention. The account of the six days of creation contains, in reference to the creation of man, the statement: "Male and female created he them" (i. 27), and concludes with the words: "Thus the heavens and the earth were finished, and all the host of them" (ii. 1), and yet the portion which follows describes the creation of Eve from Adam, the tree of life, and the tree of knowledge, the history of the serpent and the events connected therewith, and all this as having taken place after Adam had been placed in the Garden of Eden. All our Sages agree that this took place on the sixth day, and that nothing new was created after the close of the six days. None of the things mentioned above is therefore impossible, because the laws of Nature were then not yet permanently fixed. There are, however, some utterances of our Sages on this subject [which apparently imply a different view]. I will gather them from their different sources and place them before you, and I will refer also to certain things by mere hints, just as has been done by the Sages. You must know that their words, which I am about to quote, are most perfect, most accurate, and clear to those for whom they were said. I will therefore not add long explanations, lest I make their statements plain, and I might thus become "a revealer of secrets," but I will give them in a certain order, accompanied with a few remarks, which will suffice for readers like you." (Friedlander translation, from Sefaria.org)
This, and the interpretation of this passage by the primary commentators on the Guide, is the passage of Rambam that I was quoting in my book. I already wrote to Rabbi Jachter about it, and he promised to amend his for the next printing. But since there will be many people who form their opinion of both Rambam's view and my own work, I wanted to set matters straight here.