Discover more from Rationalist Judaism
Exploring the legacy of the rationalist Rishonim (medieval sages), and various other notes, by Rabbi Dr. Natan Slifkin, director of The Biblical Museum of Natural History in Beit Shemesh. The views are those of the author, not the institution.
Over 4,000 subscribers
"Wasting Seed" - Differing Rabbinic Perspectives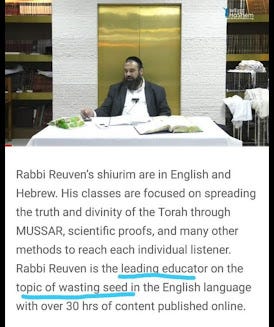 What do rabbis have to say about the sin of wasting seed? Well, if you're searching the internet to find the answer, you're likely to come across the self-proclaimed leading expert on this topic, Rabbi Yaron Reuven. (As you may recall, we last saw him insisting that Hitler was justified in blaming the Jews for ruining Germany, and declaring that numerous widely-respected rabbis are heretics who deserve to be executed.) He is certainly obsessed with the topic of wasting seed, and has over thirty hours of lectures about it!
In a lecture that you can watch on YouTube, Reuven notes that the Talmud compares wasting seed to murder, and he takes this very literally. Incorporating the modern scientific revelation that ejaculate contains around 300 million spermatozoa, he rails against teenagers who masturbate, claiming that they are mass-murderers who are killing as many people as the entire population of the United States! He also stresses the Zohar's claim that wasting seed is worse than any other sin.

Reuven's mentor/colleague Rabbi Yosef Mizrachi also has a lecture about this topic on YouTube. He presents the "kabbalistic secret" that all the souls in the spermatazoa were supposed to enter this world, but instead are doomed to remain in the netherworld, waiting to confront the teenager after his death and seek revenge. "You have millions of sons now," he says, "and they all hate you!"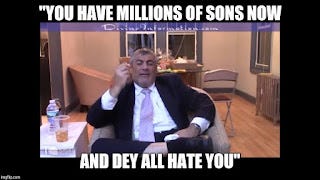 It's not clear to me how Reuven and Mizrachi reconcile all this with the fact that even with intercourse resulting in pregnancy, 299,999,999 spermatozoa do not result in life (not to mention that intercourse with one's already-pregnant wife is permitted). But what is clear is that such presentations cause immense psychological harm to countless teenagers. In fact, in a FaceBook group of people giving their stories about why they left Orthodoxy, more than one mentioned the severe psychological harm caused by the belief that masturbating meant that they were irredeemably damned; there is also a powerful personal story at this link. 
As discussed in an earlier post, "Sexual Intimacy, Spilling Seed, and the Rationalist-Mystical Divide," there are much more prestigious rabbinic authorities who take a very different approach. Rav Eliezer Melamed says that the fire-and-brimstone expressed by the Zohar against spilling seed in vain is simply an exaggeration (and of course there are others who simply dispute the authority of the Zohar altogether). Rav Melamed further points out that the Talmud's severe-sounding comparison of spilling seed to bloodshed is a rhetorical flourish, noting that the Talmud says the same about someone who embarrasses others in public or who does not escort his guests out. As Rabbi Yaakov Shapiro notes in his excellent book Halachic Positions, the same interpretation of such condemnations in the Talmud is given by Rivash, as well as by an early Acharon, Rav Yehoshua Heschel of Krakow, specifically in this context. There is also much fascinating discussion of this topic at http://rationalistmedicalhalacha.blogspot.com, and there's a podcast by Rabbi Scott Kahn and Talli Rosenbaum at https://www.intimatejudaism.com/masturbation-sexual-health-halacha-is-there-a-conflict-episode-1/.

I would like to also counter the Reuven/ Mizrachi approach with two other presentations. One is an article in Hebrew by Rabbi Yitzchak Rones, available online at this link. The other is a controversial article by Rabbi Avraham Stav which appeared online in Hebrew. A friend of mine translated it, and I present it here:
What I would like to say to a maturing young man:

1. The human body produces sperm cells at a fixed rate of around 1500 new cells per second, and it tends to dispose of the old cells in various ways, during sleep (nocturnal emissions) or ejaculation (masturbation), generally (though not solely) in response to sexual stimulus.

2. According to what we know today, masturbation is an activity that is not harmful to one's health; from a psychological perspective too it is considered (within reason) to be a natural and normal part of sexual development. This should remove the fears and unwarranted concerns regarding the issue that have been refuted over hundreds of years.

3. The Torah and Prophets do not discuss masturbation explicitly, and the first time it appears as a sin is in the words of Chazal. There is a substantial dispute as to whether the Sages believed that it is biblically forbidden or whether they only forbade it rabbinically.

4. The verses to which Chazal attached the prohibition (such as the actions of Onen who "destroyed on the ground" his seed) hint to this relating, at root, to masturbation by a married man (mainly at times when fruitful marital relations are possible), which substitutes for relations between the couple and directs his sex drive away from the couple relationship and from the mitzvah of "be fruitful and multiply" towards self-gratification.

5. In many sources, wasting seed is treated extremely seriously, and we do not know why. It is possible that this stems from a restrictive approach to the entire realm of sexuality, which exists in some of the sources. Alternatively, it may relate to the deep trend of egoism and "waste" that is expressed in masturbation when it becomes an integral and central part of life and comes at the expense of constructive activity. Nevertheless, there are sources indicating that a specific act of masturbation is a relatively light sin.

6. In practice, the vast majority of males, at one stage or other of their lives (mainly, but certainly not exclusively, during the youthful period), masturbate. Included in this are Jews who observe mitzvot and fear heaven. This increases when there is a large gap between the stage of reaching sexual maturity and marriage.

7. In front of every person, and in front of every young man, stand many spiritual challenges, and reducing masturbation is one of the less important ones.

8. The constant struggle against masturbation only strengthens, incorrectly, its place in life. One should be concerned that it not turn into an obsessive addiction, but should also not relate to each instance as a "fall", and not dedicate one's religious and spiritual energies to hopeless battles. On this point, there are likely to be differences between different people, who are found in variant places spiritually, and personal guidance on this matter is beneficial.

9. Masturbation in most cases accompanies sexual stimulus, and specifically visual stimulus or fantasies. Enjoyment from the sight of the naked body (real, virtual or imagined), is a natural and healthy inclination, which exists among most humans, and there is no reason to be ashamed of it. At the same time, this is a superficial stimulus which is supposed to serve the more elevated and meaningful goals of connection between a couple and having children.

10. Due to the power of superficial, external, sexuality, and because of its ability to occupy a large proportion of one's life and to lead to a variety of negative phenomena, one should desist, as much as possible, from gazing at sights which bring about sexual arousal. It is important to distinguish between masturbation in itself, which is a natural inclination which comes from the body and its desires, to external sights which frequently represent other worlds of culture and values.

11. There are also various levels within the realm of the forbidden. Masturbation without forbidden gazing is far preferable to masturbation that is accompanied by such gazing, and there is a meaningful distinction between gazing at a generic immodest picture to surfing the world of pornographic content, which brings with it a long list of severe consequences in terms of the conception of the body and of sexuality and is also bound up with many moral problems. Within the realm of fantasizing too, there are thoughts of sin that are more severe than others, whether from a halachic or a moral perspective.

12. Judaism seeks to sanctify the sex drive, to refine it, to lead it to constructive and positive places. Not to fight it. Spiritual work in the sexual realm is positive and beneficial as long as it makes a person more exacting and elevates him; and it misses its goal when it causes him to be more imprisoned within himself.

This was written following extensive discussions with senior rabbis and professionals.
Whether or not one agrees with Rabbi Stav's approach, it is certainly important for there to be countering perspectives to the dangerous extremism broadcast by Reuven and Mizrachi.

(If you'd like to subscribe to this blog via email, use the form on the right of the page, or send me an email and I will add you.)