Discover more from Rationalist Judaism
Exploring the legacy of the rationalist Rishonim (medieval sages), and various other notes, by Rabbi Dr. Natan Slifkin, director of The Biblical Museum of Natural History in Beit Shemesh. The views are those of the author, not the institution.
Over 4,000 subscribers
Was Rachel Imeinu Killed By A Werewolf?
(A update of this post from a few years ago, in light of my discovering that Rabbi Zecharia Wallerstein has an online shiur on this topic.)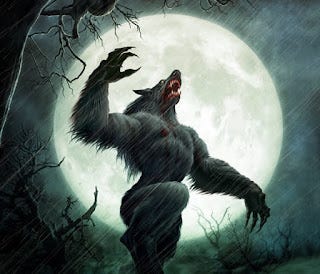 In Sacred Monsters, I noted that Rabbeinu Ephraim ben Shimshon, one of the Tosafists, wrote about werewolves. But I only recently came across the full text, and I found some additional fascinating material. (I uploaded the original text of Rabbeinu Ephraim on werewolves as a PDF- you can download it here.)

Rabbeinu Ephraim refers to werewolves in a curious discussion about Yaakov's son Benjamin. In this week's parashah, the Torah relates how Yaakov repeatedly expressed concern about Benjamin's brothers taking him down to Egypt, "lest an accident befall him." Rabbeinu Ephraim explains this concern to relate to the description of Benjamin as "a predatory wolf" (Genesis 49:27), understanding it very literally:

Another explanation: Benjamin was a "predatory wolf," sometimes preying upon people. When it was time for him to change into a wolf, as it says, "Benjamin is a predatory wolf," as long as he was with his father, he could rely upon a physician, and in that merit he did not change into a wolf. For thus it says, "And he shall leave his father and die" (Gen. 44:22)—namely, that when he separates from his father, and turns into a wolf with travelers, whoever finds him will kill him. (Rabbeinu Ephraim, commentary to Genesis 44:29)
Elsewhere in the manuscript of Rabbeinu Ephraim's commentary, there is further discussion about werewolves attributed to "a writer from Ashkenaz" (apparently disciples of Rabbeinu Ephraim, or other scholars from the region):

There is a type of wolf that is called loup-garou (werewolf), which is a person that changes into a wolf. When it changes into a wolf, his feet emerge from between his shoulders. So too with Benjamin—"he dwells between the shoulders" (Deuteronomy 33:12). The solution for [dealing with] this wolf is that when it enters a house, and a person is frightened by it, he should take a firebrand and thrust it around, and he will not be harmed. So they would do in the Temple; each day, they would throw the ashes by the altar, as it is written, "and you shall place it by the altar" (Leviticus 6:3); and so is the norm with this person whose offspring turn into wolves, for a werewolf is born with teeth, which indicates that it is out to consume the world. Another explanation: a werewolf is born with teeth, to show that just as this is unusual, so too he will be different from other people. And likewise, Benjamin ate his mother, who died on his accord, as it is written, "And it was as her soul left her, for she was dying, and she called his name 'the son of my affliction' " (Genesis 35:18). (Commentary to Genesis 35:27)
In Sacred Monsters, I thought that the description of Benjamin eating his mother was a figure of speech, and metaphorically referred to his causing her death via childbirth. But now I think it might mean that he literally ate her! An earlier comment makes use of the albam system of letter substitution, whereby the Hebrew alphabet is split into two parts, and each letter is replaced by the corresponding letter in the other part. Based on this system, the word tzelem, "image," as in "man was created in the image of God," converts to ze'ev, "wolf," which is explained to have great significance:

Tzelem is ze'ev in the albam system; therefore, those people who change into wolves were created as such from the Six Days of Creation, and do not return to their earlier state until they have eaten the blood of a man or woman. (Commentary to Genesis 2:28)

As I explained in Sacred Monsters, it would be a mistake to look upon those who believed in such things as being "naive" or "foolish." While such a belief would be outlandish today, in the medieval period it was perfectly ordinary. After all, Scripture itself attested to King Nebuchadnezzar turning into an animal. While some would interpret this as mental illness, others interpreted this as meaning that he physically transformed into an animal. Why, then, should a person not be able to turn into a wolf?

On the other hand, it's a little less understandable when more recent figures believe in such things. Rabbi Zecharia Wallerstein cites Chida as stating that this account is literally true (I'm on the road and I am unable to verify this). He also elaborates and says that the werewolf can only turn back into human form if he kills someone. For Chida to believe it is still understandable, albeit somewhat less so than with Rabbeinu Ephraim. For Rabbi Wallerstein, on the other hand, to insist that "this is Torah" and that "it must be taken very seriously," strongly implying that one is obligated to believe that it is true, is a little less acceptable. I recently met some baalei teshuvah who listened to his shiur and took it to mean that they are obligated to believe in werewolves. I don't think that this is a true or responsible message for an educator to impart. (I thus also cannot agree with what Rabbi Wallerstein says later in his shiur, that whatever comes out of his mouth in a shiur is what Hashem wants the world to hear.) There are all kinds of weird beliefs that crept into Jewish works over the centuries (see especially the Seder HaDoros that quote in Sacred Monsters), and there is absolutely no obligation to believe them.

(For further discussion of the belief in werewolves, see Darren Oldridge, Strange Histories, pp. 96-105)

See too this post: Was Eisav a Vampire?