Discover more from Rationalist Judaism
Exploring the legacy of the rationalist Rishonim (medieval sages), and various other notes, by Rabbi Dr. Natan Slifkin, director of The Biblical Museum of Natural History in Beit Shemesh. The views are those of the author, not the institution.
Over 4,000 subscribers
This Chasam Sofer is Astounding!
(Thanks to all those who expressed their support for my work via the Paypal link on the previous post. Note that you can now also follow Rationalist Judaism via Twitter and Facebook - see the links on the right of the page. Please note that I plan to only use Facebook for an automatic feed from this blog, so don't expect to interact with me via Facebook!)

Rabbi Tzvi Liker sent me one of the most extraordinary Torah perspectives I have seen in a long time. It's all the more amazing because of who it comes from. Rav Moshe Sofer, a.k.a. Chasam Sofer (1762–1839), is widely considered to be the "father of Orthodoxy." He was the Rosh Yeshiva of Pressburg and a staunch opponent of any reformations of Judaism, leading to his famous saying, "That which is new, is forbidden by the Torah."

The discussion relates to the well-known dispute in the Gemara between Rabbi Yishmael and Rabbi Shimon bar Yochai about learning Torah versus working. Rabbi Yishmael teaches that the study of Torah is to be accompanied by earning a livelihood, as per the verse that we recite in Shema, "Ve'asafta deganecha - And you shall gather your grain." Rabbi Shimon bar Yochai, on the other hand, says that one should devote oneself to Torah, and God will ensure that one's needs are provided for. Abaye observes that many followed the lead of Rabbi Yishmael and succeeded in both working and learning, while most of those who followed Rabbi Shimon bar Yochai did not succeed in either.

Enter Chasam Sofer. He cites a view that one should ideally follow Rabbi Shimon bar Yochai and dedicate oneself solely to Torah, arguing that when Abaye observes that many people didn't do well in that path, this is because they didn't really devote themselves to it properly, but a special person who is truly dedicated to Torah will manage to succeed. Chasam Sofer himself says that "we" (it's not clear who he's referring to) follow Rabbi Nehorai, who argues with Rabbi Meir's instruction that one should teach his child a trade, and says that he will only teach his son Torah.

So far, this sounds very much in accord with someone representing the right wing of Orthodox Judaism. But now comes the "but." And it's the "but" to end all "buts"!

But, says Chasam Sofer, but, this is only true in the Diaspora. In the Diaspora, there is no reason to work at a trade except to earn a living; furthermore, enhancing the economy of one's host country accentuates the fact that the Jews are in exile. Accordingly, if one can truly dedicate oneself to Torah and succeed that way, there is no reason to work, and this is what Rabbi Shimon bar Yochai was referring to (and Chasam Sofer argues that even Rabbi Yishmael would agree).

In Israel, on the other hand, it's entirely different. Here, Chasam Sofer says, one does not only work the fields in order to make a living. There is also the mitzvah of yishuv ha'aretz, settling the land. In the same way as one stops learning Torah to put on tefillin, says Chasam Sofer, one stops learning Torah to farm the land, which is the mitzvah of yishuv ha'aretz. Chasam Sofer explains that yishuv ha'aretz does not just mean living in Israel; it means developing the country. He further says that not just farming, but all industries and professions, are part of settling the land and giving it honor. Chasam Sofer adds that it would be a deficiency in the honor of Israel if a certain profession does not exist there, requiring products to be imported from abroad.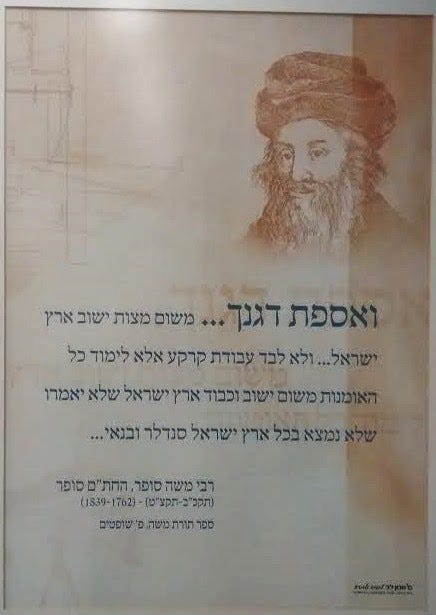 This is staggering! According to Chasam Sofer, there is a mitzvah for people in Israel to leave yeshivah and learn a profession quite separate from the requirement to provide for one's family. It's important for Israel to have doctors and engineers and all the professionals that a country requires in order to have honor (and to counter the brain-drain that currently exists). Likewise, people who make aliyah to Israel and bring their professional skills are fulfilling the mitzvah of yishuv ha'aretz in a much more significant way than merely by living here. (Update - Someone at Machon Lev sent me a photo, at right, of a poster displaying Chasam Sofer's words, which is displayed outside the office of the president of Machon Lev!)

Chasam Sofer states this idea in two places. Don't take my word for it - below is a scan of both passages. Read and be amazed! And share it with those who believe that anyone encouraging people in Israel to leave yeshivah and enhance the workforce can only be a Torah-hating Amalekite!