Discover more from Rationalist Judaism
Exploring the legacy of the rationalist Rishonim (medieval sages), and various other notes, by Rabbi Dr. Natan Slifkin, director of The Biblical Museum of Natural History in Beit Shemesh. The views are those of the author, not the institution.
Over 4,000 subscribers
The Impact of Rationalist Judaism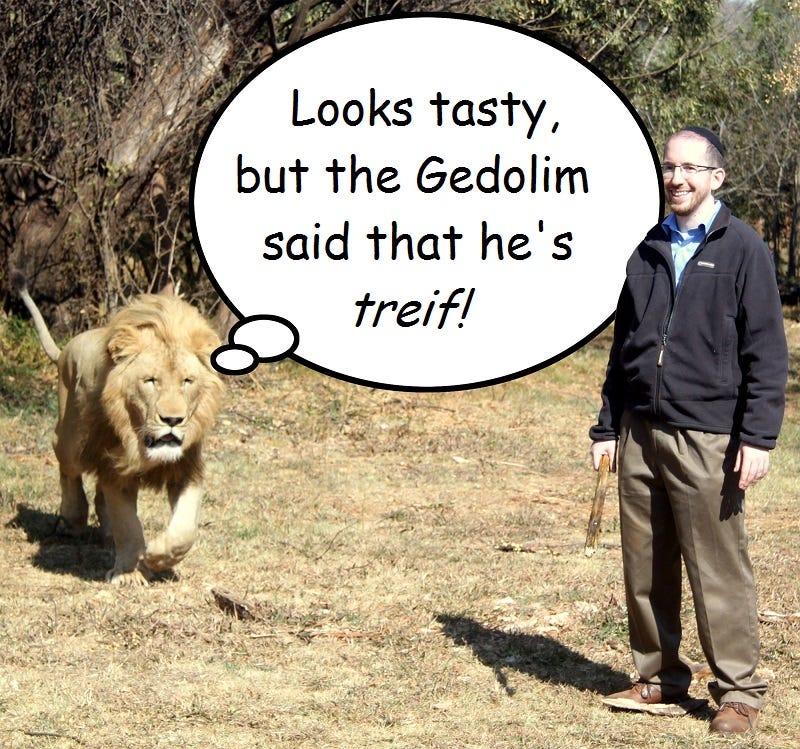 This blog began on the 8th of March 2009 and has thus been running for nearly eight years. I created it because I wanted a forum for exploring a school of thought in Judaism which, while dominant in the times of the Rishonim, has declined so dramatically that many supposedly great Torah scholars today don't even accept that it ever existed. It also became a forum for commentary on contemporary Orthodox Jewish society which, while not directly about rationalism, is certainly related to it. It also occasionally veers into topics of personal interest to me, such as politics and wild animals.

In an article about blogs in Tablet Magazine, it was stated that "Slifkin's new blog would soon become enormously popular within the rabbinic blogosphere... By many accounts, he has almost single-handedly brought an entire new worldview to the fore." While I appreciate the praise, I do not agree that I have brought an "entire new worldview to the fore." What I have been working on is keeping alive a dying worldview. I like trying to save endangered species, whether blue whales or rationalist Judaism!

The reason why I am thinking about the impact of this blog is that today I took a look at the statistics of how many people actually read the most popular posts of the past eight years, and the results are astonishing: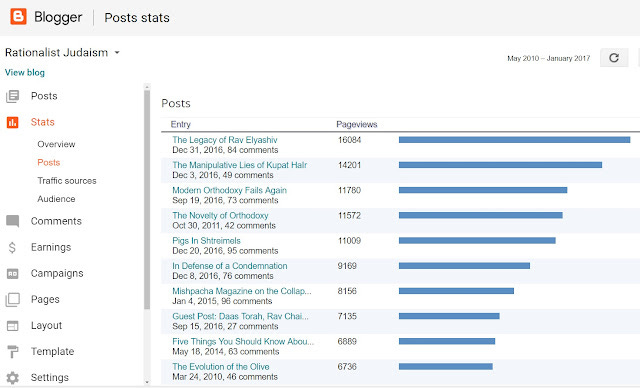 Bear in mind that these figures do not include those who read this website via email subscription, which means that you have to add about another two thousand people. Four of the top ten posts are from December, and the number one, about Rav Elyashiv and Rabbi Metzger, has been read by over eighteen thousand people! I've sold about that number of some of my books, but only over a period of many years. This was just in a few days!

It is interesting to note that of the top ten posts, only two or three are directly about rationalist Judaism. Most are critiques of aspects of charedi society. These are the posts that bring the most virulent condemnation from some quarters, with people in the charedi world accusing me of everything from apikorsus to lashon hara to "spreading darkness." (It would doubtless come as a shock to them to learn how many rabbis there are who read and appreciate this blog!)

While my charedi critics claim that these posts turn people off Judaism, it seems to me what my opponents are really objecting to is that my posts turn people off charedi Judaism; indeed, some of them do not even seem to realize that there are other communities within Orthodox Judaism. However, while I acknowledge that it is unfortunate to have to criticize others, I consider it very important for me to write these posts because (a) there are serious flaws in charedi society with severe consequences, (b) virtually nobody in the charedi world dares talk about them, and (c) most critiques that can be found are not written from a religious perspective or from people who truly understand the charedi world.

And these posts certainly do have positive effects. For many people, it helps them find a more acceptable and traditional path in Orthodox Jewish society. For others, it is simply very reassuring to see that there are religious Jews who are not crazy. And with readers in the chareidi world - of whom there are many - it plants seeds of change.

My writing schedule has declined due to my increased responsibilities running The Biblical Museum of Natural History, but I hope to continue posting at least once or twice a week. I am also in the process of compiling many of my monographs and related material into a book, Rationalism vs. Mysticism: Schisms in Traditional Jewish Thought. Another idea that I am toying with is collecting the best posts from this blog into a book (if anyone would like to volunteer to collate them all into a Word document, please let me know!).

I would like to take this opportunity to thank all of my readers for following this forum and especially to those who contribute useful insights (in particular David Ohsie!). If you would like to show your appreciation for the Rationalist Judaism website, it would be great to make a contribution to The Torah and Nature Foundation, the non-profit that supports The Biblical Museum of Natural History and some of my publications. You can donate online and find details about other donation opportunities at this link. I would also be interested to hear feedback about this blog in general, whether positive or negative. Thank you!