Discover more from Rationalist Judaism
Exploring the legacy of the rationalist Rishonim (medieval sages), and various other notes, by Rabbi Dr. Natan Slifkin, director of The Biblical Museum of Natural History in Beit Shemesh. The views are those of the author, not the institution.
Over 4,000 subscribers
The Chassidic Wedding Murders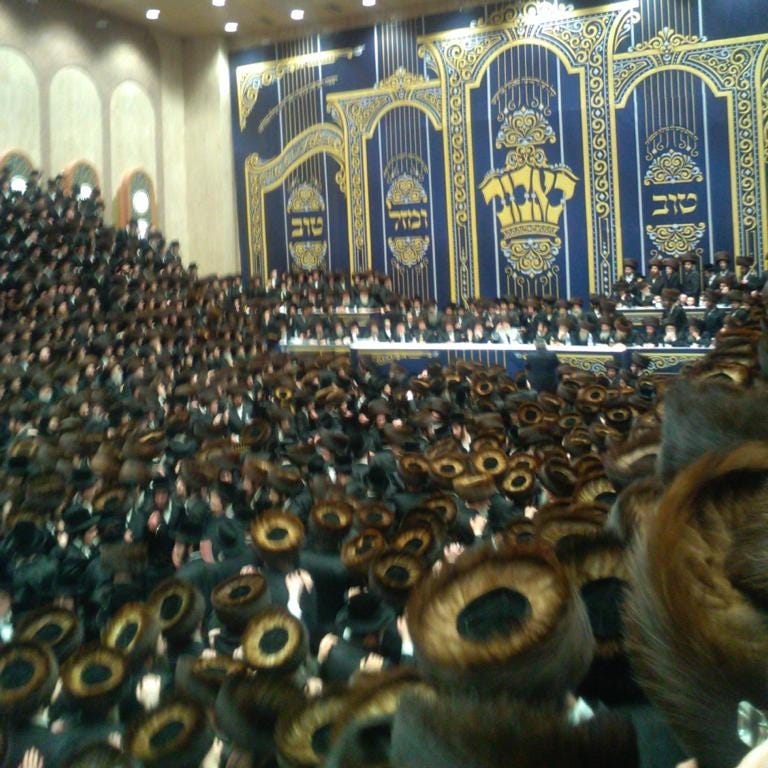 What a wedding!
Yes, the enormous Bobov murder wedding took place last night in New York - the one that they pretended would not be taking place. They managed to conceal the illegal event from the police. Hooray!
Many thousands of guests were present, including people from Israel and London. While other people all around the world are limiting their events and mourning their losses, there was no indication at this wedding that anything is wrong in the world. Everyone was singing and dancing, and, of course, nobody was wearing masks; after all, masks are for goyim. These are holy people, who won't eat fish together with meat due to the danger, and won't hold weddings during Sefiras Ha'Omer because of a plague thousands of years ago!
With the festivities over, the guests will be returning to their homes around the world, presumably not quarantining (since laws are for goyim), and spreading all the Covid variants that they picked up at the wedding. This in turn will spread sickness, death, and economic hardship. Ah, what a zechus!

A number of people complained about my previous post, in which I protested this event. Some said that I shouldn't be criticizing the chassidim when there are so many others who flout the restrictions. There are several important responses to be made to this.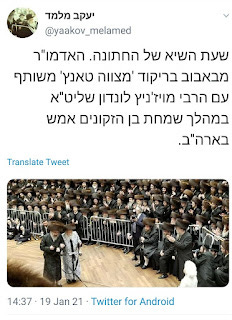 First is that, as I wrote yesterday but they apparently ignored, the wedding was many orders of magnitude more dangerous than all the other restriction-flouting activities. The cumulative effect of crowding thousands of people, including guests from abroad, indoors, maskless, while singing, is vastly more dangerous than anything else. Other events may or may not transfer the virus; this event is guaranteed to.
Second is that other situations of rule-flouting are done by individuals making decisions out of personal desire. This, on the other hand, was a community event, directed by community rabbinic leaders. They formally arranged this lethal, illegal event, along with the lies to cover it up. The only people who can't see a world of difference between the two are the sort of extreme tribalists who likewise can't (or won't) see a difference between random hoodlums looting during a BLM protest and a president inciting an insurrection.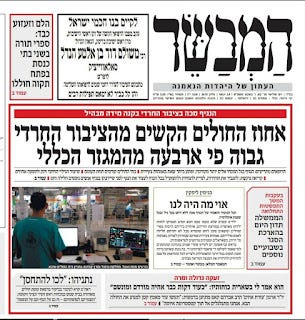 Another type of counter-claim was that the chassidim are all immune anyway, since they've been crowding together all year and they've all already had Covid. But this is simply not true. Not every Bobover chassid has had Covid - yet every chassid felt pressured to come. And the new strains of Covid are much more contagious and could infect even those who had the original strain many months ago (which is exactly what happened in Stamford Hill, London, where the chassidic community believed themselves to have formed herd immunity, and then recently suffered many casualties). And the presence of international guests means that the new strains of Covid get spread to different countries and communities. Furthermore, the statistics from Israel are very clear: the sickness and mortality rate in the charedi communities is many times higher than in the rest of the country (in comparable age groups). Finally, it's just absurd to justify such a decision being made without the input of medical professionals. And it doesn't address the chillul Hashem aspect, nor the illegality and lying involved.

There are those who object to others making a fuss about what chassidim do. Dudi Zilbershlag, a prominent chassidic media personality in Israel, said that everyone should keep the rules, but nobody should make a fuss about others who break them. This is an exceptionally strange argument. Without even getting onto the notion of Kol Yisrael areivim zeh lazeh, there is simple self-interest involved. This is not 19th century Europe; the chassidim do not live in a bubble. Most of us have been very severely affected by the pandemic, in one way or another. Of course we are upset and angry when a major chassidic sect defiantly holds a super-spreader event which will have enormous ramifications on our own lives!
Astonishingly, one person wrote to me that by bringing attention to such a wedding, I am inciting antisemitism and strengthening myths about Jews spreading plague. As I replied to him, if he's concerned about inciting antisemitism, he should be trying to stop Jews spreading plague at weddings, not the people trying to prevent such crimes.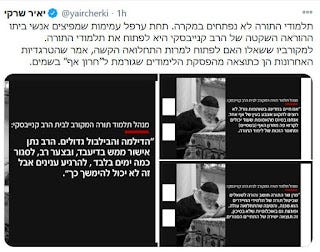 Some felt that "murder" was too strong a term. I've stated my opposition to referring to anti-vaxxers as murderers. But in this case, where death is a very likely result of such an event, I believe that it is an appropriate term. And I'm not the only person to feel that way - there are prominent people in the charedi world saying the same. Avi Mimron, lead broadcaster on the Bnei Brak radio station Kol Chai, just gave a fiery tirade about how charedim who disregard the risks are "murderers who should flee to Arei Miklat." Yehuda Meshi-Zahav, the famous charedi former anti-Zionist militant turned national hero, recently suffered the loss of his mother to Covid. In a blistering condemnation of certain elements of the charedi rabbinic leadership, he referred to them as being guilty of bloodshed.

Bobov are not the only chassid sects holding crowded weddings. Another one took place in Bnei Brak this week. Here's a riddle: What do you call an Israeli policeman who tries to save lives by breaking up a dangerous crowded Chassidic wedding? Answer: A Nazi!
So, bottom line, what do we do about all the communities which simply couldn't care less about how their actions perpetuate the pandemic? Especially since, from their perspective, they are being moser nefesh to defend their precious, fragile way of life from threats by the virus and by the goyim. I'm not sure what the answer is, but I suspect that, as usual, the only direct path to influence is via the money.
In the next post, I shall address a very important and obvious question about this event that hardly anyone is asking. If you'd like to subscribe to this blog via email, use the form on the right of the page, or send me an email and I will add you.