Discover more from Rationalist Judaism
Exploring the legacy of the rationalist Rishonim (medieval sages), and various other notes, by Rabbi Dr. Natan Slifkin, director of The Biblical Museum of Natural History in Beit Shemesh. The views are those of the author, not the institution.
Over 4,000 subscribers
Rosenblum Nails The Problem With Charedi Society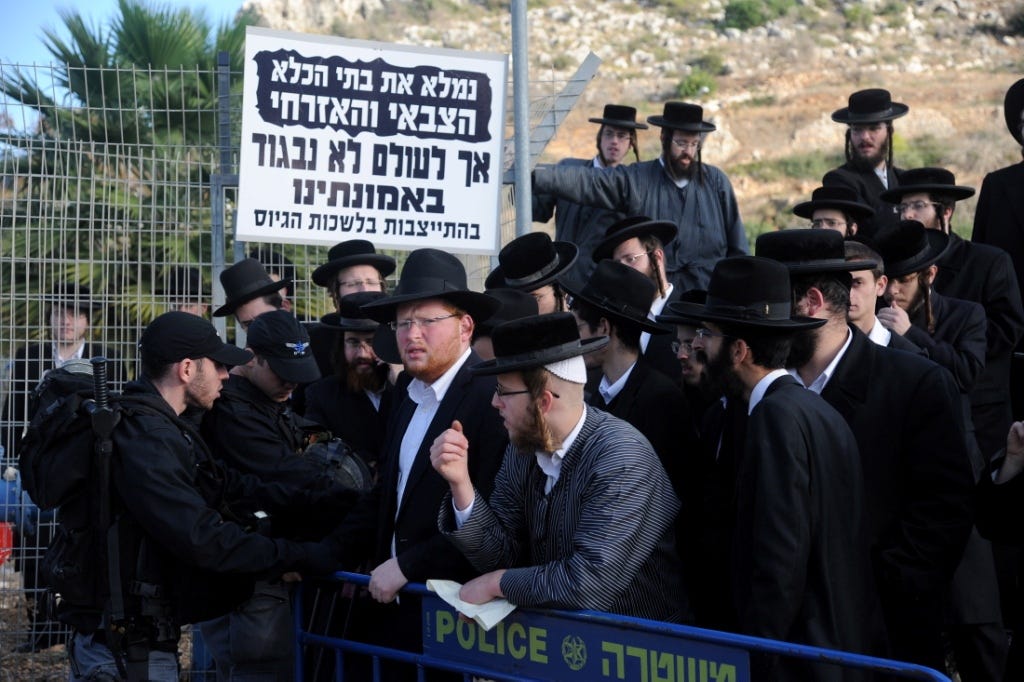 In one of the most-read posts on this blog of all time, Not For The Reason You Might Suspect, I wrote about how, in my view, the biggest problem with charedi society is its approach of teaching children that long-term kollel for the masses is the ideal, and that working for a living is to be avoided as much as possible. But there is something else that I think is more-or-less an equally fundamental problem with charedi society (at least in Israel; less so in the Diaspora). Ironically, none other than Jonathan Rosenblum acknowledged it, albeit without properly describing the extent of the problem:

In the more than two centuries since the ghetto walls began to fall, Torah communities have often had to fight to preserve themselves. Those that followed the principle of separation from larger communal frameworks were usually the most successful in preserving their Torah identity. But that victory too came with a cost in terms of a diminished Klal Yisrael consciousness.
"Most successful at preserving their Torah identity" is not quite accurate. Rather, the separationists were the most successful in preserving certain aspects of their Torah identity, while fundamentally perverting other aspects. In my monographs on the Novelty Of Orthodoxy and The Making of Charedim I presented several examples of innovations and reformations that came about as a result of trying to maintain Torah identity in the face of modernity. But perhaps the most significant reformation is that which Rosenblum himself mentions: "diminished Klal Yisrael consciousness."

Being part of Am Yisrael was, traditionally, a major part of what being a Jew was all about. At a very fundamental level, Torah is about being a "giver" rather than a "taker." Every tribe in Israel had to provide people for the army, or engage in other forms of national service. Kol Yisrael Areivim Zeh Lezeh. But the ultra-Orthodox community did not preserve this part of their Torah identity. Instead, they jettisoned it.

Rosenblum places some of the blame for this on statehood:

To some extent, Jewish statehood, which inevitably pits groups against one another in the battle for larger pieces of the pie, has exacerbated the problem of exclusive identification with one's own small subgroup.
Yet the Religious-Zionist community still sees itself as very much part of Klal Yisrael. In fact, one of the most striking and significant differences between the charedi and dati-leumi (religious Zionist) community is with regard to its "Klal Yisrael consciousness."

A prime example of this occurred this year with Lag B'Omer, which fell on motzai Shabbos. Having bonfires on motzai Shabbos would mean that there was a risk of people who are lax in their Shabbos observance making various preparations on Shabbos, as well as the emergency services having to get in place on Shabbos. As a result, the Rabbanut instructed that the bonfires should be delayed until Sunday night, and this decision was supported by dati-leumi rabbanim. But this was entirely ignored by the charedi community, for the simple reason that nobody in their community would be mechalel Shabbos, so why should they change their plans just because of people outside their community? This is a classic example of the difference between the dati-leumi world, which perceives itself as part of Am Yisrael and weighs its approach to Torah in that light, and the charedi world, which sees itself as a separate entity and generally doesn't particularly care about the welfare of non-charedim, spiritual or physical. (See this discussion at Life In Israel)

Another example of this was with the last Bet Shemesh elections, as I discussed in a post regarding the difference between charedi and dati-leumi rabbanim. The charedi rabbonim stressed how Abutbol, and the charedi party, are the best for furthering charedi concerns and the interests of the charedi community. In contrast, the dati-leumi rabbanim stressed how Eli Cohen is the best for all the residents of the city, from charedi through non-religious. One dati-leumi rav spoke in dismay about how a charedi friend of his assumed that if Eli Cohen wins, there will be "payback" and subsequent favoring of the dati-leumi sector. The dati-leumi rabbanim just don't think in those terms!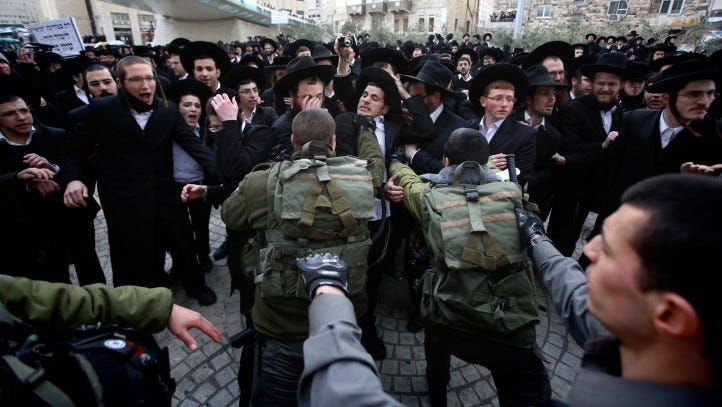 All this is also very relevant to the current dispute regarding the draft. Everyone, from secular to charedi, agrees that the State of Israel needs a large army to defend itself. And everyone, from secular to charedi, agrees that the army presents a burden of spiritual and physical risks and challenges. The response of the dati-leumi community is to view the shouldering of these risks and challenges as part of their sacred duty to the Jewish People. The response of the charedi community is, "Why should we share in this burden? Let other people shoulder it all!"

Furthermore, they don't even show any care or appreciation to those who do shoulder this burden. All they do is issue a poorly thought-out and deeply problematic claim that their Torah provides protection, which, as I've demonstrated previously, they don't even provide where the protection is needed, which they apply for selective protection, which they apply even to people not learning Torah, and which they don't even really believe anyway.

(I am inspired by the words of former IDF Chief Rabbi Avichai Ronsky, who, in a lecture to IDF rabbis, told them that "The rabbi needs to be ready all the time with his bulletproof vest and his weapon, just like any combat soldier. The rabbi needs to go out with the unit on marches and drills... That way he will truly be connected to the unit." This is similar to the approach of Netziv, and is the example of Torah leadership that is connected to Am Yisrael. See too this essay by Rav Eliezer Melamed about Torah and army service.)

To my mind, the Million Man March today in Jerusalem should be viewed in that light (and see Rav Ronsky's words regarding the rally, as well as Rav Druckman's). Sure, leveling criminal charges against charedi draft-dodgers might be a very bad idea, and unfair to young men who have grown up in a culture that did not prepare them for such a thing. But what else do you expect, when you have a sector of the population that has no interest in sharing the military burden, is deliberately under-employed, demands financial support from the rest of the country, and shows no hakaras hatov for the economic support and military protection that they receive from the rest of Israeli society?

Why should other people be sending their children to provide the manpower for the army, but not charedim? How is it acceptable to demand that everyone else provide the soldiers for an army that you agree is vital? How is it acceptable to refuse to implement Chazal's directives about economic self-sufficiency for oneself and one's children, and to demand that the rest of Jewry provide financial support? How is it acceptable that when the rest of Israel is understandably frustrated by all this, to respond that they are evil haters of Torah and to shut down the capital city for an afternoon?

Ultimately, today's rally is about a selfishly separatist community that wants everyone else to take the risks and pay the bills (and doesn't even want to thank them for it). It is an expression of a community which, to paraphrase Jonathan Rosenblum, has had its Klal Yisrael consciousness diminished. What a tragedy.