Discover more from Rationalist Judaism
Exploring the legacy of the rationalist Rishonim (medieval sages), and various other notes, by Rabbi Dr. Natan Slifkin, director of The Biblical Museum of Natural History in Beit Shemesh. The views are those of the author, not the institution.
Over 4,000 subscribers
Rambam's Zealous Heresy-Hunting

Does Judaism believe that rabbis who issue certain problematic statements are wicked heretics who should be executed?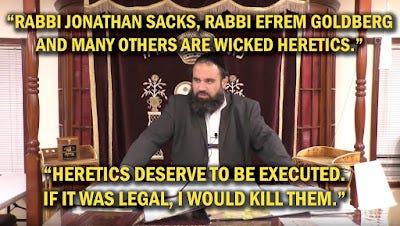 Rabbi Yaron Reuven and Rabbi Yosef Mizrachi have been broadcasting that view to their thousands of followers. And they have been issuing the label of heretic to a "Blacklist" of figures as Rabbi Jonathan Sacks, Rabbi Ephraim Mirvis, Rabbi Efrem Goldberg, Rabbi Daniel Korobkin, myself, and others, including people who challenge their lectures. In a previous post, "Laughable Lunatics or Dangerous Inciters?" I harshly criticized them for this. While I'm not at familiar with many of the rabbis on the list, the ones that I do know are certainly not heretics! But even from Mizrachi/ Reuven's perspective on the opinions shared by these rabbis, it's completely unacceptable to brand them as wicked heretics who deserve to be executed. And it's effectively incitement to murder (and it is naive to think otherwise, when you never know who is watching YouTube videos).

On the other hand, with regarding to the claim of Reuven and Mizrachi that they are merely accurately presenting the authentic Jewish approach to heretics, several people claimed in the comments that they are actually correct. Some have written to me with grave concern about this possibility. And, when you look at certain statements in the classical sources, there is indeed reason to be troubled.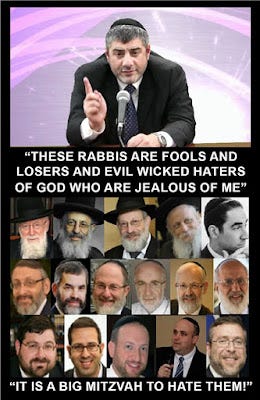 We tend to associate Rambam with the concept of freedom of thought. This is due to both Rambam's liberal/ radical approach to many topics, and the efforts to ban Rambam's rationalist approach (both 800 years ago and in our own generation). But the truth is that Rambam himself was not only opposed to freedom of thought - he was actually a harsh zealot against it. Just take a look at these shocking paragraphs from Rambam:

"...The apikorsim - and those are the ones who deny the Torah and the prophecy from Israel - it is a mitzvah to kill them. If one has the power to kill them with the sword in public, one kills them; and if not, one should approach them surreptitiously to bring about their death. For example, if he sees one of them that fell into a well, and there is a ladder in the well, he should rush to remove the ladder, and say that he needs it to take his son down from the roof and will return it, and suchlike." (Mishneh Torah, Hilchot Rotze'ach, 4:10)
"Someone who does not acknowledge the Oral Torah... is a heretic, and his death is at the hands of anyone... he is lowered into a pit, and not raised out... there is no need for witnesses (to his deeds) or for warnings or for judges. Rather, whoever kills such a person has done a great mitzvah, and removed a stumbling block." (Hilchot Mamrim 3:1-2)
There you have it! Rambam states that heretics are liable for the death penalty, and moreover that this is to be executed outside of the judicial system!

Well, the good news is that there are a number of responses to be made to this, which I will now provide. (An excellent thorough treatment of this topic can be found in Gerald J. Blidstein, "The 'Other' in Maimonidean Law," Jewish History 18:2/3 (2004), pp. 173-195.) This post will conclude with a very appropriate lesson for the week of Tisha B'Av.


I. Rambam's Novel Approach to Intellectual Beliefs

This website is an exploration into the rationalist approach to Judaism, most prominently advocated by Rambam. Most of us strongly identify with his approach to many topics - the non-literal approach to Tanach, the willingness to accept the truth from whatever the source, the respect for science, and so on. Many aspects of Rambam's approach are grounded in earlier writings of the Geonim (and Chazal), and are supported by other Rishonim.

On the other hand, there are some aspects of Rambam's worldview which are a novelty and completely at odds with the rest of rabbinic thought. As the Vilna Gaon pointed out, this is because Rambam was strongly influenced by his Greco-Islamic environment. The Vilna Gaon saw this as solely negative; while others of us might see aspects of it as positive, there are also aspects that we might indeed agree to be negative. But, whatever one's opinion of these views, the Vilna Gaon is certainly correct that they were influenced by  Grego-Islamic philosophy and are not part of traditional Judaism.

In particular, Rambam's position that intellectual perfection is the ultimate purpose of existence is at odds with normative Judaism. Traditional Judaism, both before and after Rambam, places far greater weight on what a person does than on what a person thinks. The Torah, Mishnah and Talmud are very concerned with all kinds of details regarding a person's actions, but nowhere is there a list of required and/or forbidden beliefs. We might speak about the "kosherness test" of people adhering to Rambam's 13 Principles of Faith, but that's really just out of convenience; the real criteria are whether people are loyal to the halachic community and do not publicly undermine its treasured beliefs. (See part two of my review/critique of Menachem Kellner's Must A Jew Believe Anything? and my article in Hakirah, "They Could Say It, We Cannot: Defining the Charge of Heresy.")


II. Rambam's Placement of Punishment in Human rather than Divine Hands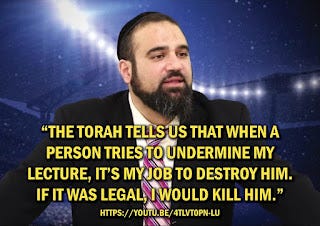 The Mishneh Torah may appear to be simply a codification of the laws found in the Talmud, but this is far from the case. For example, Marc Shapiro's fascinating Studies in Maimonides and his Interpreters documents the many cases in which Rambam modified and adapted Talmudic rulings in order to remove superstitious aspects. Heresy is another striking example. When the Mishnah condemns certain specific heretical statements, it states that those who espouse them have lost their share in the World-to-Come. There is no mention of any consequences or punishment by Beit Din, let alone authorizing retribution outside of Beit Din.

Now, it might appear that Rambam is simply following the ruling in the Gemara (Avodah Zarah 26b) about certain people who are to be "lowered into a pit." However, first of all, this is a strange rule, which is not found in the Yerushalmi, nor mentioned anywhere else in the Talmud's many rulings about dealing with problematic people. Second, the Gemara states this rule with regard to sectarians, informers (note - this does not mean people going to the FBI about child molesters or whistle-blowers on Ponzi schemes), and mumarim (ideologically committed sinners), not to people with deviant beliefs.

As Blidstein points out, Biblical and Talmudic law punished unacceptable behavior but not intolerable ideology. Rambam was making an innovation which deviated strongly from classical Judaism (and which may have been influenced by Islamic philosophy, which advocated force to compel belief). Contrary to Yaron Reuven's claim, the Sanhedrin would not put people to death for heretical beliefs.


III. Rambam's Moderation of his Harsh Stance

Rambam's harsh approach to heretics was primarily targeted towards Karaites, the heretical sect of his day who rejected the authority of the Oral Law. And yet, as Rambam grew older, he dramatically softened his approach and re-wrote parts of his works. He redefined the ruling about killing heretics to make it effectively both prohibited and inappropriate; scholars have shown that these are later changes to his works. Rambam's way of nullifying his ruling was to argue that descendants of the Karaites are not accountable for their false beliefs, since they are equivalent to the tinok shenishbah, the child captured by idolaters, who has been raised to believe false doctrines and is rated as anus (sinning under duress).

Fascinatingly, Blidstein observes that this is flawed as legal comparison, since in the actual case of a tinok shenishbah, Rambam does not rule him to be an anus but rather a shogeg (inadvertent sinner). Furthermore, the leniency for a tinok shenishbah is usually not applicable once the person has been freed and re-educated, whereas Rambam is willing to extend this leniency to Karaites who are exposed to rabbinic thought. However, since Rambam's initial harsh approach to Karaites was not founded in Talmudic law, it's easier for him to walk it back!


IV. Seeing Heresy Everywhere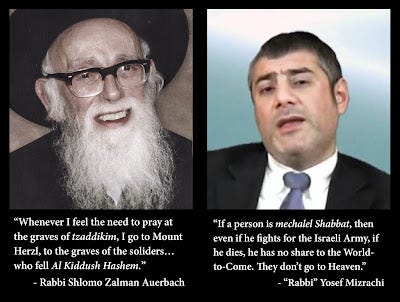 There is another major problem with Mizrachi and Reuven championing their heresy-hunting as merely continuing the tradition from Rambam. While Rambam himself applied the status of heretic to new areas of philosophical beliefs, Mizrachi and Reuven go much further, attempting to disqualify as many people as they can.

Every belief with which Mizrachi and Reuven disagree, every action by a rabbi that they object to, turns the rabbi into a rasha and a heretic! The rabbi invited a Christian or Muslim as a guest speaker to a panel discussion? He's a rasha and a heretic! The rabbi has views on Biblical figures that you disagree with? He's a rasha and a heretic! Now, obviously from the perspective of many of us, there's nothing at all wrong with such things; but even from the perspective that something is indeed incorrect, even if it is wrong, this does not necessarily mean that is actually heretical, that it renders one disqualified from the Jewish community.

Incredibly, Mizrachi and Reuven even apply the status of heresy to beliefs held by Rambam himself! Their accusations against Rabbi Sacks and myself are based on the charge that it is heretical to read portions of the Creation account allegorically, or to say that Chazal erred on statements about the natural world. And yet both of these positions are, of course, advocated by none other than Rambam himself!


V. The Living Tradition vs. the Book Tradition

Finally, there is a more fundamental problem with Mizrachi and Reuven seeking out people to identify as heretics and labeling them as deserving of execution, and claiming this to be nothing other than presenting a truthful picture of traditional Judaism. As Haym Soloveitchik famously explained in Rupture And Reconstruction, there is a world of difference between the Book Tradition and the Living Tradition.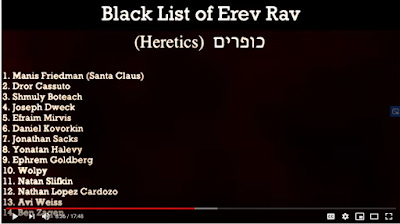 To be sure, if you search the writings of Chazal and the Rishonim, you can find various extreme statements. But these are not part of the Living Tradition. With the rare exception of the occasional zealot, the general rabbinic community did not (and does not) go around trying to find ways to disqualify popular and accepted rabbis as heretics who should be killed. They didn't issue "Blacklists of 14 Heretics." Perhaps Mizrachi and Reuven's mistake is due to their being late and recent returnees to observant Judaism who are not sufficiently grounded in tradition.

The normative approach is perhaps best illustrated by considering the case of the Chazon Ish. He himself was certainly towards the zealous end of the spectrum, and had highly conservative views on theology. Nevertheless, when it came to discussing Rambam's rule of "lowering heretics into the pit," the Chazon Ish says that it simply isn't applicable. He writes that when there is no open proof of God's presence, those who deny the Divine cannot be held accountable. Attempts to destroy such people, says the Chazon Ish, do not solve any problems, but rather are themselves a serious problem. Instead, he writes, one is simply to reach out to heretics with love, and attempt to influence them positively.

Note that the Chazon Ish is not presenting a legal argument to nullify a legal position. Instead, he's presenting a common-sense approach to nullify something that was never a legal position or a historical practice in the first place. It is wrong and makes no sense to be hostile to people who have beliefs that you consider incorrect, since these beliefs were innocently reached. Contrast this with Mizrachi and Reuven labeling rabbis with beliefs they consider unacceptable as "wicked resha'im"!

Let us conclude with the words of the Netziv, in his introduction to Sefer Bereishit, where he explains why it is also referred to as Sefer Ha-Yashar, "The Book of the Just":

During the Second Temple, there were tzaddikim and chasidim, as well as those who toiled in the words of Torah; however, they were not yesharim in their dealings with others. Due to the baseless hatred in their hearts towards each other, they suspected that those who disagreed with them on religious matters were Sadducees or heretics. This brought them to bloodshed under false pretenses and many other evils until the Temple was destroyed... And this was the praise of the Patriarchs, that besides their being chasidim and lovers of God in the most perfect way, they were also yesharim; that is, they conducted themselves towards others, even towards despicable idol worshippers, with love; they cared about providing for their benefit, as that keeps the world in existence.
It's fine to disagree with others' opinions, even strongly. But we should not be rushing to disqualify people as resha'im, as heretics, and certainly not as worthy of execution. It's wrong; it's dangerous; and it's not traditional Judaism.

If you'd like to subscribe to this blog via email, use the form on the right of the page, or send me an email and I will add you.