Discover more from Rationalist Judaism
Exploring the legacy of the rationalist Rishonim (medieval sages), and various other notes, by Rabbi Dr. Natan Slifkin, director of The Biblical Museum of Natural History in Beit Shemesh. The views are those of the author, not the institution.
Over 4,000 subscribers
Modern Orthodoxy Fails Again
UPDATE: See the very important follow-up post at http://www.rationalistjudaism.com/2016/11/teaneck-redux.html

Have people gone crazy, or is it me?

I just came across a report that this week, there is a major fundraising drive for Chinuch Atzmai - the network of charedi Talmud Torahs, Beis Yaakovs and yeshiva ketanas in Israel. And this drive is taking place in... Teaneck.

Teaneck?!

Why on earth would Modern/Centrist Orthodox, Zionist Jews, fund a charedi, non-Zionist system of yeshivos, which is opposed to educating children towards professional careers?!

Apparently Rabbi Yosef Pollak, Campaign Director of Chinuch Atzmai, cited passages from the Talmud showing that "in times when the Torah is in danger of being forgotten, our sages have always placed the Torah education of children as their highest priority."

But how on earth is Torah in danger of being forgotten in Israel?! Never in history has there been as much Torah studied as there is today!

On the other hand, Torah is indeed very much in danger of being forgotten in America, where there is an enormous tuition crisis, and many kids go to public school instead of receiving a Torah education because they can't afford the Jewish schools! Which is more of a spiritual tragedy - that a charedi kid would go to a Torani (state religious) school, or that a Modern Orthodox kid would go to a public school?!

Apparently, this fundraising drive is making a big fuss of the fact that Rav Soloveitchik was a strong supporter of Chinuch Atzmai, and was even invited by Rav Aharon Kotler to serve as the first guest of honor at a Chinuch Atzmai dinner. Rav Soloveitchik stated that "a school system of the type of Chinuch Atzmai is of the greatest importance for the survival of Torah Judaism in the Holy Land."

The relevance of this escapes me.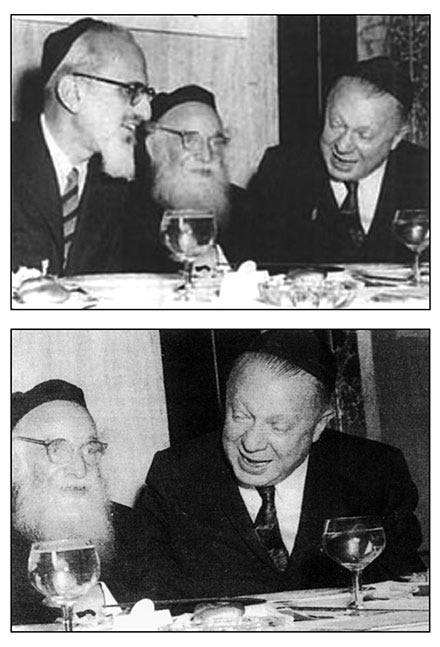 Top: Rav Soloveitchik and Rav Kotler.
Bottom: The picture as it appears in
The Legacy of Rav Aharon Kotler
First of all, if you're going to argue that the dinner honor demonstrates that Rav Soloveitchik greatly respected the chareidi world, it should be pointed out that it also demonstrates that the charedi world of the time greatly respected Rav Soloveitchik. Such is not the case today. In fact, the legacy of Rav Aharon Kotler is that The Legacy Of Rav Aharon Kotler (Feldheim Publishers) crops Rav Soloveitchik out of the picture of the Chinnuch Atzmai dinner.

Second, and more fundamentally, Rav Soloveitchik did this in 1956. How many charedi students were there back then? Less than twenty thousand. They were a miniscule fraction of the population, living a strongly anti-religious country. Contrast that with today, when hundreds of thousands of students, including over thirty percent of first-graders in Israel, are in charedi frameworks!

Unlike in 1956, the problem today is not "Torah is in danger of being forgotten" or "the survival of Torah Judaism in the Holy Land." The problem today is precisely the opposite: that there is too much Torah study, taking place at the expense of other obligations mandated by the Torah and Chazal: working to support one's family, serving the nation, and teaching one's children to be able to support themselves. The majority of Chinuch Atzmai schools have substandard secular education, encourage the children to go to yeshivah ketanah instead of high school, and teach the strong message that students should not serve in the army or do Sherut Leumi, that they should all learn in kollel, and that they should not train for professional careers. And this, as Chazal predicted, has catastrophic consequences, which threaten to get much, much worse.

Don't take my word for it. Read the Israeli Mishpachah magazine article about the economic collapse of chareidi society. Trust Jonathan Rosenblum, who actually lives in Israeli charedi society (rather than being an American with romanticized views of life in Israel), and who wrote about how it is essential for chareidim to engage in a wholesale reform of their educational system - not just to prevent the collapse of their own society, but to prevent serious harm to the entire country.

In the past, I have written about how for thirty years (until the rise of Koren), Modern Orthodoxy completely dropped the ball with regard to publishing Torah works. One could likewise talk about the long failure of Modern Orthodoxy to produce enough of its own Torah teachers, instead importing teachers with different worldviews. But this one really takes the cake. When there is a catastrophic shortage of funds for Torah education in the Modern Orthodox community, are they really going to give their donations to a community which disregards and disrespects that which they hold dear, which is threatening itself and the rest of the country with catastrophe, and which is learning too much Torah at the expense of other critical areas of education?!

Am I missing something, or have they gone crazy?!

UPDATE: Here's a comment that someone posted:

"Yosef Ehrman:
We have a chareidi school started not so long ago, with all secular studies to go with very strong torah studies, and its called תלמוד תורה ממלכתי חרדי
We give the kids the best education possible, both in torah mishna and navi and halacha. The Chinuch hAtzmai is one of our biggest opponents. They fear that they loose their hold of the tzibur. That they will be irrelevant. That they wont be able to hold such an event of fundraising, where the principals make 20-30-49 percent of the income to marry of their children, where the rest of the kids in the town wont have proper education, and will be forced to stay in kolel, or paint houses for a living.
Sorry for my english. Im an israely that had enough of the system.
Look up תלמוד תורה בית רבן."

There are charedi high schools, such as Rabbi Betzalel Cohen's Chachmei Lev, which innovated a full secular curriculum - and was promptly condemned by the chareidi establishment. There's a great new institution called Derech Chaim, which combines yeshivah studies with army service (you can donate at their website). If Americans want to support charedi education in Israel, they should be supporting institutions that address the problems, not those that perpetuate them.

UPDATE: See the very important follow-up post at http://www.rationalistjudaism.com/2016/11/teaneck-redux.html