Discover more from Rationalist Judaism
Exploring the legacy of the rationalist Rishonim (medieval sages), and various other notes, by Rabbi Dr. Natan Slifkin, director of The Biblical Museum of Natural History in Beit Shemesh. The views are those of the author, not the institution.
Over 4,000 subscribers
How Can The Banned Ban?!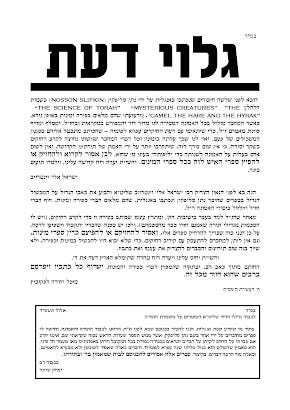 I'm hoping that this will be the last of my posts about the dangerous craziness of Rabbi Yosef Mizrachi and Rabbi Yaron Reuven. There is a loose end to tie up.
Several people have criticized my campaign against Mizrachi and Reuven as being hypocritical. Did I not complain when three of my books were banned? How can I then propose banning someone else?
Some people say that this is too ludicrous an objection to be even worth responding to. But since apparently not everyone realizes all the reasons why this is a flawed and nonsensical argument, I will spell it out.
First of all, I have never had any objection to people condemning and even banning books. On numerous occasions I have said that I don't like it when people automatically side with me merely because my works were banned - how do they know that my books weren't banned with good reason?! If I had truly written dangerous heresy, then the condemnation would have been wholly appropriate! And in fact I even repeatedly stated that to the extent that my books were thought to be dangerous to naive ultra-Orthodox Jews, I was fully sympathetic to efforts to block them from reaching such people!

It was the content of the condemnation which I disputed. I do not believe that it's remotely heretical to say that there was an age of dinosaurs and that there are scientifically incorrect statements in the Talmud. As it happens, I also don't have a problem with people who believe that the universe is only a few thousand years old and the Talmud is scientifically infallible, as long as they don't claim that it's forbidden to take the rationalist approach. I do have a problem with rabbis who say that it is a mitzvah to hate those who take this approach and that they are resha'im who deserve execution. This is entirely consistent with my advocacy of this approach - it's not hypocritical! Similarly, I have a problem with those who say that they would like to kill people who challenge their lectures. And who tell lies to enable antisemitism by broadcasting that Hitler was justified in hating the Jews because their immorality and greed destroyed Germany. 

Thus, to say, "How you can you want to ban someone when you complained about banned?!" is like saying "How can the IDF shoot terrorists when they complain about the terrorists shooting them?!"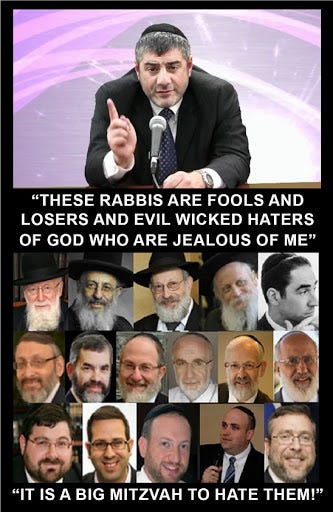 In addition, there is a world of difference between a ban and a campaign of condemnation. Those who banned my books did not give reasons why they were heretical; instead, they tried to use their authority to declare that my books were forbidden. In such a case, I (and my mentors) felt that it was procedurally wrong, especially since I had obviously written these books with good intentions and under the guidance of widely respected rabbonim and to great positive impact, whereas the banning rabbis had been given a warped description of me, my books, and the effects of my books. With Reuven, on the other hand, I am not using authority to try to ban him - I don't have any! Nor am I relying on hearsay and agitation from kanno'im. Instead, I am presenting clear evidence as to why he is a menace to society and should not be given legitimacy.

Anyone who think that banning someone as a heretic for quoting Rambam is the same as urging the de-platforming of someone who urges hatred for "heretical" rabbis, declares them worthy of execution, and justifies Hitler's antisemitism, needs their head examining.
Finally, and perhaps most importantly: Some people have utilized this or a similar argument to tell me why they needn't do anything about Mizrachi and Reuven. "You're a hypocrite! You're just a bitter ex-charedi!"

But it's not about me! The campaign against Mizrachi and Reuven is based on what they said, not based on what I say. If some guy yells "Look out, there's a fire!" you don't ignore the fire just because you don't approve of the guy pointing it out!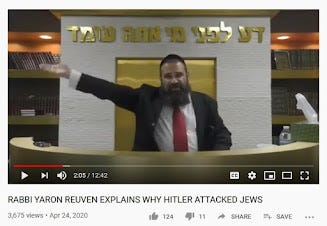 Of course, given that there are people who are foolishly distracted by the messenger and ignore the message, it would indeed have been better had a more mainstream figure than myself been leading this campaign. Alas, nobody else stepped up to the plate. I've been getting a lot of encouragement behind the scenes from mainstream rabbinic figures, but they do not wish to publicly push the campaign themselves. This is a pity. But it doesn't change the fact that the case should stand on its own merits.

I've presented a lot of very clear video evidence of Rabbi Yosef Mizrachi and Rabbi Yaron Reuven inciting hatred against respected rabbis, speaking repeatedly about how they deserve execution, fomenting a Judaism consisting of violent apocalyptic fantasies, and insisting that Hitler was justified in saying that "the Jews are our misfortune." Anyone who tries to change the subject to talking about my supposed hypocrisy is not only mistaken; they are also responsible for enabling this dangerous madness.
(If you'd like to subscribe to this blog via email, use the form on the right of the page, or send me an email and I will add you.)