Discover more from Rationalist Judaism
Exploring the legacy of the rationalist Rishonim (medieval sages), and various other notes, by Rabbi Dr. Natan Slifkin, director of The Biblical Museum of Natural History in Beit Shemesh. The views are those of the author, not the institution.
Over 4,000 subscribers
A Gift To Antisemites
Raed Majali was born in London, studied at UCL, and is now at the University of Exeter.

He has 42,703 followers on social media.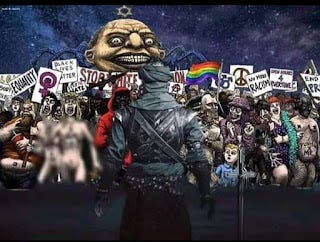 He hates Jews. He really, really hates Jews. He spreads the most vile antisemitic claims. He posted a "picture worth a thousand pictures," of a lone Islamic warrior facing off against all the evils of the world, controlled by a spider-legged Jewish monster.

And Raed Majali was given the greatest gift, the most powerful way to justify and spread his terrible message.

He has Rabbi Yaron Reuven's video about the Jews of Germany. A video which has been shared by numerous antisemites on YouTube and Facebook. (You can watch it on YouTube at this link.)

In this video, Yaron Reuven explains that Hitler had two good reasons for hating the Jews.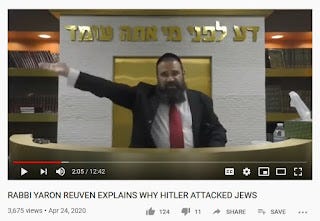 First was that "Berlin was the Sodom and Gomorra of the day... homosexuality, pornography, bestiality, all the garbage of the world... Hitler closed all the bars, all the gay clubs, all the productions - which were all run by Jewish people."

Second, explains Reuven, is that the Jews destroyed the German economy, by charging high interest. (Of course, this isn't actually true; see this article for the real explanation of why the German economy collapsed, and how the Nazis manipulated this against the Jews.) Reuven states: "Hitler wrote that 'the Jews destroyed Russia, and now they are destroying Germany, so I have to destroy them.' It doesn't make it right, but the point is that it's absolutely true history."

A bearded rabbi, lecturing in a synagogue, endorsing all the worst accusations about how Jews destroy their host countries with moral corruption and taking their money.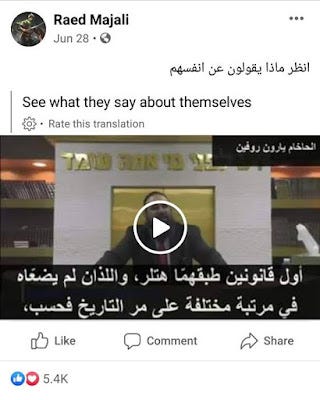 Majali shared an extract from this video on Facebook, with Arabic subtitles, under the heading, "See what they say about themselves." He is one of only many who have shared this video on Facebook and YouTube. Facebook and YouTube have procedures for removing antisemitic propaganda, but these are difficult to activate - especially when the person spouting the antisemitic propaganda is a rabbi.

In the last month, Majali's video alone has been viewed TWO HUNDRED AND SIXTY-SEVEN THOUSAND TIMES.

If you want to get into the mood for Tishah B'Av, you can read some of the hundreds of comments on the video at Majali's Facebook page. They are all in Arabic, but Facebook provides an automatic translation. As one can imagine, they are horrific.

There's nothing that can be done to repair the terrible damage to our nation that Yaron Reuven has wrought. It's too late.

But we have to stop him from causing any more.

Yaron Reuven's YouTube and Facebook videos and accounts must be removed for spreading antisemitic conspiracy theories and inciting hatred and violence. He needs to be ousted from the Rabbinical Alliance of America (of which he proudly declares membership and legitimacy). He needs to be denounced, defrocked and condemned.

Yaron Reuven is a menace to society. 
(See the follow-up post at http://www.rationalistjudaism.com/2020/07/determinedly-enabling-our-enemies.html)