Discover more from Rationalist Judaism
Exploring the legacy of the rationalist Rishonim (medieval sages), and various other notes, by Rabbi Dr. Natan Slifkin, director of The Biblical Museum of Natural History in Beit Shemesh. The views are those of the author, not the institution.
Over 4,000 subscribers
Can My Daughter Sing?
My eldest daughter is a very talented singer (which she certainly didn't get from me). When she asked me recently if there is any halachic room for her to sing in front of men, I regretfully but confidently replied in the negative. I had never really studied the topic, since it never been of relevance or interest to me, but I knew enough to know that kol b'isha ervah (the voice of a woman is nakedness) is an explicit Gemara that is undisputed. 
So she decided to look into it herself, with a tenacity that she might have gotten from me. When she came back and reported that there are rabbis who permit it under certain circumstances, I didn't believe her. And so I decided to look into it.

I. The Biblical Picture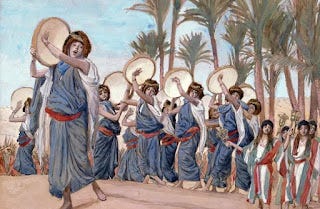 While there are some famous accounts in Tanach of women singing, such as the songs of Miriam and of Devorah, it can be argued that those were only sung in the presence of other women. However, there are several references in Tanach to women singing in the presence of men:

"When the [troops] came home [and] David returned from killing the Philistine, the women of all the towns of Israel came out singing and dancing to greet King Saul with timbrels, shouting, and sistrums." (I Shmuel 18:6)

Kohelet, taken to be Shlomo HaMelech, says that he had female singers:

"I further amassed silver and gold and treasures of kings and provinces; and I got myself male and female singers, as well as the luxuries of commoners—coffers and coffers of them." (Kohelet 2:8)

And we also find the following account:
"Of the sons of the priests, the sons of Habaiah, the sons of Hakkoz, the sons of Barzillai ... they also had 200 male and female singers" (Ezra 2:61.65). 
Rashi and Metzudat David explain that these singers accompanied the people back from Bavel, to add celebration to the journey. 
Now, of course Biblical Judaism was very different from rabbinic Judaism, and we don't pasken from Tenach. Still, at the same time, we do try to harmonize halacha with Tanach. And all these verses show that it can't be unthinkable for men to listen to women sing. And, if we take a closer look at the sources in the Talmud and Rishonim, we will be able to actually understand these verses, rather than studiously avoid thinking about them, as people normally do.

II. The Talmudic Prohibition
The primary source regarding women singing is usually taken to be Berachot 24a. It begins with the following discussion:
"Rabbi Yitzḥak stated: An exposed handbreadth in a woman constitutes nakedness. Regarding which halakha was this said? If you say that it serves to prohibit looking at an exposed handbreadth, didn't Rav Sheshet say ...Anyone who gazes (with impure intentions) upon a woman's little finger is considered as if he gazed upon her genitals? Rather, it is referring even to his wife, while he is reciting the Shema." (Note - I do have a question on this Gemara: why didn't it just answer simply that whereas Rav Sheshet is referring to a case of looking with impure intentions, Rav Yitzchak is talking about seeing areas that are normally uncovered even without impure intentions? Why does it need to add that it is referring to reciting Shema and qualify that it is referring to his wife? I'd be grateful if anyone can suggest an answer to this.)

The Gemara then proceeds to list three further aspects of women that are rated as nakedness, but it does not clarify whether it is adding things to the category of Rav Sheshet (i.e. things that are generally prohibited) or the category of R. Yitzchak (i.e. things that are prohibited during Shema):

"Rav Chisda said: A woman's leg is considered nakedness...
Shmuel said: A woman's voice is considered nakedness, as it is stated: "Sweet is your voice and your countenance is alluring" (Song of Songs 2:14). 
Rav Sheshet said: A woman's hair is considered nakedness... "

Rosh and others explain that these additions are referring to general prohibitions, while Raavya and Ritva explain that they are things that are prohibited during the recital of Shema. 

Whichever way one explains the Gemara, an important point to clarify is what is meant by a woman's "voice." I have seen various contemporary halachic works state that various authorities "clarify" that the Gemara is referring to a woman singing. However, these are not "clarifications" - they are interpretations. They are disputed by other, earlier authorities, who understand the Gemara as referring to a woman's speaking voice, and draw no distinction between speaking and singing. 
Furthermore, these authorities have far stronger grounds for their case. The reason is that Shmuel's statement that kol b'isha erva also appears in another Talmudic passage, where it is explicitly referring to speaking rather than singing:

"Later on, Rav Nachman suggested: Let the Master send greetings of peace to my wife Yalta. Rav Yehuda said to him: This is what Shmuel says: A woman's voice is considered nakedness." (Kiddushin 70b)

It may sound surprising that a non-singing voice should be considered problematic, but we find the same sentiment elsewhere in the Gemara:

"Rachav aroused lust with her name, Yael with her voice" (Megillah 15a)

But can it really be that it is prohibited to listen to a woman talk? Rashba (Berachot 24a) explains that Shmuel is referring to speech which gives rise to feelings of intimacy, which is the context of the story with Rav Nachman and Rav Yehuda.
III. The Development of the Halacha
Rav Moshe Lichtenstein has a fascinating article in which he gives an unprejudiced analysis of the halachah. He notes that Rashba, as pointed out above, explains the Gemara in accordance with its straightforward meaning, in which there is no distinction between speaking and singing; the only relevant factor is the content and context. R. Lichtenstein adds that Rambam likewise only prohibits listening to a woman's voice in cases where it is done for lust. And the third of the major Rishonim to deal with the topic, Raaviah, also says that prohibition of listening to a woman's voice does not apply when one is accustomed to it.
The Shulchan Aruch mentions the prohibition regarding a woman's voice and does not distinguish between song and speech. It is with the commentaries on the Shulchan Aruch (Beit Shmuel and Magen Avraham) that we find a distinction being drawn between song and speech. As summarized by Sdei Chemed, most Acharonim follow in this path and place a blanket prohibition on listening to song; but Divrei Chefetz, following similar reasoning to Rashba, permits listening to song as long as it does not cause lust. Sdei Chemed says that one should follow the majority opinion, but notes that the opinion of Divrei Chefetz is cogent. This view is also cited in the famous ruling of R. Yechiel Yaakov Weinberg in Seridei Esh, about whom Rav Lichtenstein points out that he was particularly qualified to balance the requirements of halacha with the challenges and needs of the era.

Rav Lichtenstein summarizes the matter with a very important point about halachic methodology. He notes that when there is a halachic position which is the dominant view among the Rishonim, and still finds support among the Acharonim, and has been applied in the modern era by a prominent posek who is particularly attuned to the circumstances of the era, then it is a perfectly legitimate position to take. To this we can add that it is a view which is the most straightforward explanation of the Gemara, and also allows us to accept all the Scriptural verses about great men listening to women singing.

IV. Putting It Into Practice
Thus, there is a legitimate halachic view that a woman's voice is only forbidden when it causes lust. But this immediately raises a question: How can we decide when it is a case that causes lust? Rav David Bigman, Rosh Yeshivah of Maaleh Gilboa, has an article on this topic in which he presents five criteria via which to distinguish permissible from forbidden speech/song:

1. Context and atmosphere
2. The words being said
3. The musical style
4. Dress
5. Body language

Of course, even with these five criteria, the "devil is in the details" - there is still a lot of ambiguity and grey areas. But then, that is true of tzniyut in general. (Incidentally, Rav Bigman additionally argues that these five criteria should also apply to men singing for women!)
So, does all this mean that I am comfortable with my daughter singing in front of men?
Well, it's complicated. At the same time as being very proud of my daughter's talents, I must admit that it's a difficult adjustment for me. 
But if there's one thing that my daughter respects me for, it's my giving her honest answers. And I have to admit that she is correct - there is halachic legitimacy for it.
If you'd like to subscribe to this blog via email, use the form on the right of the page, or send me an email and I will add you.