Discover more from Rationalist Judaism
Exploring the legacy of the rationalist Rishonim (medieval sages), and various other notes, by Rabbi Dr. Natan Slifkin, director of The Biblical Museum of Natural History in Beit Shemesh. The views are those of the author, not the institution.
Over 4,000 subscribers
Zionist Detachment From Reality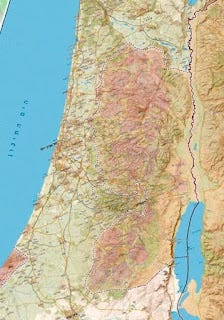 In the past, I've written extensively about how "pro-peace" people who want Israel to give the Palestinians a state in Judea and Samaria are in denial of reality. A negotiated peace settlement will never happen, because the Palestinian leadership is just not interested in it. A unilateral withdrawal will just result in another failed terror-state that will attack Israel, and against which Israel will face international condemnation when it defends itself. And peace between the populations will never happen, since the Palestinians are collectively in denial of the Jewish historical attachment to the land and thus simply see us as European colonialists who stole their land, while some Jews believe that no Palestinians have a right to live here unless they swear allegiance to Israel.

But much of the right-wing Zionist camp is also in denial of reality.
An article in the Jerusalem Post relates that maps of Israel were created for schools by the Tel-Aviv Municipality which include a dotted line showing the distinction between Gaza, Judea and Samaria and Israel proper. But the Education Ministry, along with the Council of Settlements and religious Zionist schools, strongly opposed them. "Students from the schools in Efrat will visit Tel Aviv during the coming school year, even though the mayor of Tel Aviv doesn't like us that much, it turns out, or sees us as not legitimate residents of Israel," said council head Oded Ravivi.
What a bizarre and disturbing detachment from reality. The dotted line simply serves to teach the political and legal reality. Judea and Samaria are certainly part of Eretz Yisrael. And in many ways they are de facto part of the State of Israel. But they are not legally part of the State of Israel. That's just a plain fact. 
And it's not just a fact according to the UN or a similarly Judeopathic body; it's according to every government of Israel that has ever existed, including all the right-wing ones. Unlike the Golan, which was annexed by Israel, Judea and Samaria were never annexed. Doing so would result in the serious problem of not giving its Palestinian inhabitants the same legal rights as every other citizen of Israel.

In fact, it's precisely the fact that these areas are not legally part of the State of Israel that the Likud, Smotrich and the charedi parties took advantage of to blackmail the present government into collapsing. They threatened not to renew the temporary legislation that extends Israeli law to Israelis living in those areas. And Bibi certainly has no plans to annex Judea and Samaria.
I saw a number of people complaining about this map and pointing out that Palestinians frequently put out maps declaring all Israel to be Palestine. I much confess that I do not understand this argument. Even though the Palestinians are dishonest, surely we should avoid doing the same? Otherwise, how can we possibly claim to have the high ground in saying that they are dishonest in their claims?

The situation with Judea and Samaria is a mess. It's currently a problem without a solution. We can't just give it to the Palestinians, because that would result in catastrophe. But on the other hand, we haven't said that it's fully and permanently ours - and nor can we do so, because that would also result in catastrophe. In the absence of a better alternative, we are simply managing the current situation as best we can until a solution miraculously appears or somehow develops. (It's not unthinkable for such a messy situation to exist - there are all kinds of territorial disputes, military occupations and stateless nations around the world.)

But it doesn't help for either side to be in denial of reality.