Discover more from Rationalist Judaism
Exploring the legacy of the rationalist Rishonim (medieval sages), and various other notes, by Rabbi Dr. Natan Slifkin, director of The Biblical Museum of Natural History in Beit Shemesh. The views are those of the author, not the institution.
Over 4,000 subscribers
"You Must Love People! Except Rabbis who are Fools and Losers and Reshaim!"
I've got some posts of major significance coming up, but before that, here's some light entertainment. Rabbi Yosef Mizrachi spoke in Ramat Beit Shemesh earlier this week, in a lengthy lecture which covered two topics at great length, albeit with a dearth of actual substance. His second longest discussion was about the consequences and precise nature of immodest clothing that some women wear (he seems a little obsessed with that), and he made numerous jokes about such women, to the appreciative guffaws of the audience. But he also spoke about how important it is to love people, and not to hate Jews who are different, or "miserable chilonim," and not to "murder people online." A large portion of that discussion, however, revolved around a lengthy important qualification (see at 29:55), that with some people, it's a mitzva to hate them!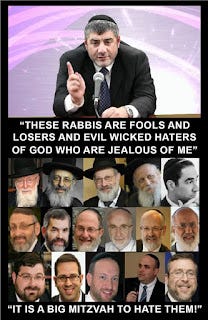 Specifically, he explains, it's a mitzva to hate the sixteen rabbis (or "fools" and "losers," as he refers to them) that wrote a letter against him. Then he honors me, albeit devoting a mere twenty seconds to trashing me. Yet in that span of just twenty seconds, he managed to pack in two insults and five lies! Here we go:

"One rasha that lives here in town had something to say."
Being called a rasha by Mizrachi puts me in very fine company - he readily uses that title for all the respected rabbanim that criticize his approach. What an honor!

"He wrote against me: How did they let me come and speak here?!" 
Actually, I never wrote that, and in a private discussion group, I recommended against protesting his lecture. What I actually wrote was a precise critique of his statements, which, unsurprisingly, he did not address.

"He forgot to say that all the rabbis in the world put him in cherem!" 
Actually, it wasn't all the rabbis in the world, just the charedi ones. And they didn't put me in cherem, just some of my books. And I didn't forget to mention it at all; in my first post about Rabbi Mizrachi I explicitly discussed that and contrasted it with the letter against him.

"He forgot to say that he's an apikores who makes fun of Chazal!" 
Actually, I've always been very open about my views on Chazal, which do not involve making fun of them and are not apikorses, unless you classify saying that Chazal lacked certain knowledge about the natural world is making fun of them and is apikorsus. In which case Rabbi Mizrachi is accusing Rambam and many others of apikorsus.

Rabbi Mizrachi followed this by by adding me to the other rabbis as being among "the greatest enemies of the Jewish nation" and as someone that it is a "very big mitzvah to hate." Not just any old mitzvah - it's a Very Big Mitzvah!

It's almost as though Rabbi Mizrachi himself has the exact same flaw that he accuses his numerous rabbinic opponents of possessing - a fragile ego. Incidentally, I just noticed that my third post about Rabbi Mizrachi, "The Biggest Enemy of the Jewish Nation," is now my sixth most-read blog post of all time, with over ten thousand hits! I wonder how many of those were from Rabbi Mizrachi?

Anyway, someone wrote to me to suggest that the best way to deal with Rabbi Mizrachi and his devotees is to play his own game. Rabbi Mizrachi rails on against people who go against the Torah and who change the mesorah. Well, that's rather ironic, coming from someone who (unlike me) is clean shaven! Here is what the Arizal, as quoted by R. Chaim Vital, had to say about people who shave their beards, and it ain't pretty:



Oy, the Arizal said that Rabbi Yosef Mizrachi is doing a Very Big Sin! Maybe Hashem is punishing him by having him criticized by rabbis with beards?