Discover more from Rationalist Judaism
Exploring the legacy of the rationalist Rishonim (medieval sages), and various other notes, by Rabbi Dr. Natan Slifkin, director of The Biblical Museum of Natural History in Beit Shemesh. The views are those of the author, not the institution.
Over 4,000 subscribers
Woolly Mammoths and the Jews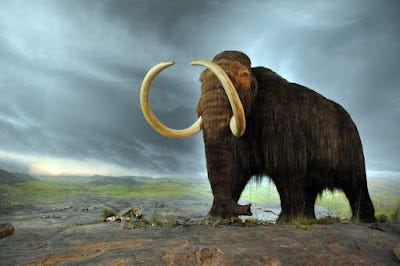 In the news today is a story about new research regarding the very last population of woolly mammoths, on a remote Arctic island. Incredibly, these survived until just 4000 years ago - as the story says, "a few hundred years after the Ancient Egyptians built the Great Pyramid at Giza." And this is good news for the Jews! Or at least, for this Jew.

As I've explained in the past, I have a skeleton in my closet - specifically, various parts of dinosaur skeletons. They stay in my closet at home, rather than going on display at the Biblical Museum of Natural History, because many of our visitors are from the charedi community and many of them would object to displays of creatures that lived longer than 5780 years ago.

But recently we received two separate gifts of two very special specimens. One is the molar tooth of a woolly mammoth, and the other is a section of mammoth tusk. (Interestingly, while it is completely illegal to trade in elephant tusks, there are no such restrictions for mammoth tusks, because mammoths are not endangered.) The tusk has a particularly fascinating story - it was given to us by a woman who found it while going through the belongings of her late father, who was a US army chaplain in Alaska and acquired it there.

Now, since mammoths existed well into the Biblical period, we can display these amazing artifacts in the museum without any problems! We set up them up as part of a new exhibit titled "Wonders From The Earth." I'm currently working on the signage, and I came up with a great tagline: "When The Israelites Went Down To Egypt... Mammoths Roamed The Earth!" If you're coming to visit the museum, look out for it!

Wishing you all a Gmar Chatima Tova!