Discover more from Rationalist Judaism
Exploring the legacy of the rationalist Rishonim (medieval sages), and various other notes, by Rabbi Dr. Natan Slifkin, director of The Biblical Museum of Natural History in Beit Shemesh. The views are those of the author, not the institution.
Over 4,000 subscribers
Without Taking A Position on US Politics
I would like to write about something that is related to US politics. Now, it's very dangerous for me to do this. As someone pointed out, for me to take a position on US politics, whatever it is, would instantly alienate half my readership (which seems remarkably evenly divided between pro- and anti-Trump). And I've already alienated enough people, so it doesn't make sense to alienate any more. It also seems to just trigger the most acrimonious arguments among commentators, inevitably ending up in some anti-Trumpists referring to Trumpists as Nazi-enablers, and some Trumpists referring to anti-Trumpists as antisemites. Who knew that the frum Jews comprising my readership include both antisemites and Nazi-enablers?

So that's one of the reasons why I'm not taking any position on US politics. But what if I am writing about something which does not involve my taking a position? No doubt some people will still get mad at me, for not taking a position! "How can you not take a position?! Don't you see that it's your responsibility to say that XYZ?!" Well, to that, I will point out that I am not American, and I don't live in America, and I don't understand what's going on there, and nor am I particularly interested to find out. I just want to comment on one very small aspect of all the political arguments that have been raging for years, during Obama and now Trump, and how it relations to rationalism.

One of the basic principles of Rationalist Judaism is Rambam's maxim that one should accept the truth from wherever it comes. More broadly, that means that one should evaluate statements and positions on their own merits, and not judge them based on who issued them. As Rav Aryeh Carmell ztz"l told me, wise men can say foolish things - and foolish men can say wise things. Great men can do terrible deeds, and terrible men can do great deeds.

Yet, for many years now, the appreciation of this seems to be lacking with certain people on both sides of American politics. For many Jews, whatever Obama did had to be terrible and evil. And for many other Jews, whatever Trump does has to be terrible and evil.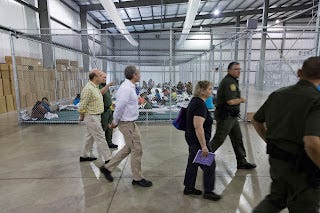 Children in cages. Does the date of this picture
determine how you feel about it?This was brought to light very sharply in the last few weeks, on both sides. Some of those gushing with praise over Trump engaging with Kim Jong were revealed to have condemned Obama for doing the same. And some of those enraged at pictures of children having been put in cages by Trump suddenly changed their line of criticism when the pictures were revealed to have been taken when Obama was president.

Yes, I am well aware that one can draw distinctions between the two cases, and I'm sure that people will happily do so at great length in the comments section. And it could well be that overall, Trump is a great president, or a terrible president. Again - I'm not American and I don't know, I'm too busy researching other things.

Nevertheless, I think that it's still true that many people are evaluating things not based on their own merits, but based solely on where they are perceived as coming from. Which is a pity, and calls for some self-reflection, as to how much one has been caught up in partisanship. From where this foreigner is sitting, it seems that the great United States of America would be a lot better off if people would dial the tribalism back a notch.