Discover more from Rationalist Judaism
Exploring the legacy of the rationalist Rishonim (medieval sages), and various other notes, by Rabbi Dr. Natan Slifkin, director of The Biblical Museum of Natural History in Beit Shemesh. The views are those of the author, not the institution.
Over 4,000 subscribers
Why I Can Never Be A True Rationalist
At the start of the millennium, I was in a pretty low place, in a variety of ways. I had recently been tasked by a certain outreach organization with the mission to research the topic of proving the Divinity of the Torah from the camel, the hare and the hyrax. This was in order to refute various objections that were being thrown at them from people who claimed that the topic actually disproved rather than proved the Torah's divinity. Much to my surprise and great dismay, I discovered that the objections were partially correct, and that while the topic could not be used to disprove the Divinity of Torah, it also couldn't be used to prove it. I was devastated.

Then, I was further shaken when certain (but not all) outreach organizations reacted with great hostility to my presenting them with my final report. Feeling the heat, I tried to ensure that my report would not reach anyone beyond those organizations. And then I was further distressed to find that one of my confidential correspondents had sent it to several further people. All this put me in a state of abject funk.
Meanwhile, in my personal life, things were also going badly. Nearly all my friends had long gotten married, but despite having gone out with many dozens of girls, I was still single. I was a rather out-of-the-box type of yeshivah student, and I had been scarred by certain dating experiences, and frankly, I was at a point when I thought that I would never get married.
Then, one day, I was contacted by one of the people to whom my "Camel, Hare & Hyrax" report had been leaked, Rabbi Yitzchok Adlerstein. He said that he liked it very much, and he was coming to Israel, and would like to meet me. After we met, he told me that I should go out with a former student of his from Los Angeles. 
There's not many connections between Mancunians and Los Angelinos, but I discovered that my neighbor, a very insightful psychologist who knew me extremely well, also knew this girl. I asked her if she thought it would be a good match, and she said that she didn't "see it" at all. Manchester and Los Angeles are not just geographically very far apart; they are also culturally very far apart. But I decided to go out with her anyway.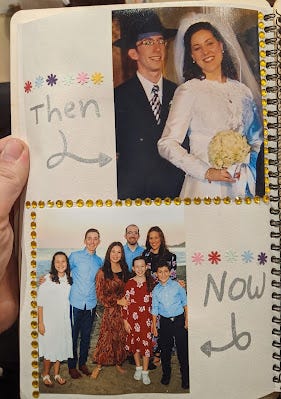 Twenty years ago today, Tali Samson and I got married.
Anyone who knows me from both before and after I got married knows that getting married is the best thing that ever happened to me, in all kinds of ways. My wife, a psychotherapist, is a truly wonderful person who exists to make the world a better place. Virtually every good thing that I have received or achieved is directly or indirectly as a result of getting married to her. My wife and I have been blessed with five wonderful children. We've faced challenges together and gotten through them.

The hyrax, which caused me so much grief, turned out to be the conduit via which I received so much blessing. It's probably not very rationalist of me to believe that I merited exceptional personal divine providence (Rambam and others did not generally believe in such personalized providence, and contemporary rationalists would dismiss it as perceiving significance where none exists), but I just can't help how I feel. I thank Hashem every day for what I consider to be one of the Great Miracles of the 21st century. May He continue to bestow blessings upon us.

(If you'd like to take this opportunity to make a donation to the Biblical Museum of Natural History, you can do so at this link!)