Who Really Believes That "Torah Protects"?
Does learning Torah protect against coronavirus?

According to the Gedolim last week, absolutely! Rav Sholom Ber Sorotzkin, rosh yeshivah of Ateres Shlomo, went to discuss the coronavirus situation with Rav Chaim Kanievksy and Rav Gershon Edelstein. He was told that although coronavirus is dangerous, cancelling yeshivah studies is much more dangerous, since Torah study, as done in the yeshivah framework, is the greatest protection against sickness.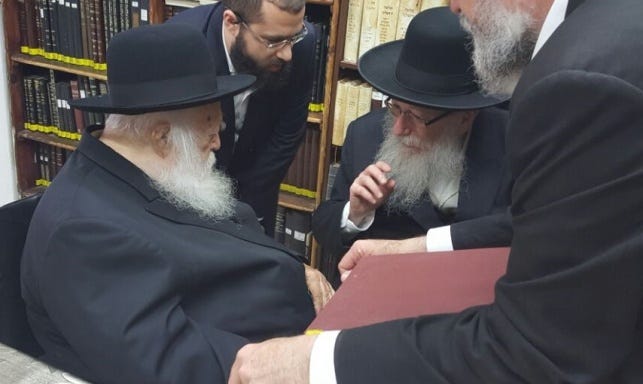 Since then, things have changed a bit. True, charedim are still congregating in larger numbers than anyone else, but they don't have Facebook or the internet, so it's understandable that they are less panicked. Meanwhile, Rav Chaim kept on being besieged by concerned rabbanim, politicians, and community leaders. And now, charedi yeshivos are dramatically changing their policies, changing from having hundreds of yeshivah students in a Beis Medrash to groups of no more than ten. And meanwhile, in the US, Agudas Yisrael (after some initial equivocating) is very open to canceling yeshivah studies. So much for "cancelling yeshivah studies being more dangerous than being exposed to coronavirus."

Of course, this is all too reminiscent of the fraudulent claim, frequently made, that Torah protects from terrorism and military threats. It's fraudulent not just because it doesn't protect, but because the people making this claim don't even really believe it anyway.

This was particularly well illustrated recently in a video of Rav Asher Weiss. As a rare person who is widely respected in both charedi and dati-leumi circles, he recently went to speak at the Hesder yeshivah in Sderot. During his talk, a siren suddenly went off, warning of an incoming rocket. Rav Weiss stopped and asked if the room was protected. After apparently being reassured that it was, he said, "We are studying Torah, and this is the best protection possible." It might have been convincing had that been the first thing that he said, but, tellingly, it wasn't.

When it gets real, most people, even charedim, even Gedolim, do not believe that Torah protects against military threats; that's why during the Gaza wars, the charedi yeshivos in the South fled. The same goes for coronavirus; as long as it's just a mild concern, they say that Torah protects, but as things get more serious, the yeshivos will empty. Nobody really thinks that Torah protects against sickness; that's why charedim make just as much hishtadlus as anyone else (if not more so) to get the best doctors when they are sick.

Rav Chaim Kanievsky might actually be different. He might be one of the few people who really does believe that Torah protects against both military threats and coronavirus. But then, he also believes that a dried pig's testicle, pulverized and ground up, will help a woman conceive (and you can eat the right testicle to get a son, and the left testicle to get a daughter). I record this not to denigrate him (and in any case, repeating someone's beliefs is not a denigration). Rather, it is to point out that he has a completely different worldview than most people.

Torah preserves us as the Jewish nation. But it doesn't protect against terrorists or disease. For corona, you need things like prevention, vaccines and doctors. For military threats, you need an army. Pretty much everyone thinks that way, even if they profess to believe otherwise.

See too this post: Practically Speaking, Torah Does NOT Protect.   

(If you'd like to subscribe to this blog via email, use the form on the right of the page, or send me an email and I will add you.)