Discover more from Rationalist Judaism
Exploring the legacy of the rationalist Rishonim (medieval sages), and various other notes, by Rabbi Dr. Natan Slifkin, director of The Biblical Museum of Natural History in Beit Shemesh. The views are those of the author, not the institution.
Over 4,000 subscribers
Who Glorifies Evil?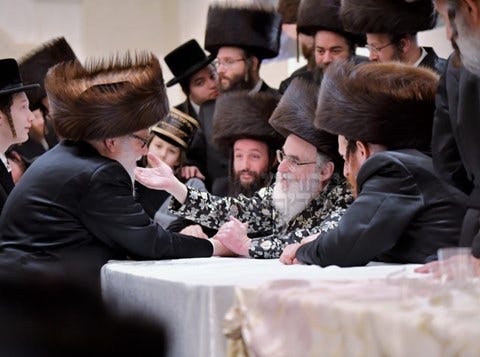 From the United States Department of Justice:
CHAIM STERN, 72, of Flushing, New York, was sentenced today by U.S. District Judge Janet C. Hall in New Haven to 30 months of imprisonment, followed by three years of supervised release... Between approximately 2011 and 2018, Stern stole approximately $4.1 million from the BHCC Pension Plan, over which he was the trustee, principally by diverting the money to a purported charity, called Em Kol Chai, which Stern controlled, as well as to himself and other entities.  Also, in approximately February 2015, Stern misapplied $305,608.06 from BHCC Health Plan by diverting the money from a stop-loss insurance plan that was intended to pay for an employee health claim, and instead used it for other purposes, including Em Kol Chai, the operation of the BHCC, and for Stern's personal use. Stern also failed to pay millions of dollars in other health insurance claims that he was obliged to pay on behalf of his employees, resulting in many cases in debt collection action against employees by the health care providers.
From the Hartford Courant:

A handful of former Stern employees appeared in court through video conferencing and said the crime has ruined their lives.
Maria Alves said she recently retired after 43 years, and is broke. In addition, she said she owes $45,000 in unpaid medical bills because her health care insurance plan denied her claims for surgery. "When I retired - I just turned 66 today, I had no money," Alves said.
Former employee Constance Morton said she is being sued by a health care provider after her daughter required surgery and the health care insurance claims were denied. "My credit is ruined because I have claims that have gone unpaid.," Morton said. "I'm sorry but I don't feel sorry for Mr. Stern because he didn't feel sorry for us. He didn't keep it open for us. He kept it open for himself."
Other employees complained of similar suits and of being pursued by collection agents, even though they never stopped paying their employee contributions toward health care coverage. An unidentified former former employee complained of being denied access to the pension benefits for for the first six years of retirement. "I worked for BHCC for 40 years" the employee said. "I applied for my pension on December 5, 2015. As of today I have not received anything."
From Lawrence Dressler's blog:

Stern's attorney projected videotapes of Stern's many fans attesting to the charitable and selfless nature of Mr. Stern. Stern submitted 60 pages of character letters from friends, neighbors and family members. Stern's daughter in law, Gitty Stern, wrote in her letter the following: "...If there would be some more Chaim Sterns on this Earth, this world would be a better place! Please extend him the mercy and compassion he has shown others in his entire life, everyone can benefit from his goodness!" 

Rabbi Isaac Oelbaum of the K'Hal Nachlas Yitzchok shul of Kew Gardens Hills wrote a letter attesting to Stern's good deeds... Rabbi Keeva Grunblatt, the Dean of the Rabbinical Seminary of America submitted a letter of support. Attorney Moshe Schwerd... wrote the following: "In over 30 years of practice, I have never been moved to pen a letter such as this… though I would not characterize Mr. Stern as a friend, I know him and, more importantly, I know of his vast and selfless contributions to a myriad of philanthropic causes." 

From Matzav.com, back in September 2013:

In the Vizhnitzer Bais Medrash in Bnei Brak, Maftir Yonah was sold for $28,000 to R' Chaim Stern of Queens, NY.

From B'Chadrei Charedim, April 20, 2021:

A year ago, when court proceedings began, the Chassidus arranged a widespread Pidyon Shevuyim campaign, to raise funds for first-rate lawyers. Recently, as the date of the verdict approached, many days of prayer were arranged at the Western Wall, at Kever Rachel... and at yeshivos and Talmudei Torah.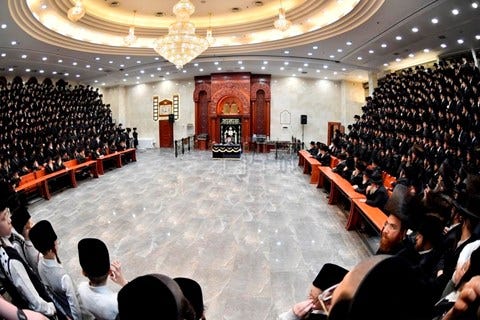 From B'Chadrei Charedim, March 29, 2021:
A rare and unique assembly took place on Tuesday this week, in the Hall of Vizhnitz Chassidus in Bnei Brak. The Rebbe sought to glorify and support the greatest supporter of their institutions, R. Chaim Stein, who would be entering prison the next day for tax fraud. The Rebbe surprised everyone with words that an Admor has never stated about a Chassid... "Tomorrow, our precious Chaim ben Sara Rivka does not go to prison for something that he did for himself. He goes for something about which I can attest was all for the place that we are in right now - it is all in his merit... My holy father is standing in Heaven and wants to show an example, for the sake of the education of future generations, of what mesirus nefesh for a Rebbe and Chassidus looks like! ...If people ask me, which sect of Vizhnitz do I belong to, I will say: I am the Rebbe of R. Chaim Stern!" 
From a comment by a friend of mine:
It seems like the rest of the world doesn't exist from their perspective. Stealing from non-Jews or even non-Charedim is almost a victimless crime, in their eyes.