Discover more from Rationalist Judaism
Exploring the legacy of the rationalist Rishonim (medieval sages), and various other notes, by Rabbi Dr. Natan Slifkin, director of The Biblical Museum of Natural History in Beit Shemesh. The views are those of the author, not the institution.
Over 4,000 subscribers
Who Doesn't Adopt "Modern" Values?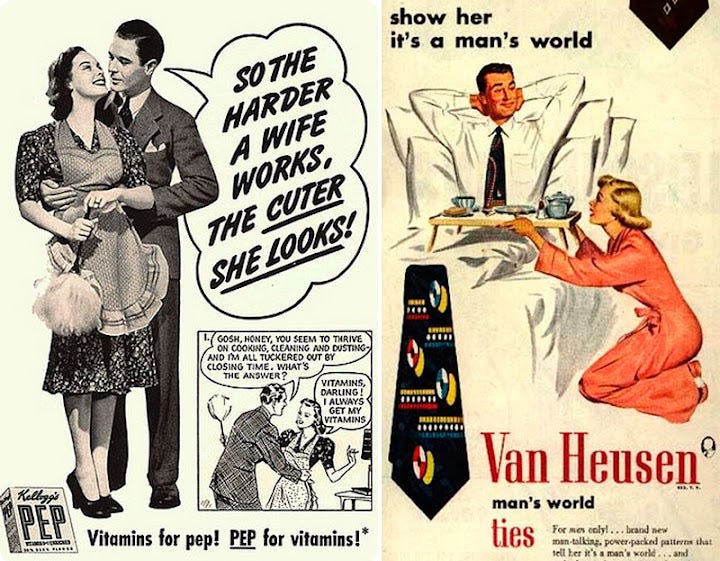 A few weeks ago, Rabbi Yitzchak Adlerstein, whom I greatly respect for many reasons quite aside from his being my shadchan, posted an article on Cross-Currents entitled Modern Orthodoxy Can Do Better. Amongst the points that he raised in the article was that if values are taken from contemporary non-Jewish society, then how are they timeless, Jewish values? "Why these values? How many other values in human civilization have come and gone?"

I think that he raises an excellent point - just look at the advertisement pictured here, which reflects the values of fifty years ago. On the other hand, a good friend of mine called Joseph submitted a lengthy and very interesting comment. Unfortunately it got lost in cyberspace, and nobody is looking at that post anymore, so I decided to present it as a guest post:

...As to the key point Rabbi Adlerstein raises, perhaps a little more self-awareness is in order. Were both he and Dr Brody planted in fifth century Mehoza, I'm not convinced he would find the adjustment to the then-prevalent value system much easier than his modern orthodox companion.

More to the point, it is important to note that many of the areas in which modern orthodoxy differs from charedism are in the realm of implementation rather than values. I remember a talmid of Rav Ruderman telling me that one of the reasons his rebbe sanctioned college study was his conviction that the professions were more likely to guarantee an "umanus kala unekiya" than the world of business. While this per se is obviously not a sign of modern orthodoxy, the idea that current circumstances warrant a change in traditional curricula (and not due to a commitment to modern values) is rejected by much of the charedi world.

And even in many of those areas where modern orthodoxy does differ ideologically from its charedi counterpart, that is often because the former emphasizes values that, while not in vogue in recent centuries in eastern Europe, have a strong precedent in the rishonim (e.g. contributing to yishuv ha'olam as an ideal, "rationalism" broadly defined at the expense of mysticism etc.).

Moving on to areas in which the values embraced by modern orthodoxy really are "modern" in terms of pedigree, it is worth reiterating that the difference is usually one of degree rather than kind. As much as they may protest otherwise, I would submit that few contemporary charedim would be able to stomach the punishments that the gedolei harishonim imposed on sinners of various sorts in medieval Spain or even slavery, which few great authorities disapproved of a mere two centuries ago. Even Rav Kook sought to forbid female suffrage, yet I imagine that many charedi women would be most aggrieved at anyone attempting to deny them that right nowadays. And when a charedi is embarrassed by the primitivism displayed by a contemporary gadol who believes that jews and non-jews have a different number of teeth, he's being distinctly "modern" too.

Thus the question is not whether we adopt "modern" values, but how. And it is here that the best of modern orthodox thought (and I include Rav Kook in that category) can help us. Firstly, the insight that the moral development of society is one that is at least inflected with sparks of the divine provides the basis of the claim that, in certain circumstances, we should be positively oriented towards such progress. The Charedi author Devorah Heshelis' book "The moon's lost light" (which bears haskamos from rabbis far to the right of Rabbi Adlerstein) provides one possible hashkafic model along these lines.

One only has to read Steven Pinker's "The better angels of our nature" to realize that many of the moral horrors that enlightenment values have stamped out are equally horrible by R. Adlerstein's lights as they are by Dr. Brody's.

To take an example with particular contemporary salience, I can't imagine even the staunchest apologists defending the following teshuva (108), on what we would regard from the Chavos Yair, in which he permits a pauper to send his daughter to be molested by an "arel" for financial gain: http://hebrewbooks.org/pdfpager.aspx?req=857&st=&pgnum=129&hilite= Do we have a greater appreciation of Torah values than one of the greatest poskim of three centuries ago? Of course not; we have simply (for want of a better word) become "modernised", and Baruch Hashem for that.

And let it not be thought that integrating values garnered from the outside world is a modern orthodox invention. The dedication to philosophical endeavor displayed by so many medieval authorities was entirely absent from Chazal's milieu. The proto-democratic political philosophy espoused by the Abarbanel owes more to his contemporaries than it does to the medrashim. And, less salubriously, the Ralbag's disdain for women is entirely in consonance with the views of the society he operated in.

So how should we decide when society's "values" should be ours? I see no easy answer to this question but it is certainly true that we should seek to ensure that the moral impulses underpinning our worldview have the sanction of Torah authorities. That does not mean that in retrospect every value subscribed to by those authorities will be upheld by those inspired by them: there should be no shame in admitting that Rav Kook's attitudes on women's suffrage have been surpassed. And neither does it mean that we simply adhere to (or even revere) the moral outlook of the "greatest" talmidei chachamim of our day. I will never be the equal of R. Aharon Teitelbaum in learning, but I will not hesitate to utterly condemn his views on sexual abuse, and my attitude would be no different were he the only gadol batorah alive, no matter how much more semblance his approach bears to many early responsa on the issue than mine does. I have equally little truck with a socioeconomic model that forces thousands of families into poverty, and my critique was no less strident before I learned that Rav Aharon Lichtenstein shares my view.

Sometimes right is just right and wrong is just wrong, and as Rav Kook taught us, it's not always the elite talmidei chachamim who are best at figuring this out. Yet none of this negates the need to ascertain that the foundations of our worldview are in concert with Hashem's will. When it comes to condemning the aforementioned socioeconomic model (and its inevitable consequence - massive welfare dependency), we need not go further than Chazal. But when it comes to "new" issues, such as women's suffrage, we are guided by the fact that gedolim from Rav Uziel onwards confirm our moral and spiritual intuitions. We are no better served by denying the complex interplay of factors that go into our moral decisions, regardless of the community we choose to associate with.
Food for thought. See too my post Ever Changing Morality.