Discover more from Rationalist Judaism
Exploring the legacy of the rationalist Rishonim (medieval sages), and various other notes, by Rabbi Dr. Natan Slifkin, director of The Biblical Museum of Natural History in Beit Shemesh. The views are those of the author, not the institution.
Over 4,000 subscribers
When Rabbis Speak "Heresy"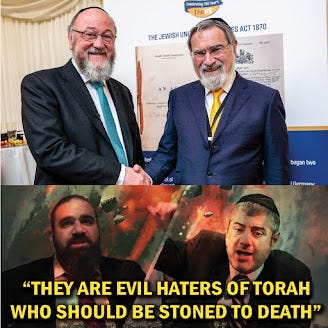 What does one do when a rabbi says or does something deeply religiously problematic?
In numerous videos, Rabbis Yosef Mizrachi and Yaron Reuven have made their approach clear. People should be alerted to the problem. The guilty rabbis should be denounced as heretics and as wicked resha'im. It should be declared that it is a mitzvah to hate them. One must not learn anything at all from them. They should be declared deserving of execution.

I'm involved in a campaign to get Mizrachi and Reuven de-platformed for this (along with Reuven repeatedly publicly endorsing Hitler's reasons for hating Jews). Which includes, especially, Reuven no longer being declared "a rabbi in good standing" with the RAA (Igud HaRabonim). But, as one person connected with the RAA argued to me, rabbis declaring other rabbis to be heretical is hardly new. Is there really something novel about what Mizrachi and Reuven are doing?
The answer is yes, what Mizrachi and Reuven are doing is indeed novel. And wrong. And dangerous. And while for those who are seeking to be tolerant of diverse approaches, "novel and wrong" is not necessarily enough reason to de-platform them, "dangerous" is (or should) most certainly be adequate reason.

Historically, there have been numerous cases of rabbis saying things that others considered deeply religiously problematic. Traditionally, however, the Jewish and rabbinic community generally looked at the Big Picture. Exactly how religiously problematic and dangerous is the doctrine? What is the net effect of this rabbi on Judaism? Depending on the answers to these questions, the offending statements or actions might be overlooked. And even if, after this analysis, the offensive statements are worth condemning, this too is done proportionately.

With Mizrachi and Reuven, on other hand, they go to a crazy extreme. If they don't like a statement that a rabbi has made, or an action of his, they don't just consider it wrong - they rate it as absolute heresy. And they say that this negates everything else about the rabbi. And that it turns him into a wicked a person who must be hated and rated as a rasha to the extent that they are declared deserving of violent punishment and execution.

Rambam introduced vastly more radical theology than the rabbis on the "blacklist," for which there was a good deal of opposition - and yet Ramban (who was vehemently opposed to parts of Rambam's theology) successfully convinced others to let it go. And one of the most zealous crusades in Jewish history, that of Rav Yaakov Emden against Rav Yonasan Eybeshutz (where the central charge is likely correct!) is not held up as a model to be emulated. The accomplishments of these "heretics" and their general benefit to the Jewish people means that their problematic statements are either to be proportionately criticized, disregarded as non-threatening, or even overlooked.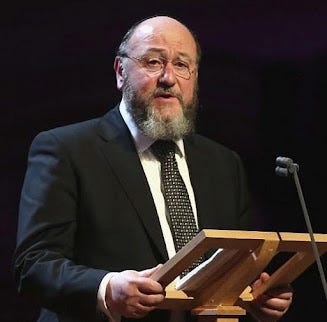 Rabbi Ephraim Mirvis is the Chief Rabbi of the United Kingdom. This follows an immensely successful career as rabbi of several synagogues. He has created schools and community kollels and education programs that reached many thousands of people, along with the extraordinary "Shabbat UK" project.
Why do Mizrachi and Reuven condemn such an outstanding rabbinic leader as an evil heretic worthy of execution? Because he also said that while the Torah prohibits homosexuality, there should no bullying of LGBT+ people in Jewish schools, and worked with a pro-LGBT group to produce a guidance booklet for teens. Now, people might object to this and see it as a quasi-legitimization of Torah prohibitions. But when he explicitly states that these are nevertheless Torah prohibitions, is it really appropriate to denounce him as "a heretic, a hater of Torah, a cancer"?!

There's another justification that Reuven gives for his attacks on Rabbi Mirvis. In an interview about mental health, Rabbi Mirvis said that there should be no stigma about mental health challenges, and named several Biblical figures, such as King David, who suffered from them. Now, King David is revered as one of the greatest Jews in history. The normative approach of countless rabbinic authorities was to justify David's actions with Batsheva. Chazal explicitly stated that "anyone who thinks that King David sinned is making a mistake." And yet, Abarbanel says that David sinned grievously, with the crimes of murder and adultery!
Which is worse - having mental health challenges, or being an adulterer and murderer? Obviously, the latter. And yet, nobody declares Abarbanel to be a rasha and heretic whose every work must be destroyed. Why? Because, even for those who find his statements about King David to be deeply objectionable, the statements are not actual heresy. And they look at the Big Picture. Abarbanel is a respected authority who authored thousands of pages of commentary. You don't entirely negate him for a single problematic idea!

Rabbi Daniel Korobkin and Rabbi Efrem Goldberg are prominent rabbinic leaders of huge communities and are highly respected community rabbis. During their illustrious careers, Rabbi Korobkin had an interfaith dialogue session with an Imam, and Rabbi Goldberg invited a Christian motivational speaker. Sure, some might object to this. But according to Mizrachi and Reuven, it's not merely objectionable; it means that they are wicked heretics who deserve execution! And Rabbi Korobkin's session that was hosted and advertised by the RCA. Which according to Mizrachi and Reuven's logic, means that the RCA are also wicked heretics. It's endless!
Rabbi Lord Jonathan Sacks was Chief Rabbi of the United Kingdom for twenty years. He is the ambassador of the Jewish people to governments and leaders worldwide - and is astoundingly good at it. Anyone politically savvy knows how blessed our nation is to have such a gem. And the reach of his profound writings and lectures is incalculable. He is the author of over twenty bestselling works on Judaism, as well as translations of the siddur and machzorim.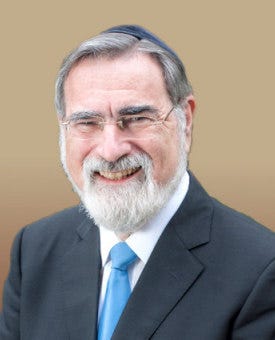 Twenty years ago, one of his books included a radical claim that Judaism does not have a monopoly on spiritual truth. This was harshly opposed by certain rabbis, and Rabbi Sacks was summoned to a meeting with the Beis Din of my home town of Manchester. It so happens that this idea has more support in traditional Judaism than is commonly assumed, though Rabbi Sacks went far beyond any previous formulation. And Rabbi Sacks rewrote the offending passages in the subsequent edition. No other Orthodox rabbi in the world (with the exception of the Mexican lunatic Isaac Betech) sees fit to maintain a campaign against Rabbi Sacks, one of the most prestigious and impactful rabbis in the world, due to a few retracted paragraphs written twenty years ago. But for Mizrachi and Reuven, this minor aspect of his career is enough to repeatedly mock him and denounce him as an evil heretic who deserves to be stoned to death!
Another crime of both Rabbi Sacks and myself was to argue for a non-literal approach to Creation. But even the most zealous of the charedi Gedolim who condemned my work didn't come close to making the kind of statements about me that Mizrachi and Reuven make! Reuven seeks to justify his tirade against me by invoking Rav Elyashiv; but Rav Elyashiv didn't engage in the kind of speech that Reuven does! And with good reason - they knew that (A) these approaches were presented by distinguished rabbinic authorities in our history, and (B) at the end of the day, such approaches are not actual heresy, and certainly don't render their advocates as worthy of the death penalty!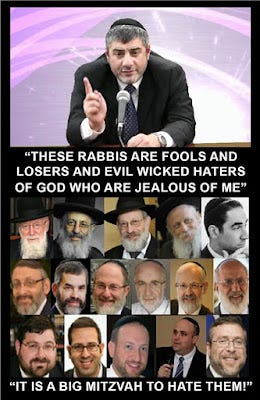 And while the "crimes" of Rabbi Sacks and Rabbi Mirvis and Rabbi Korobkin and Rabbi Goldberg are a tiny aspect of their work, the crusading against such "heresy" isn't a small aspect of the Mizrachi/ Reuven approach. It's something that they push again and again and again as a fundamental religious duty. And just as these two are recent returnees of Judaism, with no real scholarly credentials, but claiming legitimacy as crusaders against evil, likewise they inspire other ignorant people to attain Jewish value by denouncing and hating others.


Still, even after all this, a person could argue that Mizrachi and Reuven should not be de-platformed. If we are saying that people should be tolerant of opinions to which they strongly object, then shouldn't we likewise be tolerant of Mizrachi and Reuven?

The answer to that is that Mizrachi and Reuven are not merely objectionable. They pose a clear and present danger to the community.
In the Mizrachi/Reuven approach, someone whom they have rated as a heretic is not merely declared to be treife; they speak about how the people must be actively hated and are liable for the death penalty. Mizrachi says that he would like to throw them head-first through a window. And anyone who defends and/or associates with these "heretics" is likewise to be hated and declared equally evil and worthy of violence and execution.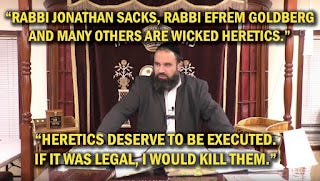 We've seen where this leads in Israel, where the overly heated rhetoric in the Ponovehz yeshivah led to pipe bombs and riots in the yeshivah, and the Rav Shmuel Auerbach feud led to an unstable individual breaking into an elderly rabbi's home and beating him up. And those incidents were due to an isolated area of disagreement; Mizrachi and Reuven are creating a whole religion based on hatred. Reuven's Tisha B'Av video, titled "Stop Hating Each Other," was mostly about why the 14 rabbis on Mizrachi's blacklist are reshaim that people have to hate!
Reuven is Mizrachi's protege, and takes his mentor's craziness even further. What's the next level of craziness going to be? It's not like the zealous rabbis of history, who were teaching their own small group of disciples. Mizrachi and Reuven share their incitement on YouTube and Facebook, reaching hundreds of thousands of people of all types, including the most unstable individuals. Mizrachi has already described, on more than one occasion, how certain followers of his would like to commit violence against those that he has targeted. Are we just waiting for it to happen? And then will we claim that we couldn't have seen it coming, that we couldn't have done anything about it?
The zealotry and violent rhetoric of Mizrachi and Reuven is not merely "just more rabbis squabbling." It's a dangerous usage of modern technology to spread a new approach to Judaism of mass-scale violent fantasies, delegitimization and incitement to violence. It must be stopped.

(If you'd like to subscribe to this blog via email, use the form on the right of the page, or send me an email and I will add you.)