Discover more from Rationalist Judaism
Exploring the legacy of the rationalist Rishonim (medieval sages), and various other notes, by Rabbi Dr. Natan Slifkin, director of The Biblical Museum of Natural History in Beit Shemesh. The views are those of the author, not the institution.
Over 4,000 subscribers
When is a Hyrax Not a Hyrax?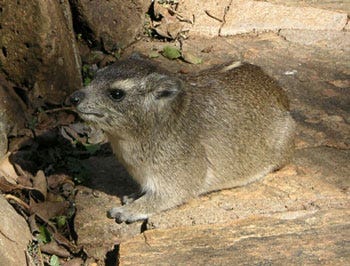 Reader Jonathan directed me to what he described as a story with a "curious hyrax-haredi connection." The story, hereby cut-and-pasted from the English "Times of Israel" website, reads as follows:

Police on Wednesday arrested a couple, residents of the ultra-Orthodox city of Elad in central Israel, after a search of their house revealed 210 marijuana plants and 400 grams of packaged weed. Some of the plants were found in the rooms of the couple's children, the Hebrew website Ynet reported. The man, 37, claimed to be a Torah luminary and explained that he smoked the marijuana for pain relief. The wife told police that she was opposed to her husband's drug habit and had brought home a hyrax to eat the plants.
I read this story and instantly realized that it just couldn't be. Nobody in the world has a hyrax (except me). You can't buy one in a store, and although there are plenty in the wild here, you certainly can't just go and pick one up. Not even if you offer it some marijuana. What was going on? Even before I read the original Hebrew story, it was obvious what had happened.

The animal that the woman had brought home to eat the marijuana was not a hyrax but rather a rabbit, which she described as a shafan. The reason why she called it a shafan is that, in medieval Europe, hyraxes were unknown, so the name shafan in the Torah was transposed to the closest equivalent: the rabbit. Even the maskilic writers in the nineteenth century who wrote about animals in the Torah, such as Mendele Mokher Sefarim and Ludwig Lewysohn, were oblivious to the existence of the hyrax. They maintained that the shafan was a rabbit, despite the fact that rabbits do not hide under rocks (as the shafan is described in Scripture) and have never lived in the region of Israel.

These writers influenced the development of Ivrit, such that shafan became a popular name for rabbits. By the time that people who actually lived in Israel corrected matters, and created the new name arnavon for the rabbit (with the arneves referring to the hare), it was too late. Rabbits are popularly called arnavon, arneves, and still shafan. And so the Israeli in this story used the word shafan, but whoever translated the story into English thought that the person was referring to a hyrax.

With this news story, we see an interesting reversal of events. In centuries past, the hyrax was replaced by the rabbit. Now, we have the rabbit being replaced by the hyrax!

(Incidentally, the animal pictured in the "Times of Israel" article is not a hyrax, contrary to the caption. It's a coypu.)