Discover more from Rationalist Judaism
Exploring the legacy of the rationalist Rishonim (medieval sages), and various other notes, by Rabbi Dr. Natan Slifkin, director of The Biblical Museum of Natural History in Beit Shemesh. The views are those of the author, not the institution.
Over 4,000 subscribers
When Chassidim Fly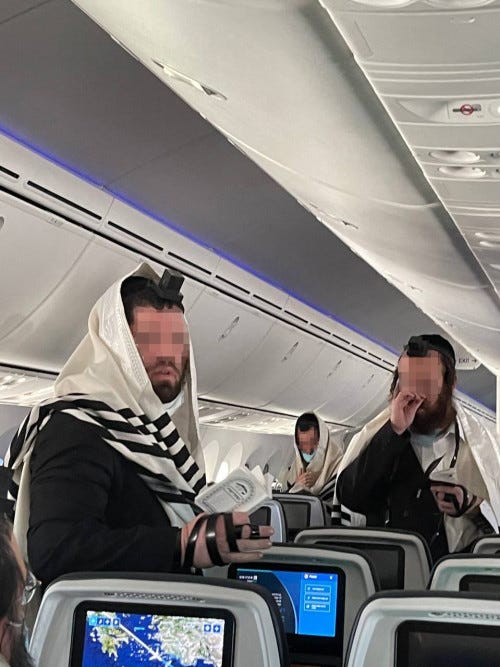 Mishpacha magazine is normally reasonably good about honestly admitting problems in the frum community. They even acknowledge the overwhelming and fundamental problem of the insufficient number of people getting professional careers. And so I was both disturbed and surprised to read the feature article in this week's edition, Airlines Unmasked, about discrimination against Orthodox Jews on flights for not wearing masks.

I have no doubt that there are instances where flight crews are unprofessional, unfair, and even antisemitic. But the article places all blame on the flight crews. It never once acknowledges that maybe there is a problem with how Orthodox Jews behave on planes!
I mean, are you kidding me?! Anyone who has flown extensively with chassidic Jews in particular knows exactly what the problem is. They don't sit down when the plane is waiting to take off. They stand up before the plane has arrived at the gate. They ignore requests from the flight crew. And so on, and so on. This isn't some trumped-up antisemitic conspiracy - it's the plain and obvious truth. (Edit - obviously I'm not talking about all chassidim, and I don't have specific numbers, but it's certainly enough to describe it as a general trend.)

And when it comes to Covid regulations, there is even less compliance. A neighbor of mine was one of the "rescue flights" from New York a few months ago. She told me that it was a horrific experience. Several of the chassidim on the flight boasted about forging fake Covid tests. And they refused to wear masks even when people were begging them to do so!
The article quotes Assemblyman Daniel Rosenthal as saying that "he partially blames media caricatures of the Orthodox community throughout COVID as uncaring for human life and heedless of regulations." Media caricatures?! It was the plain and blatant truth that there was a disproportionately large and officially-endorsed shirking of Covid regulations by the chassidic communities. It's not a media caricature!!!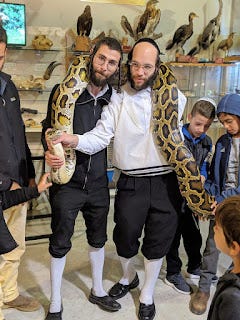 I don't hate chassidim. I love having chassidim visit my museum. And there are sociological reasons why chassidim generally have a particular tendency to ignore airline regulations (separate from the reasons why Israelis also have a tendency to non-compliance). But these aren't relevant here. The point is that they undeniably do have a tendency to ignore regulations, in particular with regard to Covid.
Shame on Mishpacha for distorting the facts and refusing to call out the frum community for its shortcomings in this area. It does us no good to issues charges of antisemitism while failing to criticize and correct the behavior that can incite it.