Discover more from Rationalist Judaism
Exploring the legacy of the rationalist Rishonim (medieval sages), and various other notes, by Rabbi Dr. Natan Slifkin, director of The Biblical Museum of Natural History in Beit Shemesh. The views are those of the author, not the institution.
Over 4,000 subscribers
When Bravado is Folly
Last week, while Arabs in Sheikh Jarrah were throwing stones at security forces, Itamar Ben Gvir went to visit the scene. He pulled out his gun, yelled at his supporters to shoot the Arabs, and yelled at the Arabs that he will "mow them down."

Regarding this incident, here is what a former Shin Bet officer called Gonen Ben-Yitzchak wrote (and which I double-checked with a nephew of mine from the Shomron who was in Special Forces)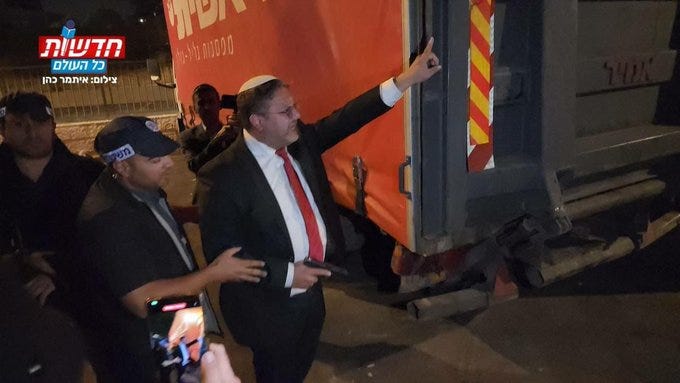 "I see the picture of Itamar Ben Gvir with the gun in Sheikh Jarrah and I have to share something with you:
"I was in the Shin Bet for a total of ten years. During the difficult days of the Second Intifada. I was inside the firestorm. I was shot. I arrested dozens and hundreds of terrorists. Some of them are the most murderous terrorists we have known. I stopped some of them with my own hands when it was just me and the terrorist in the room for all kinds of reasons. Falah Nada, the Hamas man who religiously prepared the suicide bomber at Cafe Moment for example, and others as well. I was with Duvdevan in Surda, a week or two before the disaster when people opened fire on us from the roof during an arrest attempt.
"The number of times I found myself with a gun drawn in my hand is zero.
"Because the truth is, when there are security forces around you who are watching over you like in the case of Ben Gvir, unless you mess your pants out of fear, you don't have to walk around with a gun drawn. It's either a pose or cowardice or a combination of the two.
"Of course, this is not to mention the fact that Ben Gvir did not serve in the IDF, and did not receive a license for weapons except by virtue of being a Member of Knesset (criminals do not usually receive weapons). I don't suppose he has any shooting experience.
"A citizen who pulls out a weapon in a place full of security forces (and violence) first and foremost puts both the security forces and himself at risk."

This is a microcosm of (one of) the problems with Ben Gvir, and Smotrich, in general. It's all very well to talk about taking a tough approach with terrorists. It wins lots of popular appeal. But in the real world, there are real-life considerations. Every action has consequences - including political consequences, which are also of great importance.
It reminds of the time that another nephew of mine shot a terrorist, stopping him in his tracks but not killing him. I was deluged by people asking me why my nephew didn't "finish the job." These naive trigger-happy armchair soldiers only thought about one aspect of the situation. It didn't occur to them to think about the numerous harmful consequences of soldiers taking it upon themselves to freely shoot captured Palestinians in the head. 
An important editorial in The Jerusalem Post stresses the unprecedented dangers of Ben Gvir:

"....The upcoming election on November 1 is one of the most important in Israel's 75 years and, more specifically, potentially the most dangerous. 
"The reason is due to the rise in power of Itamar Ben-Gvir, who is a danger to the State of Israel. He is the modern Israeli version of an American white supremacist and a European fascist. He is a threat to the future of Israel's fragile democratic character, and if he gets his way – and Netanyahu gets his 61 seats – these two men will have the ability to demolish the country as we know it.
"All you have to do is listen to what Ben-Gvir says. In an interview with Channel 13 last week, he stood in the city of Hebron and spoke about the need to establish a "Ministry to Encourage Migration" that will help convince Palestinian Arabs to leave this land. Europe, he explained when asked, needs "working hands."

"Imagine for a moment a European politician standing in a city in Europe with a Jewish majority and declaring the need to set up a government office that will encourage those Jews to migrate so they can work. Ring a bell? Would you not be outraged?

"...Israel's former prime minister has legitimized Ben-Gvir in a way no one else in the mainstream political system ever would have imagined. Back when Yitzhak Shamir led Likud, he and the rest of the party would walk out of the Knesset when Meir Kahane went up to the podium to speak. Then, Kach was seen as illegitimate. Today, its de facto leader is on his way to becoming the most important politician in a future Netanyahu government. A government with Ben-Gvir in it will undermine Israel's standing in the world, and the country will take on the contours of a fascist state.
"...While Netanyahu might try to avoid having his photo taken together with Ben-Gvir, as seen on Monday night in Kfar Chabad, everyone knows that the two are closely working together toward the same goal of destroying Israeli democracy.

"Both want to do so for different reasons. Netanyahu cares about nothing but his trial. He wants to find a way to avoid a conviction and jail time. Ben-Gvir is a convenient partner. He will help Netanyahu pass the legislation needed so that, in return, he can have the power to pass the legislation that will change Israel.

"A ministry to encourage migration is just the beginning of what he wants, and with a Netanyahu government completely dependent on Ben-Gvir, the Likud leader will have no choice but to capitulate to the extremist's every demand."

There are a lot of good people planning to vote for the Smotrich/Ben Gvir alliance. They believe that they are voting for them for the sake of Israel's security. But they have no idea what they will be unleashing. It will be catastrophic for the State of Israel.

(If you'd like to subscribe to this blog via email, use the form on the right of the page, or send me an email and I will add you.)