Discover more from Rationalist Judaism
Exploring the legacy of the rationalist Rishonim (medieval sages), and various other notes, by Rabbi Dr. Natan Slifkin, director of The Biblical Museum of Natural History in Beit Shemesh. The views are those of the author, not the institution.
Over 4,000 subscribers
What Is Purim Charity?
"And Mordecai wrote these things, and sent letters to all the Jews... that they should make them days of feasting and gladness, and of sending portions one to another, and gifts to the poor."
"One is obligated to give to poor people on the day of Purim... And one should not be particular about Purim money, rather give to every person who puts out his hand..." (Rambam, Mishneh Torah)

Purim is a season for Tzedakah. In the past few days I have given to a certain charity (more about that one soon), but I have also turned down some requests.

The first category of requests that I turned down was for institutions. Now it happens to be that all the institutions that approached me were institutions with which I have a deep ideological disagreement (i.e. chareidi yeshivos and kollels). Still, even if it would have been institutions that I admire, I would not have given. Goodness knows I have my own institution which I believe to be an extremely worthy cause, with enormous costs to cover, and yet we do not take advantage of the "giving spirit" at this time to do so. Because Purim is a time to give to the poor, not to institutions.

Rav Shmuel Kamenetzky, in his Kovetz Halachos, states this explicitly. He says that although on Purim there is a law that one should give to whoever stretches out their hand, this does not apply to those collecting on behalf of institutions, because that is not Matanot L'Evyonim.

In the past I've pointed out how there are some amazing dati-leumi yeshivot that take advantage of the Purim giving spirit in order to teach their students a lesson about helping the poor. Yeshivat Lev HaTorah in Ramat Beit Shemesh and Yeshivat Ashreinu in Beit Shemesh both send their students collecting, not for themselves, but for others - for charities that help truly poor people. Fabulous!

This year I was also approached by a very, very good-hearted and utterly selfless person, who wants to help kollel families in dire straits. And he wants to do so in a way that is dignified - not as a shameful handout, but rather offering them the opportunity to learn for a few hours on Purim and receive a generous stipend.

I couldn't agree that this was a good cause. It's clear from Chazal and the Rishonim that the notion of choosing to live off charity rather than working is wrong (not to mention raising one's children without the education and values to work). It's also catastrophic for Israel.

The person agreed with me that they should be working (although we disagreed strongly about whether they are benefiting society at all by learning Torah). But, he argued, given that their poverty is a reality, are we supposed to just abandon these people to suffer?

I wasn't sure how to answer that, and I had to consult with a friend who works in the field. He pointed out that if it's a matter of actually having food to eat, there are organizations which provide that. Anything beyond that should only be given in a framework that addresses the underlying problem, not perpetuates it.

To this I would add that the notion of giving money in the form of a stipend for learning so as to help them in a dignified way makes it all even worse. Financial assistance to those who choose not to work should be given in a framework that makes it clear that this is a bad choice - not dressed up as a stipend for doing something good.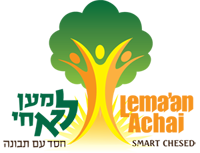 My preference is to support the poor via a wonderful local organization called Lemaan Achai. They help families in a way that gets them to financial independence. Furthermore, for Purim, they practice Smart Chesed - giving them what they actually need in terms of long-term assistance, rather than just money for a Purim Seudah. It's a fabulous tzedakah organization that should serve as a model for others.

(One final note. Whenever you're approached by a "tzedakah" collector that doesn't seem to be a legitimate cause, you can always question yourself as to whether the reason that you are refusing to give is out of stinginess rather than a legitimate disagreement. Perhaps the solution is that after declining such requests, one should immediately set aside money for a legitimate cause.)