Discover more from Rationalist Judaism
Exploring the legacy of the rationalist Rishonim (medieval sages), and various other notes, by Rabbi Dr. Natan Slifkin, director of The Biblical Museum of Natural History in Beit Shemesh. The views are those of the author, not the institution.
Over 4,000 subscribers
Vigilante Action and Rav Moshe Shapiro
There is a shocking video being publicly circulated on news outlets and blogs which apparently first surfaced a year ago - I don't know how I missed it until now.

First, some background. As noted in the post on Mass Hysteria, one such case involved the alleged missionary pedophile ring in Nachlaot. People genuinely believed that dozens of children had suffered at the hands of such a ring. They also believed that one of the masterminds was a certain 72 year old giyores who was running an institute for giyur, that she had been housing the ring's activities in a secret lair beneath her home, and that she was attempting to convert the children to Christianity.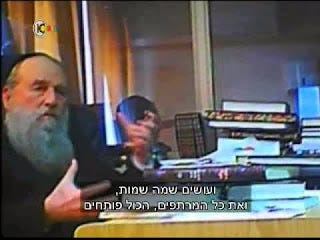 Some of the parents who believed their children to have been victims approached Rav Moshe Shapiro for guidance. He told them that the police are not going to be of any help (part of such conspiracy theories is often that officials are part of the conspiracy). Rav Moshe said that some tough men need to put on masks and break into the woman's home to overturn it, and that the woman herself must be beaten until the point of hospitalization; he added that he doesn't mind if she is beaten beyond that point. Whereupon the men broke into her home, ransacked it, tied and gagged the woman, and beat her with crowbars until they broke her arm and leg.

When I first reported on this extraordinary story last year, I was under the impression that the men involved had no evidence to back up their claims that they were acting on Rav Moshe's orders. To my surprise, there is a video, apparently filmed secretly, which shows Rav Moshe saying exactly the words quoted above:



(Note to those reading this via email subscription - as usual, you will have to visit www.rationalistjudaism.com in order to see the video.)

The police indicted Rav Shapiro, and according to this article, he claimed that his words were taken out of context, and that he was offering sympathy rather than issuing instructions. I don't know how that can possibly be reconciled with the strong language that he used, and his saying that the police are not going to be of any help. His message rings loud and clear.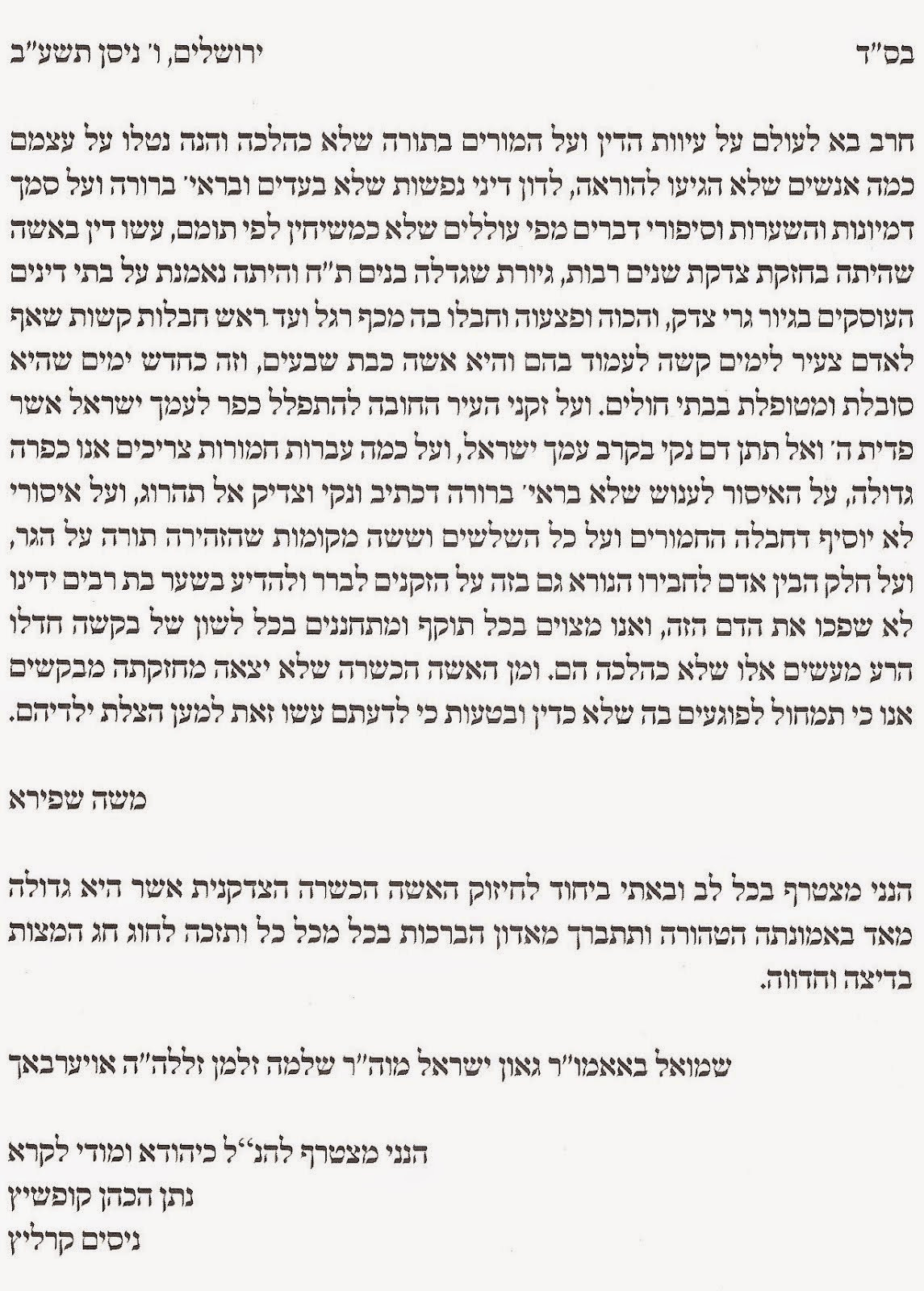 Even more bizarre is that shortly after these events, Rav Moshe issued a letter declaring that the woman is utterly innocent and righteous. He condemned the beating in the harshest terms, saying that the people who did it were moreh b'Torah shelo k'ahalchah, and that the accusations against her were based on fantasies. Rav Moshe adds that one can never punish a person except with incontrovertible evidence. And he concludes by beseeching the "innocent woman" to forgive those who attacked her due to their mistaken beliefs.

So did he believe her to be guilty or not? If he didn't, then why did he say such things to his disciples? And if he did, why is he then writing that she is innocent? And if he changed his mind, why isn't he admitting that he made a mistake?

As if things weren't bizarre enough already, they get even stranger. In his letter, Rav Moshe refers to the case of eglah arufah. That is a case where a person is found murdered with no clues as to why he was killed. The elders of the city perform an atonement ceremony, in which they disavow responsibility for the person's death, and say, "Our hands have not spilled this blood and our eyes did not see." Rav Moshe says that the elders of today need to make this declaration!

How can he disavow his role in this? Even if he is claiming that he did not actually instruct his disciples to beat her up, is there really no connection whatsoever between him saying that the police are useless and that the woman should be beaten near to death or beyond, and his disciples doing exactly that?!

All this ties in very closely to the topic of the previous post, regarding the extent to which people need to take responsibility for the actions of extremists. If a major Rav talks about beating someone up in very graphic terms and disavows blame when people do exactly that, then there is a serious problem of avoiding responsibility.

With Rav Moshe Shapiro, it is of personal relevance for me. Rav Moshe Shapiro was one of the primary opponents to my work in the notorious campaign of ten years ago. His role had particularly painful consequences, because many of my colleagues in education were disciples of his. They revere him to an extent that you wouldn't believe, and they considered it inconceivable that a person of his extraordinary genius could possibly be wrong, overly arrogant about his own approach, or hot-headed. And so they turned on me (in some cases, publicly). Yet surely this case demonstrates that they were mistaken on all these counts!

Furthermore, Rav Moshe's primary footsoldier in the campaign was his disciple Rabbi Reuven Schmeltzer. He wrote a book called Chaim B'Emunasam, which was directed against my books. It bears an extraordinarily effusive approbation from Rav Moshe, who describes Schmeltzer as a "gaon" (!). In Chaim B'Emunasam, Schmeltzer edited the opinions of the Rishonim in order to claim that every word in the Gemara is from Sinai, and he states that nobody ever said that Chazal were mistaken in science, and that to claim otherwise is heresy. Most significantly, Schmeltzer's book said that any such heretics, who deny the divine infallibility of certain statements in the Gemara (i.e. me), should be put to death by any means possible.

Thank God, nobody ever physically attacked me, but my wife and I were subjected to a terrifying phone threat. Now, I truly don't believe that Rav Moshe thinks that someone should kill me. But how can he endorse a work which says such things?

The charedi rabbinic leadership needs to learn that violence results from an atmosphere of violent language. Otherwise, to declare that "Our hands have not spilled this blood" is simply false.