Discover more from Rationalist Judaism
Exploring the legacy of the rationalist Rishonim (medieval sages), and various other notes, by Rabbi Dr. Natan Slifkin, director of The Biblical Museum of Natural History in Beit Shemesh. The views are those of the author, not the institution.
Over 4,000 subscribers
Two Tombstones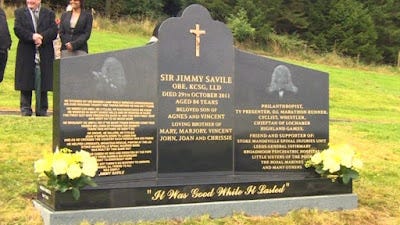 One of the most beloved people in Britain was television personality Jimmy Savile. He hosted a show called Jim'll Fix It in which he made children's wishes come true. He raised tens of millions of pounds for charity and was knighted by the Queen for his philanthropic work. When he passed away, at the age of 84, a magnificent and very expensive tombstone was erected over his grave, which described his many achievements.
A few months later, it emerged that he had been one of the worst sexual predators in the country.
Within weeks, Savile's family had arranged for the tombstone to be removed, to have the words ground off it, and for the stone to be destroyed. In a statement, they said that "The family members are deeply aware of the impact that the stone remaining there could have on the dignity and sanctity of the cemetery. Out of respect to public opinion, to those who are buried there, and to those who tend their graves and visit there, we have decided to remove it." It was added that they feared the grave could become the center of a media circus.

A few months ago, it emerged that the beloved children's book author Chaim Walder had been one of the worst sexual predators in Israel. Shortly afterwards, he took his own life. His family had the following tombstone erected: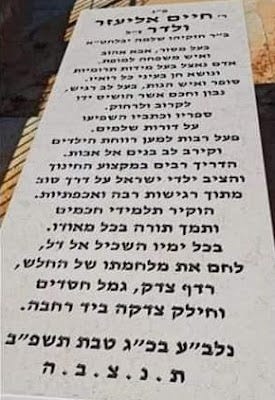 Now, how is it possible that secular non-Jewish society does not tolerate the glorification of a serial rapist, and charedi society does tolerate it?
It seems to me that a significant part of the answer is freedom of speech. In the UK, there is freedom of speech. The victims of Savile, and those who advocate for them, are able to voice their criticism.The press is perfectly ready to print it and to call for justice.
In charedi society, on the other hand, there is very little freedom of speech. Yated Ne'eman, the "mouthpiece of the Gedolim," even printed a glowing obituary for Walder and would certainly not print anything about his crimes. Ami magazine published a cover-up claiming that charedi society deals with such problems perfectly well; they won't acknowledge an ongoing travesty. Even Mishpacha magazine, which published articles calling for change, doesn't want to dwell on it, and certainly not to air a new problem. Savile's family feared a media circus; Walder's family need fear no such thing.

Another manifestation of this problem occurred early this week. Charedi media outlets reported the passing of "Harav Lipa Margulies, zt"l, Rosh Yeshiva of Yeshiva Torah Temimah" and sang praises of his holy life. Readers would have no idea that victims of sexual abuse at the hands of Yudi Kolko, a rebbe at Torah Temima for thirty years, sued Lipa Margulies for waging a "a campaign of intimidation, concealment and misrepresentations designed to prevent victims from filing lawsuits." 
In fact, when the horrors at Torah Temimah came to light around fifteen years ago, Mishpacha magazine asked Rav Shlomo Miller "Why don't rabbanim take a firm stand on developments in frum life, such as denouncing perversions and corruptions, wrong agendas, wrongdoers?" Although it was obvious that Margulies and Kolko were the background to this question, they wouldn't name them. Rav Miller responded that rabbanim do indeed take a firm stand on perversions and corruptions and did name a name: "Charedi rabbanim opposed the views espoused by Rabbi Nosson Slifkin, and rejected him speaking in the name of Orthodoxy." He then went on to admit that "Certain improper acts have happened in a yeshivah and were covered up when they shouldn't have been." But he didn't name any names for that case.
And today something else happened that readers of Yated, Hamodia, Ami and Mishpacha will never see reported. Charedi MK Yaakov Litzman reached a plea deal in which he will resign from the Knesset, admit to breach of trust and pay a symbolic fine rather than face charges over having prevented the extradition of serial predator Malka Leifer. This admission of breach of trust will never be admitted in the pages of charedi newspapers and magazines.
The Torah is adamant that evil must be punished and publicly denounced. This is just one of the ways in which mainstream institutions in the charedi community go against the Torah.
(If you'd like to subscribe to this blog via email, use the form on the right of the page, or send me an email and I will add you.)