Discover more from Rationalist Judaism
Exploring the legacy of the rationalist Rishonim (medieval sages), and various other notes, by Rabbi Dr. Natan Slifkin, director of The Biblical Museum of Natural History in Beit Shemesh. The views are those of the author, not the institution.
Over 4,000 subscribers
This Is Bizarre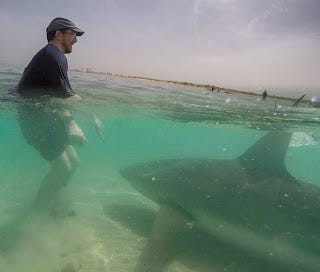 This is just so strange. I've wrestled alligators and swam with sharks and been pounced upon by leopards and had physical interactions with full-grown lions, leopards, bears, hyenas, wolves, cheetahs, eagles and countless snakes and scorpions and tarantulas. I've been bitten by boa constrictors, hyraxes, monitor lizards, turtles, squirrels, snookum bears, and even small lions and leopards. But the only thing that has made me need serious medical attention is a bite from a tiny spider that I didn't even notice and had nothing to do with my museum or my work!
I was admitted to Shaarei Tzedek last night. I am not in pain at all, just a little queasy and my arm is slightly horrendous. There are lots of people with much, much worse medical conditions than this! This one just looks horrific, but it's not currently a serious condition. They are treating me with IV antibiotics and they expect to release me very soon.
Meanwhile, here is a lovely picture and a horrible picture. The lovely picture is of one of the two charedi gentlemen who came into the emergency room waiting area last night to distribute pizza. The horrible picture is my arm!