The Times, They Are A-Changin'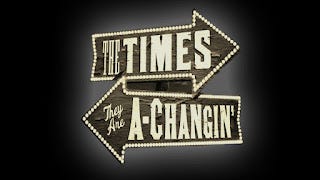 While Judaism has been around for thousands of years, it has changed in various ways over history. Concepts and beliefs changed. Certain things that were permitted became forbidden, certain things that were forbidden became permitted. Sometimes the changes happened gradually and organically. On other occasions, they were created consciously, within a decision-making framework such as that of Eis la'asos l'Hashem, as per the needs of the changing times.
In the comments to the previous post, someone expressed an idea that is commonly heard: Only the great figures of antiquity such as Chazal had the more to enact change in accordance with the changing circumstances of history. We do not have such power.
The problem with this is as follows. The world doesn't stop changing just because we don't have Chazal. It keeps on changing, in ever more radical ways. If you posit that we can no longer make the kind of adjustments that Chazal could and would have done, then what you are saying is that Torah and Judaism are crippled and incapable of meeting the requirements of living in the modern world. 
Sometimes this approach of helplessness is put forward not just vis-a-vis the Sages of antiquity but even regarding those of the previous generation. After the destruction of European Jewry, leaders such as the Chazon Ish and Rav Aharon Kotler enacted a revolutionary approach of pushing people to stay in long-term Torah study, to make up for all that was lost. Nowadays, we have more than made up for it, with more people learning Torah than any time before in history. And thus some approached the Torah leaders of our generation and suggested that it was time to revoke the temporary change. In at least one case, the response was that "we don't have the power to do so."
I can understand the fear that people have of enacting change, especially in light of the freedoms of the modern world and the way in which some movements went too far in changing Judaism. But by refusing to make any changes, they are not only making a break from tradition; they are saying that Judaism cannot rise to the challenges of the era.

That's a pretty terrible and devastating thing to say.