Discover more from Rationalist Judaism
Exploring the legacy of the rationalist Rishonim (medieval sages), and various other notes, by Rabbi Dr. Natan Slifkin, director of The Biblical Museum of Natural History in Beit Shemesh. The views are those of the author, not the institution.
Over 4,000 subscribers
The Fabric of Life
This year ended on a tragic note for my family, but I would therefore like to conclude the year's blog postings with a post celebrating life. And so I am writing about a tablecloth.

In July, on my trip to Africa, I spent a few days in Johannesburg before meeting my group. On my first evening, I was invited to dinner at the beautiful home of Jake and Loren Shepherd, readers of my work that have since become good friends. The table was loaded with food - biltong and other such African fare - but I was able to see part of the tablecloth, and it was not the type of fabric that I expected to see. The tablecloth contrasted sharply with the elegant decor of the rest of the house, in that it had children's handprints on it, in brightly colored paint.

"That's cute," I said to my hosts. "I assume that these are the handprints of your children?"

"Well, sort of," they replied, and explained in more detail.

In South Africa, Jewish couples with fertility problems face an added challenge: the high cost of IVF and other fertility treatments. Whereas the evil Zionist Torah-hating Amalekite government of Israel subsidizes such treatments, no such government aid is granted in South Africa. My hosts were deeply involved with a foundation called The Malka Ella Fertility Fund, which provides assistance to such couples in need.

As a result of the fund, many children came into existence. A souvenir tablecloth was made, in which all these children contributed artistically, with a picture or a handprint, depending on their age. I thought that it was the most beautiful tablecloth that I had ever seen - a celebration of life itself.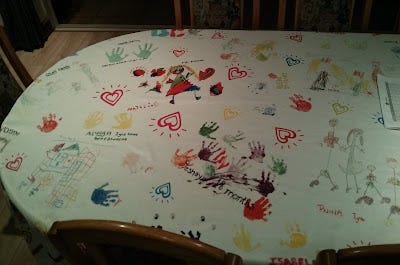 May this be a year of health, happiness, and success, and may we be inscribed in the Book of Life.