Discover more from Rationalist Judaism
Exploring the legacy of the rationalist Rishonim (medieval sages), and various other notes, by Rabbi Dr. Natan Slifkin, director of The Biblical Museum of Natural History in Beit Shemesh. The views are those of the author, not the institution.
Over 4,000 subscribers
The Soldiers Are Really Doing Stuff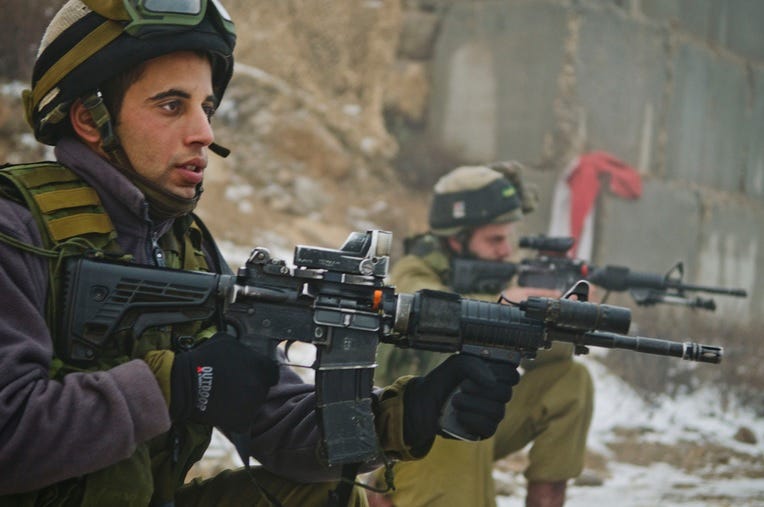 There's a disturbing anti-rationalist approach that is spreading in the current war. It is taking hold even amongst people of a more rationalist persuasion, apparently due to their not realizing that it is not necessarily the Torah approach.

I am referring to the question of whether the soldiers and weapons of the IDF are actually doing anything. There is an extreme but pervasive anti-rationalist approach, which I was taught in yeshivah, that physical endeavor is of no real significance. Instead, it is simply a charade that we must go through in order for God to operate. (And to the extent that we recognize God as being the One actually doing things, we can minimize this charade). According to this approach, hishtadlus doesn't actually have anything to do with parnassah (and the fact that people who go to college and to work tend to earn more money than people in kollel is some sort of unexplained quirk of providence.) Following this approach, Iron Dome and the IDF soldiers are not really doing anything; it is just a charade that we have to go through - and which some people lose their lives for.

The late Rabbi Dr. Menachem-Martin Gordon, whose excellent studies of mezuzah and netilas yadayim can be found linked on the side of this website, criticizes this approach in Modern Orthodox Judaism (p. 31). He blames the spread of this approach on Rav Dessler:

Rav Dessler's book, Mikhtav me-Eliyahu, whose impact on the yeshiva world in recent years has been enormous, represents a radical departure from the Talmudic position (Hullin 105a, Niddah 70b), as well as the medieval philosophic tradition (Rambam, Moreh Nevuchim, 3:17), in its denial of the reality of natural law and the cause-and-effect nexus of human initiative (Mikhtav, I, pp. 177-206). For Rav Dessler, the study of the sciences - even medicine, for that matter - is pointless, since the exclusive determinate of human welfare is the providential hand of God responding to religious virtue. Similarly, serious financial initiative is unnecessary. The diagnostic skill of the physician (Mikhtav, III, p. 172), the financier's business acumen (Mikhtav, I, p. 188), ostensibly critical factors in the effectiveness of their efforts, are only illusory causes, argues Rav Dessler. Admittedly, he concedes, one must "go through the motions" of practical activity (the notion of hishtadlut, Mikhtav, I, pp. 187-88) - visiting a physician, making a phone call for financial support - but such is necessary only as a "cover" for the direct Divine conduct of human affairs, which men of faith are challenged to discern. Recognizing the immediacy of the Divine hand behind the facade of human initiative is the ultimate test of faith. One should be engaged in practical effort only for the purpose, paradoxically, of discovering its pointlessness! Therefore, asserts Rav Dessler, to the degree that a man has already proved his spiritual mettle, his acknowledgment of Divine control, could the extensiveness of his "cover" be reduced. Or, alternatively, to the degree that a man is not yet sufficiently spiritually perceptive - wherefore pragmatic initiative might "blind" him to Divine control - should he limit such recourse. Accordingly, b'nei yeshiva are implicitly discouraged from any serious financial initiative - or involvement across the board in any area of resourceful effort, be it technological, political, etc. - since the circumstances of life are, in reality, a spontaneous Divine miracle. (Note Rav Dessler's necessarily strained interpretation of Hullin, ad loc. and Niddah, ad loc., where one is advised by Harzal to survey one's property with regularity, and to "abound in business." in the pursuit of wealth! — Mikhtav, I, pp. 200-01).
Rav Dessler's position cannot draw support from the doctrine of Ramban, although he
assumes such an identification (ibid., III, pp. 170-73). While Ramban defines the ultimate providential relationship of God to Israel as one of ongoing miracle, he essentially never denies the reality of natural law. Israel, Ramban argues, through its fulfillment of mitzvot, is ideally able to transcend nature and engage God in the special faith—miracle association. In actuality, Ramban in fact concedes, such a relationship with the Divine does not generally prevail today, so that one must live, as a rule, in response to natural law. Thus he legitimates medical practice - he himself, after all, was a physician - not as a "cover" for some outright miracle deceptively operative behind the scenes, as Rav Dessler would have it, but as a genuine recourse to an efficacious discipline. (See Ramban, Commentary, Lev. 26:11; Torat ha-Adam, in Kitvei Ramban, II, pp. 42-43.) For Rav Dessler, the "natural agency" of medical treatment (III, p. 172), which, admittedly, those of low—faith level must necessarily pursue, is not an effect of natural law as Ramban recognizes it, but, once again, a deceptive expression at every moment of the spontaneous Divine will (see his own reference [ad loc., p. 173] to his basic definition of "nature" in I, pp. 177-206).
The anti-rationalist position is often thought of as being unequivocally fundamental to Judaism. It seems that it is believed to be the straightforward meaning of Devarim 8:17, which condemns those who say "kochi v'otzem yadi, my strength and the power of my hand made for me these spoils." People presume that this teaches us that human endeavor is not actually of any innate value at all. However, the rationalist approach understands this passuk as criticizing those who attribute their successes solely to their own efforts. The rationalist approach maintains that physical endeavor is of genuine value and significance.

Over at The Jewish Worker, there is a discussion of the possible reasons as to why people adopt the anti-rationalist approach. On another occasion, I will suggest an additional reason as to why people want to minimize the significance of what the IDF is doing; for now, I would merely like to assert very strongly that according to the rationalist tradition in Judaism (and, I would argue, according to Chazal), the young men of the IDF really are fighting the war - and deserve to be credited as such.

May Hashem help them succeed.

(Note to readers in Seattle - This Shabbos, I am speaking at BCMH, and on Sunday morning, I am speaking at SBH.)