Discover more from Rationalist Judaism
Exploring the legacy of the rationalist Rishonim (medieval sages), and various other notes, by Rabbi Dr. Natan Slifkin, director of The Biblical Museum of Natural History in Beit Shemesh. The views are those of the author, not the institution.
Over 4,000 subscribers
The Rubashkin Bitachon Distortion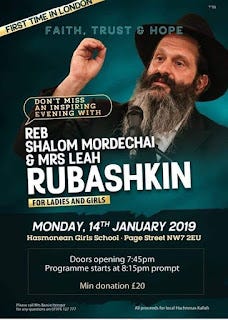 The international superstar, the Sharansky of our generation, the Baal HaNess, is going to England! Yes, the one and only, sensational, inspirational, celebrational, Reb Sholom Mordechai Rubashkin is going to London, to speak about "Faith, Trust and Hope."

In the past, I've written about the disgrace of celebrating an unrepentant convicted criminal as an inspirational hero. In this post, I would like to address a different disgrace: the very topic that he speaks about.

Reb Sholom Mordechai is speaking about emunah and bitachon - about how he was able to have it, and therefore Hashem was there for him. As he explains in his speeches, "We have to know that bitachon is not positive thinking; it's not what you read about in self-help books. It's a deep feeling that the Eibershter is with you and that He wants you to daven to Him and to know that He is listening to you... Emunah means believing that everything is l'tovah, even if you don't understand it. Bitachon is a trust that Hashem will give you what you need."

That's a very nice explanation of emunah and bitachon. However, it misses out a crucial aspect, which in the particular context of Shalom Rubashkin is glaringly conspicuous by its absence.

Emunah and bitachon means that Hashem is in charge of our livelihoods. And the practical ramification of such a belief is that there is nothing to be gained by engaging in dishonest activity. Chovos HaLevavos (Shaar HaBitachon 5) explicitly lists this as one of the differences between a lifestyle with bitachon and one without. The Netziv builds upon this to explain Chazal's statement that dishonesty in business is worse than sexual immorality. He explains that dishonesty in business reflects a fundamental deficiency in emunah and bitachon. A person who trusts that Hashem is in charge of livelihood will not believe that engaging in dishonest business practices will enable him to make more money.

Netziv further explains that this is why the Torah's laws about honest business practice are followed by the account of Amalek. A person who engages in dishonest business practices is implicitly denying Divine providence. And it was the denial of Hashem's involvement that led to Hashem abandoning the nation to Amalek.

The only speech about emunah and bitachon that Shalom Mordechai Rubashkin should be giving is about how he didn't have it, and suffered as a result.