Discover more from Rationalist Judaism
Exploring the legacy of the rationalist Rishonim (medieval sages), and various other notes, by Rabbi Dr. Natan Slifkin, director of The Biblical Museum of Natural History in Beit Shemesh. The views are those of the author, not the institution.
Over 4,000 subscribers
The Relevance of an Assassination
The assassination of Gedalyah is difficult for many people to relate to as a historic tragedy. As the old joke goes, he would have been dead by now anyway - and if I died, would he fast? And can you take seriously someone whose grandfather was called Hyrax?

Of course, the fact is that it was a tragedy of historic dimensions. It marked the final nail in the coffin of the original Jewish state. But it's not just a historic tragedy in terms of what resulted - it's also extremely relevant in terms of why it happened.
Gedalyah was installed by the Babylonians as governor of the remaining Jews. His assassins apparently saw him as a traitor who was cooperating with the enemy instead of rebelling and ensuring victory. Of course, they were badly mistaken. There was no chance of getting rid of the Babylonians. It was better to cooperate and at least preserve some degree of Jewish autonomy in the Land of Israel. Instead, as a result of the assassination, the Babylonians took the remaining Jews captive back to Babylon.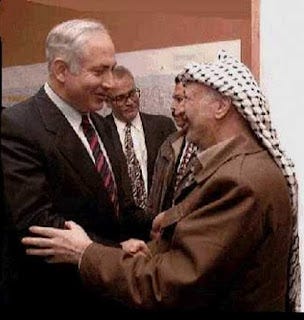 It's all too easy to understand the mindset of his assassins. It's a combination of factors. First, there is the naive, fundamentalist worldview, in which everything is black and white. The Babylonians are Bad! We have a Right to the land! Never mind the actual political reality in which having full control of all the land is just not feasible. 
Then there is the demonization and delegitimization of other Jews. Gedalyah is a Leftist! A traitor! We have to do whatever we can to get him out of power! The ends justifies the means! Once you start talking like that, it's only a matter of time before someone takes the next step.
Speaking of which...
At the UN last week, two speeches of relevance were delivered. But only one was significant, and it's not what people think.
Abbas' speech was predictable. He continued to gripe against Israel's crimes (some of which may have a partially factual basis, but most of which are simply Israel trying to maintain security for its people). Of course, never once did Abbas acknowledge the Palestinian terror which requires Israel to take countermeasures. But more significantly, he never even acknowledged the Jewish People's historic claim to the land. He described the occupation as one that began in 1948, he described Jerusalem as holy to Muslims and Christians, but never once did he, or has he, acknowledged our historic connection to the land. That is just one of the reasons why peace is impossible. As long as the Palestinians deny the factual reality of our historic connection to the land, they will never accept us living in any part of it.
Lapid's speech, on the other hand, was not significant at all. He did what he had to do. Including saying that "an agreement with the Palestinians, based on two states for two peoples, is the right thing for Israel's security, for Israel's economy and for the future of our children."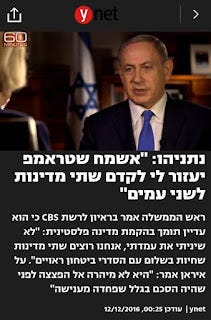 There are people who are condemning him as a dangerous traitor for saying this. They seem to forget that just a few years ago, Bibi Netanyahu said the same thing. He stated that "if we get a guarantee of demilitarization, and if the Palestinians recognize Israel as the Jewish state, we are ready to agree to a real peace agreement, a demilitarized Palestinian state side by side with the Jewish state." In a speech to Congress, he added that "I am willing to make painful compromises to achieve this historical peace. I recognize that in a genuine peace we will be required to give up parts of the ancestral Jewish homeland." Are these people also branding Bibi a "traitor"? Bibi said what he had to say, and Lapid said what he had to say.

Lapid's critics also forget that he made it clear that enabling a Palestinian state would be conditional on it not posing any threat to Israel's security - and thus it remains a pipe dream for the foreseeable future. This isn't 1995. There's no real Israel Left left. After Gaza, everyone knows what Palestinian independence in Judea and Samaria would mean. There's no significant difference whatsoever between Bibi and Lapid on this.

Yet at the same time, talk about transferring all the Palestinians somewhere else, or annexing everything and depriving Palestinians of voting rights, is likewise a pipe dream. Those who claim otherwise are as unrealistic (and potentially as dangerous) as Gedalyah's assassins. 
And so, we are stuck in this mess for the foreseeable future. Fortunately, it doesn't affect our quality of life too much. It affects many Palestinians very badly (and there are certainly ways in which Israel should be minimizing this). But at the end of the day, I'd rather that we have a good life and they suffer, rather than us both suffering (which would be the inevitable consequence of a Palestinian state). History has its winners and losers, and those whose ancestors make bad choices suffer for them. Just as we suffered for two thousand years. 
Meanwhile, we have to be realistic. Realistic about what the Palestinians will and will not do. Realistic about what Israel can and cannot do. Realistic about what prime ministers have to say and about what they actually mean to do. And not fall into the trap of delegitimizing our opponents as "traitors."
Tzom Gedalyah teaches us the consequences of acting in such a way.
If you'd like to subscribe to this blog via email, use the form on the right of the page, or send me an email and I will add you.