Discover more from Rationalist Judaism
Exploring the legacy of the rationalist Rishonim (medieval sages), and various other notes, by Rabbi Dr. Natan Slifkin, director of The Biblical Museum of Natural History in Beit Shemesh. The views are those of the author, not the institution.
Over 4,000 subscribers
The Real Reasons For Charedi Practice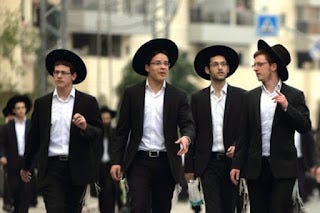 When people from the charedi community give reasons and explanations for various aspects of charedi society, these are very often not the real reasons. It's not that these people are necessarily lying. Rather, it's that there are two "levels" of explanations. There are the explanations that are given for kiruv or PR or even internal purposes, and that are believed by many Anglo charedi wannabees, and sometimes even by some real McCoy Israeli charedim. And then there are the real explanations, which are well understood by astute observers of the charedi world, as well as many people within the charedi world.

For example, why do charedim wear black fedoras, white shirts, and dark suits? The explanation often given, such as by Nosson Slifkin (my cousin's cousin) in a book called Second Focus, is that it is because a Ben Torah should dress respectably. However, that's not the real reason. The real reason is for social identification. Thus, in charedi circles it is not acceptable to dress very respectably in a light suit and colored shirt and tie, but it is acceptable to dress with an ill-fitting jacket and battered hat and no tie.

Another example is with the mass avoidance of army service. Often, spokesmen for the charedi community will claim that the reason is that the Torah study of all the yeshivah students provides a vital part of Israel's protection. But as I have written about on numerous occasions, aside from this having no basis in classical Judaism, nobody in the charedi world seriously believes it anyway. The real reason why charedim don't go to the army, as Rav Aharon Feldman once stated, is that army service is extremely threatening to the charedi way of life.

A third example is with charedim not participating in Yom HaShoah. Explanations such as "the siren is chukas hagoy," or "we don't mourn during Nissan," or "we don't see the Warsaw Ghetto Uprising as being the correct event to base it around," have a lesser or greater degree of merit, but none of them are the real, underlying reason why charedim do not participate in Yom HaShoah. Even if Yom HaShoah was in Teves, and was commemorated by everyone simultaneously saying Yizkor, charedim still wouldn't participate. The real reason is that Yom HaShoah is an event created by and for the nation of the State of Israel as a whole, and charedim do not want to identify as part of that wider community. It's as simple as that.