Discover more from Rationalist Judaism
Exploring the legacy of the rationalist Rishonim (medieval sages), and various other notes, by Rabbi Dr. Natan Slifkin, director of The Biblical Museum of Natural History in Beit Shemesh. The views are those of the author, not the institution.
Over 4,000 subscribers
The Other 10%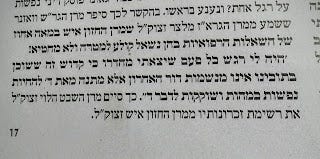 Here's an interesting tidbit that relates to several topics discussed in this forum. A reader sent me a clipping from the Israeli Yated Ne'eman, which contains an account from the late Rav Shmuel Wosner ztz"l, author of Shevet HaLevi, of how Rav Isser Zalman Meltzer told him of the Chazon Ish's expertise in answering questions relating to medical matters of life and death (such as whether or not to proceed with an operation). Rav Meltzer said that "our teacher, the Chazon Ish, was correct 100% of the time." Amazing!

However, if one looks at the actual text of Rav Wosner's Shevet HaLevi, he says something significantly different:

שו"ת שבט הלוי חלק י סימן יג 
וזה לי קרוב לחמשים שנה שכבר הייתי פה רב בסביבה, והייתי מאד מקושר עם מרן החזון איש זי"ע, בקרתי אז את הגאון האמיתי בעל אבן האזל הגרא"ז מלצר זצלה"ה והוא ידע על הקשרים שלי עם החזון איש ומאחר ששמע ממני כמה דברים אמר לי בהתפעלות, וז"ל, החזון איש פוסק דיני נפשות ברגעים (אם כן לנתח או לא, וכיו"ב) והפלא אמר שיותר מתשעים אחוז זוכה לכיון האמת והצלחה, עכ"ל. 
What Rav Wosner actually attests is that Rav Meltzer said that the Chazon Ish was correct more than ninety percent of the time!

So how does 90% becomes 100%? Presumably, the doctrine of the effective (if not theoretical) infallibility of Daas Torah makes it difficult to say that the Chazon Ish was wrong even 10% of the time, especially if it led to people dying as a result.

Of course, a 90% success rate would still be impressive. However, seeing how 90% becomes 100%, one cannot help but wonder if even the figure of 90% has likewise been inflated along the way.

In any case, where did the Chazon Ish's medical knowledge come from? The standard view in the charedi world is that it came from supernatural sources/ his knowledge of Torah, as per the classical concept of Sod Hashem Liyreyav. (In my monograph on Sod Hashem Liyreyav, I demonstrate that the classical concept has been radically transformed.) But many years ago, I traveled to Bnei Brak to meet Rav Gedalyah Nadel ztz"l, one of the foremost talmidim of the Chazon Ish. I asked him about the Chazon Ish's medical knowledge, and he told me two things: First, that the Chazon Ish didn't actually know all that much, and second, that which he did know, came from the medical journals that he read.

It is reasonable to presume that one's views as to the source of the Chazon Ish's medical knowledge also have an effect on one's perceptions of his success rate. If his knowledge came from reading medical journals then it is acceptable for him to sometimes have been mistaken. But if it came from supernatural sources, then it should have been infallible.

I wonder if the Yated would print a correction?