Discover more from Rationalist Judaism
Exploring the legacy of the rationalist Rishonim (medieval sages), and various other notes, by Rabbi Dr. Natan Slifkin, director of The Biblical Museum of Natural History in Beit Shemesh. The views are those of the author, not the institution.
Over 4,000 subscribers
The Niche Art of Noah's Ark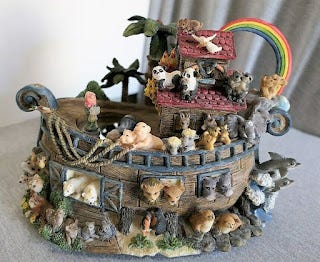 Twenty-five years ago, when I started my training course at the Jerusalem Biblical Zoo, the then-director spoke about how Jews have a unique connection to conservation, because Noah, the very first conservationist and the symbol of conservation ever since, was Jewish. I pointed out (to his dismay) that Noah wasn't actually Jewish! Still, the basic point remains the same - the Biblical image of Noah's Ark is indeed the ultimate symbol of conservation. God could have simply created all the animals all over again, but He wanted Noah to care for the animals, so that the new world would be built on a foundation of kindness.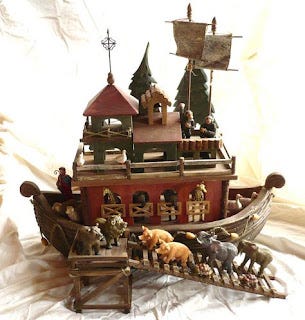 As you might imagine, I have a bit of a passion for Noah's Ark. The Biblical Museum of Natural History is structurally reminiscent of the Ark, and at fifty cubits wide and thirty high, it is the exact same width and height. We just had a craftsman create a spectacular Noah's Ark as a donor board. And recently it occurred to me that it would be great to have an exhibit of Noah's Ark models.
There are some absolutely stunning models of Noah's Ark available (though it seems that virtually none are manufactured anymore). The level of detail is simply exquisite. Most are decorative ornaments, but there are also children's toys, music boxes, money banks, cookie jars, jewellery boxes, bookends, lamps, pendants, menorahs, and a spectacular limited edition cuckoo clock that is, alas, no longer available anywhere. They are variously made out of ceramic, resin, wood, pewter, bronze, and there's even a magnificent silver-and-gold sculpture by famed sculptor Frank Meisler.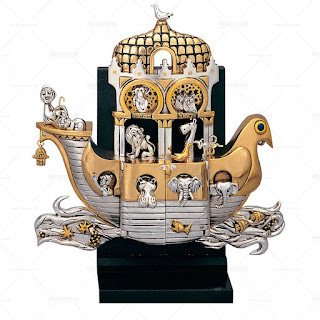 But here's where it get really curious. I looked at eBay, CraigsList, and Facebook marketplace, all around the globe. And the difference between various parts of the world is striking.
In the UK and Europe, the only Noah's Arks available are a few simplistic plastic toys for very little children. Fisher-Price, Playmobil, that kind of thing. Lego doesn't even make one. This is despite the fact that in the 19th century, there were endless incredibly elaborate Noah's Arks made in Germany, then the toy capital of Europe. But no such thing is sold anywhere in Europe today. All the dozens of different kinds of detailed models are only sold in North America! (Even the 19th century German antiques can only be found in America.)

What is the explanation for this extraordinary discrepancy? Is it just that Europe has become so much more secular? If that was the explanation, then surely they wouldn't even have children's toys there. Does anyone have any insights?
Meanwhile, if you have a Noah's Ark that you'd like to donate for the museum exhibit, please send me an email!