Discover more from Rationalist Judaism
Exploring the legacy of the rationalist Rishonim (medieval sages), and various other notes, by Rabbi Dr. Natan Slifkin, director of The Biblical Museum of Natural History in Beit Shemesh. The views are those of the author, not the institution.
Over 4,000 subscribers
The Museum Inauguration, and Other Exciting News!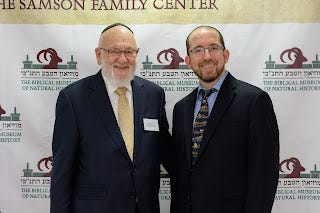 After endless delays caused by Covid, we finally were able to host our official inauguration ceremony for the new Biblical Museum of Natural History! Joining us were 100 guests, including dignitaries, rabbanim, friends, partners, and supporters, and we were honored with a video of blessings from the President of Israel. The event honored my father-in-law, Mr. Lee Samson, who is chairman of the board of the Museum Foundation. Since many invitees from the US were ultimately unable to attend, a live online event will take place in a few weeks, with a parallel gathering in Los Angeles.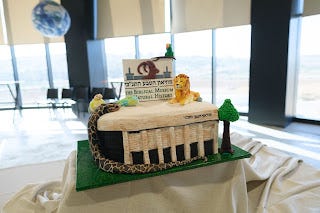 In other news, my scheduled scholar-in-residence engagement in New York in January had to be cancelled, so I am currently still available for Shabbos of January 15th. In addition, we plan to run parlor meetings for the museum in Teaneck and Woodmere that weekend, in which I will be delivering a presentation about our new Noah's Ark exhibit. If you're interested in arranging for me to visit as scholar-in-residence, or in attending the parlor meetings, please write to Tobey Finkelstein at advancement@BiblicalNaturalHistory.org.