Discover more from Rationalist Judaism
Exploring the legacy of the rationalist Rishonim (medieval sages), and various other notes, by Rabbi Dr. Natan Slifkin, director of The Biblical Museum of Natural History in Beit Shemesh. The views are those of the author, not the institution.
Over 4,000 subscribers
The Most Unthinkable Neighbors
I don't know whether to be dismayed at this or thrilled.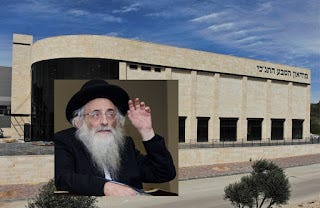 As you know, the Biblical Museum of Natural History recently moved into its new home. We have about fifteen thousand square feet of space which, as enormous as it is, is not the entire building; we are currently occupying the upper floor (hopefully one day we will acquire the whole building). The lower floor was leased out for a commercial showroom. However, I just discovered that due to coronavirus, the showroom owner (a fervent charedi) has given up on opening his showroom there. Instead, he is sub-leasing the space to a yeshivah - and not just any yeshivah, but Toras Moshe!

That's right, Toras Moshe, the anti-Zionist, anti-science yeshivah of Rabbi Moshe Meiselman. That's the Rabbi Meiselman who was my most fervent opponent during the controversy over my books, and who wrote an 800 page book in an attempt to discredit my work. And now he's going to be my downstairs neighbor!

Did he not know that I am the director of the museum upstairs? Or does he know, and he doesn't care? Perhaps he even plans to somehow disrupt the museum? I mean, we don't exhibit any of the prehistoric dinosaurs that he firmly evades confronting, but we do have other exhibits that may bother him. For example, in our Hall Of Wonders, we exhibit some animals that are not in the Torah but are an example of the most extraordinary of God's creations, such as the duck-billed platypus. But according to Rabbi Meiselman, the platypus is in the Torah!

Someone suggested that maybe he has changed his mind and is now accepting of modern science and rationalism. But there are some things that are just impossible to believe.