Discover more from Rationalist Judaism
Exploring the legacy of the rationalist Rishonim (medieval sages), and various other notes, by Rabbi Dr. Natan Slifkin, director of The Biblical Museum of Natural History in Beit Shemesh. The views are those of the author, not the institution.
Over 4,000 subscribers
The Most Powerful Man in the Charedi Litvishe World
Warning: This is an extremely disturbing post.

Who is the most powerful man in the charedi litvishe world?

Most people would say that Rav Chaim Kanievsky, the "Sar HaTorah" ("Prince of Torah") is the leader, or at least the most prominent figure.

Of course, like all charedi Gedolim, access to him is controlled by his gabbaim (handlers/ gatekeepers). The gabbaim decide which people get to meet with him and which information he finds out about. The gabbaim often presenting other peoples' cases to him, and draft letters for him to sign. If you're cynical, you believe that these gabbaim essentially control everything that Rav Chaim believes and says. If you're idealistic, you believe that he has selected good people, men of integrity, to suitably filter the information and causes that reach him. Either way, the gabbaim are the power behind the throne.

One of the most important of Rav Chaim Kanievesky's gabbaim is his grandson, Yanky Kanievsky. Just recently he decided to block the rabbis of a certain town from meeting with Rav Chaim regarding a political matter. You'll see Yanky Kanievsky in many photos of Rav Chaim in the charedi press, standing by his side or in the background: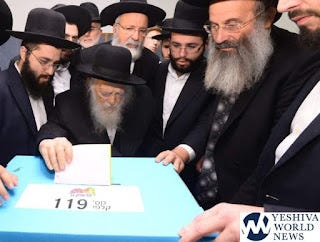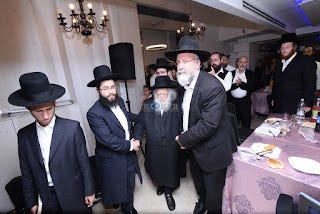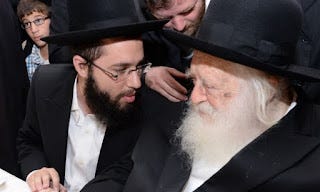 Here's another photo of Yanky Kanievsky, that you won't be seeing in the charedi press: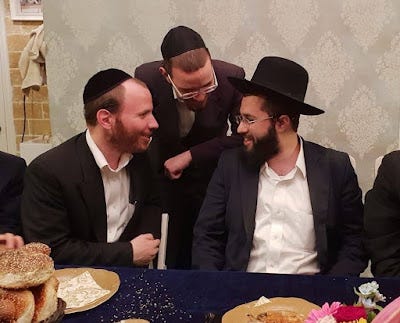 This is Yanky Kanievsky at a party in Bnei Brak, on Tuesday of this week. But who is the person that he is sitting next to, and happily talking with?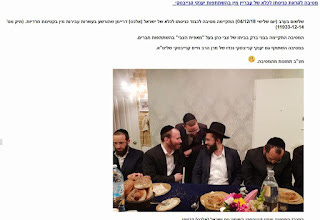 His name is Yisrael Draiman. According to some reports, he was "merely" an honored guest, who gets to shmooze with one of the most powerful men in the charedi litvishe world; according to other reports (which seem to be more reliable, since they came before the backlash), the party was actually a farewell party in his honor. Because he is about to go to prison. Yisrael Draiman was charged with tens of counts of molestation, indecent sexual acts, and sodomy of four little girls, each around twelve years old.

(This was reported on the website Rotter.net, along with the photos, but the article has now disappeared. Jewish Community Watch spoke to one of the people present at the party, who clearly stated that it was an event in his honor.)

Now you can understand how it came to be that Rav Chaim Kanievsky signed a letter attesting to the righteousness of Elior Chen, the worst child molester in the history of the state. (The fact that Rav Chaim, after subsequently being told of Chen's crimes, defended signing on the grounds that he signs whatever other rabbis sign, is an even worse indictment.)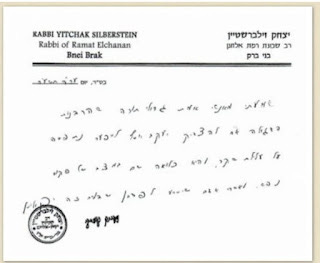 Similarly, Rav Yitzchak Silberstein wrote a letter attesting to the innocence of Malka Leifer, on the grounds that "trustworthy rabbis" told him that the 74 charges of child molestation are false. (The letter was also signed by Rav Chaim Kanievsky.)

Similarly, Leib Tropper had the support of dozens of Gedolim despite long-standing rumors of his being a predator, and even after video evidence emerged, Rav Elyashiv's grandson attended an event in his honor.

Don't expect to see any of this discussed in Yated, HaModia, Ami, Mishpacha, or even Cross-Currents. They do not exist to provide news that people actually need to know. They cover such things up and indoctrinate their readers with a false version of reality.

The chareidi structure of leadership and power - the elderly, sheltered Gedolim with their gabbaim and their Daas Torah pronouncements and their fawning press and their society of fear and the zero transparency or accountability - is fundamentally rotten. It causes untold harm to countless innocent people. If you defend or uphold the charedi structure of leadership, then you are complicit in this harm.