Discover more from Rationalist Judaism
Exploring the legacy of the rationalist Rishonim (medieval sages), and various other notes, by Rabbi Dr. Natan Slifkin, director of The Biblical Museum of Natural History in Beit Shemesh. The views are those of the author, not the institution.
Over 4,000 subscribers
The Magic Silver Blade
We've seen all kinds of strange segulos being marketed, from silver rings of power to witchcraft charms of ruta sprigs and pouring lead to eating pulverized pig's testicles. The latest high-profile offering, taking up a full-page advertisement in Mishpacha magazine, is a silver knife. "Immersed in purity with the seal of Kabbalah," this wondrous blade has allegedly been proven to bring "success and prosperity" to "thousands of people." While until now this silver blade has been "secretly passed among mekubalim," it is now being released for the good of the general public - in exchange for a suitable donation to a charity that helps the poor.

Personally, I'm not sure why this "secret tradition" has only been released now - why did they wait so long to solve the problem of poverty? Furthermore, if they want to help the poor, isn't it more effective to give them silver segulah knives?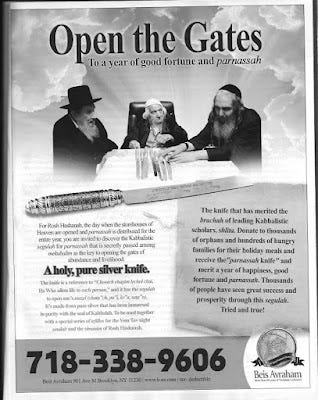 At least the profits from this are going to a worthy charity rather than to someone's pocket or to perpetuating the kollel disaster. But we have yet another manipulative shtick that promises salvation in exchange for an expensive placebo. Marty Bluke at The Jewish Worker, who brought this to my attention, laments that Mishpachah is too frum to print a picture of a woman but is willing to print this nonsense.

Yet while I detest much of what is printed in Mishpachah, overall I do rate it as a positive influence. And they do have to somewhat accommodate the likes and dislikes of both their readership and the powerbrokers in charedi society, or else they would not be able to be effective. Thus, I do not think that this advertisement is necessarily cause to criticize Mishpachah.

Instead, I think that this advertisement, especially in light of the recent brouhaha over women's pictures, is revealing of a disturbing weakness in charedi society. Printing pictures of women is considered to be so dangerous in its risks of leading people astray that there is a blanket ban on it. But printing all kinds of advertisements that seek to take people's money by offering false promises of financial or marital salvation is not considered to be dangerous and may not be questioned.

We are approaching Rosh HaShanah. We will declare that good deeds are what we should be striving to put under our belt - not silver swords.