Discover more from Rationalist Judaism
Exploring the legacy of the rationalist Rishonim (medieval sages), and various other notes, by Rabbi Dr. Natan Slifkin, director of The Biblical Museum of Natural History in Beit Shemesh. The views are those of the author, not the institution.
Over 4,000 subscribers
The Maggid Speaks... To The Zoo Rabbi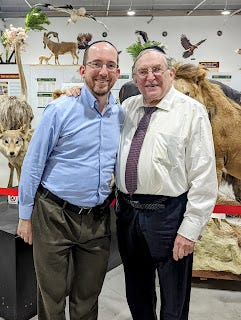 I heard that Rabbi Paysach Krohn, of the famous "Maggid Speaks" series, was on a tour at the museum. So I decided to leave my office (where I usually take refuge, especially during Chol HaMoed!) and I went over to say hello. He said that he has long wanted to meet me, ever since the ban - he had some choice words to describe those who banned my books, which I will not repeat here. Then he said how fortunate it was that I happened to be visiting the museum on the same day as him. He had no idea that I had any connection to the place! It's interesting that there are still people who only know of me in one context.
On a very different note: Ordinarily, I would say that something like the Lebanon Maritime Agreement should be brought by the government to the Knesset for a vote. However, ordinarily, the members of Knesset would be voting according to what they believe to be in the country's best interests. In this case, however, the opposition already explicitly declared last year that they will automatically vote against anything and everything that the government wants to do, even if by doing so they are harming the country. And they've actually done this, several times. Accordingly, there is no purpose in enabling them to vote on it.