Discover more from Rationalist Judaism
Exploring the legacy of the rationalist Rishonim (medieval sages), and various other notes, by Rabbi Dr. Natan Slifkin, director of The Biblical Museum of Natural History in Beit Shemesh. The views are those of the author, not the institution.
Over 4,000 subscribers
The Locust Mistake, and the Locust-o-Matic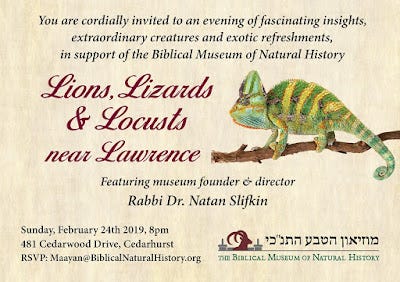 We have a new machine at the Biblical Museum of Natural History: a Locust-o-Matic (TM). We acquired it to prepare our locusts for some special museum events taking place - a parlor meeting next Sunday in the Five Towns, and the Feast of Exotic Curiosities the following Sunday in Beverly Hills. In advance of these events, I want to clarify something about the kashrut of locusts.

In any disagreement, it's not adequate to know that your disputants are wrong. You have to know exactly where they are going wrong, and why they are making this mistake. I've finally managed to do this with the topic of eating locusts.

I came across an old article on the OU website explaining the policy with regard to accepting a mesorah for a new species. Bear in mind that the OU is not a halachic decisor for individuals of a particular community - rather, they are a kashrus organization servicing many different communities. Accordingly, any policies that they adopt have to be compatible with a broad variety of different communities.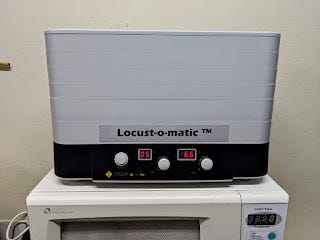 Now, what do you do if one community has a mesorah for a particular species, but other communities do not have such a mesorah? On the OU website, at https://oukosher.org/blog/consumer-kosher/ou-position-on-certifying-specific-animals-and-birds/, it says as follows:

"Regarding cases where some communities have a clear mesorah permitting other animals, and other communities avoided it, the OU will not give certification... This is not because the OU relies only on an Ashkenazic mesorah, but because OU certification means that the item may be eaten by everyone according to halacha. If the animal was avoided in certain communities, that may indicate that those communities had a mesorah that it was not kosher... However, if a particular animal did not exist in a particular community, the fact that the community has no mesorah to eat it is not considered evidence that it has a mesorah not to eat it.... if certain species of bird did not exist at all in Germany, for example, and existed only in Iraq, testimony from an authoritative source from Iraq that that specific bird was shechted and eaten in Iraq would suffice to permit the bird." 

This is all perfectly logical and reasonable. In fact, it reflects an awareness of biogeography that was entirely lacking for most of history until about two centuries ago, and is still lacking by many people today. Until the thorough studies of the Americas and especially Australia, people just didn't realize that different parts of the world have very different animals. This is the foundational principle of biblical natural history, and the explanation as to why Rashi identified the animals of the Torah very differently from Rav Saadiah Gaon. As the OU points out, if a particular community had no mesorah to eat a certain creature, it doesn't mean that they had anything against it - they may have simply never encountered it! Guineafowl, for example, are African birds. It is of no significance to find that many communities in Europe had no mesorah that guineafowl are kosher - they had never encountered them.

But then take a look at how the OU applies this policy to locusts: 

"In the case of grasshoppers, it is clear from Rashi that many species of grasshoppers existed in Europe in his time and were known by the Jews, but the Ashkenaz communities did not eat any of them. This is considered a mesorah that they are not eaten, and so the OU would not certify them, even though Teimanim have a mesorah and can rely on their mesorah."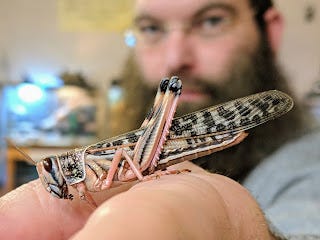 This is incorrect. Yes, Rashi was familiar with many species of grasshoppers, but not with locusts. Certain types of grasshoppers form destructive swarms, under specific conditions - these are the ones known as locusts. In the order Orthoptera, which contains grasshoppers (including locusts) and crickets, there are over twenty thousand species. But less than twenty of these are locusts. And all of the locust species are only found in tropical or desert climates. Schistocerca gregaria, the desert locust, for which there is a mesorah among many Jewish communities from Yemen and North Africa, never appears in France or central Europe. (Locusta migratoria, the migratory locust, for which there is a more limited mesorah, rarely appears in the south of France and never in the north.)

So there is no Ashkenaz mesorah not to eat kosher locusts. They just didn't have them, the same as in the OU's example of the bird that only lives in Iraq and not Germany.

(I've been in touch with the OU to follow up on this, but as I pointed out to them, I am not claiming that there are no other reasons for the OU not to certify locusts. There are very good reasons for them not to certify locusts. It would be a disastrous decision that would ruin their business and all the good work that they do.)

The interesting point that differentiates locusts from, say, guineafowl, is that while nobody ever had a reason to believe that European communities were necessarily familiar with guineafowl, people did have a reason to believe that they were familiar with locusts. After all, Rashi and other European authorities seemed to discuss them. Thus, the position of these authorities that locusts were not eaten was therefore significant. What people didn't (and don't) realize is that while every locust is a grasshopper, not every grasshopper is a locust. Rashi and other European authorities may have thought that the kosher species were living around them, mixed in with the non-kosher types, but they weren't.

In Ashkenaz, there was never a tradition to eat locusts. They just didn't have any. Accepting the tradition from those who did have them is no different to accepting a tradition for guineafowl, quail, sparrow, pheasant, or anything else. Bon appetit!