Discover more from Rationalist Judaism
Exploring the legacy of the rationalist Rishonim (medieval sages), and various other notes, by Rabbi Dr. Natan Slifkin, director of The Biblical Museum of Natural History in Beit Shemesh. The views are those of the author, not the institution.
Over 4,000 subscribers
The Lakewood Suicide Squad
Who would engage in actions that could lead to the deaths of their own children, and the deaths of many other people in their very own community? The following astonishing email arrived in my inbox a few days ago:

Dear Friends,
B'siyata D'shmaya we have formed The Vaccine Coalition, a Coalition of Non-Vaccinating Parents in Lakewood, New Jersey.This coalition was founded by R' Malkiel Kotler shlit"a, R' Shmuel Meir Katz shlit"a and R' Refael Szmerla shlit"a, and it aims to address the current pressing issue of schools rejecting or dismissing non-vaccinated children. It will also be available to help non-vaccinating parents in Lakewood in any area we feel we can, as well as to provide support of 'strength in numbers' to pro-vaccine choice Lakewood families.This coalition depends on a collective voice and will not be launched until we reach a minimum of 250 families. If you live in Lakewood and have made a decision not to vaccinate your children, we encourage you to please take a few moments to sign up to join the coalition, for your benefit, and for the benefit of all other Lakewood families like yourselves.By joining the coalition you agree to have your name and personal information added to our private database. Your information will never be released to a third party without your permission. If the coalition should find it absolutely necessary to release your name in the course of assisting it's members you may receive an email requesting your permission.  Any such instance will be authorized by the Rosh Hayeshiva R' Malkiel Kotler shlit"a beforehand. The success of this endeavor is contingent on enlisting as many non-vaccinating families as possible. Please take the time to reach out to your friends and family who don't vaccinate and encourage them to join.To join, please visit www.vaccinecoalition.org. Alternatively you can join by emailing vaccinecoalition@gmail.com or call/ text 732-806-7739
At the website, we find a familiar name added to the list of rabbinic endorsements:

The Vaccine Choice Coalition is endorsed and backed by HaRav Malkiel Kotler shlit"a, HaRav Elya Ber Wachtfogel shlit"a and HaRav Shmuel Meir Katz shlit"a. If you have any questions or concerns please don't hesitate to contact us at 732-806-7739 or vaccinecoalition@gmail.com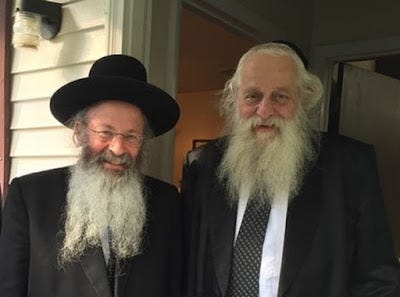 Pictured: Rav Malkiel Kotler and Rav Elya Ber Wachtfogel.
Not pictured: The corpses of children who died from measles.

Rav Elya Ber Wachtfogel of South Fallsberg was, of course, one of the driving forces behind the ban on my books (along with a number of criminals), and Rav Malkiel Kotler was one of the signatories. Curiously absent from this list, although also known to be a strong opponent of vaccination, is Rav Shmuel Kamenetzky (see my post Frum Ways to Die; ironically, he originally endorsed my books and stood by his endorsement against tremendous pressure).

Now, it's important to understand that the Vaccine Coalition certainly do not (yet) represent the normative charedi approach to vaccination. The vast majority of people in the charedi community vaccinate their children. The vast majority of charedi rabbanim believe that it is important to vaccinate. The charedi world in general usually has enormous respect for physicians. And charedi websites such as Matzav.com and YeshivaWorld.com have issued blistering condemnations of the [Anti-] Vaccine Coaltion.

Nevertheless, it is undeniably the case that this is a charedi phenomenon. Lower incidences of vaccinations have been reported in British charedi communities as well as in the US. You'd never find such a thing happening in Dati-Leumi or Modern Orthodox communities. It is occurring because of particular aspects of charedi society. If you don't believe me, just take a look at the comments section of the aforementioned articles at Matzav and YeshivaWorld. And although most charedi leaders would be against the Anti-Vaccine Coalition, they all share a certain degree of responsibility for it.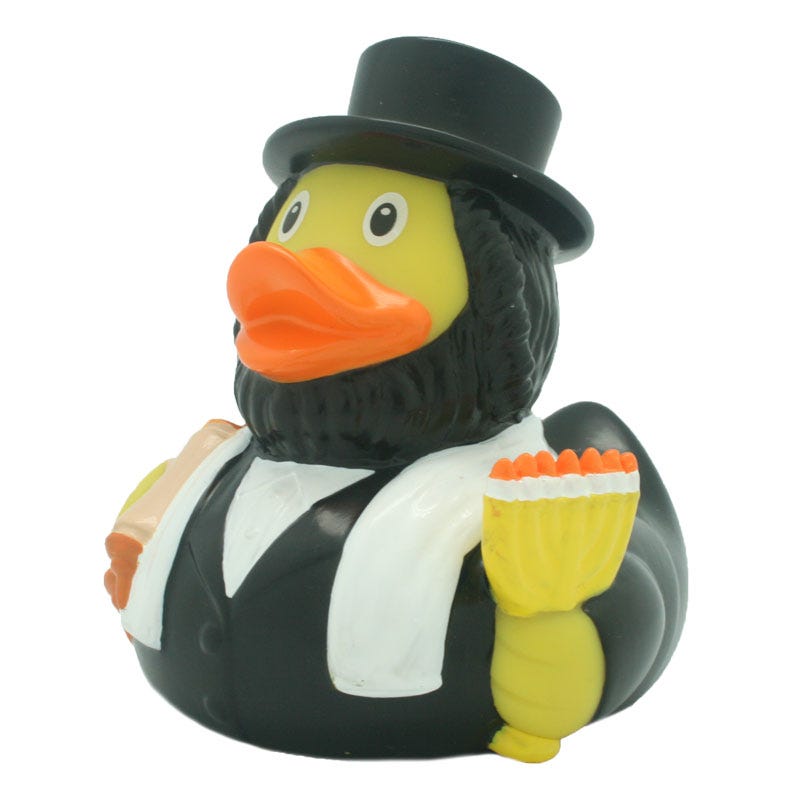 One of the leaders of the Anti-Vaccine Coalition is Rabbi Refael Szmerla. You might recognize that name - he is the author of Alternative Medicine in Halacha, a book that I critiqued in my post When Rabbis Quack. That book is an all-out endorsement of all kinds of quackery and an attempt to discredit Western medicine as being theologically problematic. In my critique, I argued that taking such an approach is likely to lead to opposing vaccinating children, and lo and behold, I was correct. So all the rabbanim who endorsed that book likewise share the responsibility of people not vaccinating their children.

But that book itself did not emerge in a vacuum. It was a predictable consequence of how charedi society broadly adopts an anti-rationalist, anti-scientific approach to the world. There's the near-universal position among charedi Gedolim that it is heretical to talk about the world being billions of years old. There's the anti-scientific emunah books endorsed by Rav Aharon Feldman and Rav Shlomo Miller which present pseudoscientific rebuttals of mainstream science. There's scientific ignoramuses such as Jonathan Rosenblum and Avi Shafran writing allegedly sophisticated critiques of evolution and global warming. All this feeds the idea that any non-expert can shlug up things that have overwhelming support and consensus in the scientific community. No doubt many of these charedi rabbanim and writers are horrified at the anti-vaccination group, but they contributed to its development. You reap what you sow.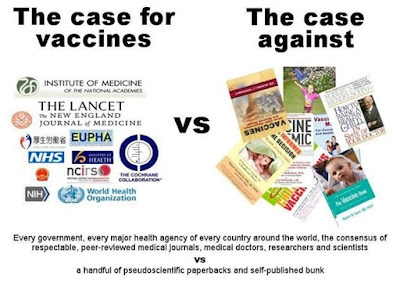 The anti-vaccination movement is also the result of the charedi anti-establishment position in general. The goyim are out to hurt us with their lies! They claim that metziza b'peh is dangerous, but we know that it's not! They claim that Shalom Rubashkin committed crimes, but we know that he is a tzaddik gamur and a public hero! Etc., etc. Vaccination becomes just one more example of the government anti-Jewish conspiracy.

Another factor that might contribute is the charedi downplaying of hishtadlus. This is reflected in people claiming the vaccinations, which are not what Jews traditionally did, compromise emunah and bitachon.

Then there's the additional problem that once some charedi Gedolim put their names to something, others are terrified to criticize them for it. So whoever gets in first is able to exert disproportionate influence. Szmerla published his book with prestigious endorsements, and Mishpacha magazine wrote a largely enthusiastic feature article on it. True, they later printed a "Clarification" which was largely a retraction, but the clarification was much less explicit and prominent than the original article, and the damage was done. And once Rav Elya Ber Watchfogel declares that people have good reason not to vaccinate their children, who is going to openly declare him to be badly wrong? Even the critiques at YeshivaWorld and Matzav dare not mention his name. Because, as we saw with Rav Shmuel Auerbach, almost nobody ever dares publicly say that a Charedi Gadol is wrong. That would undermine charedi hashkafah, and it's also socially unthinkable in a society where everybody is always looking nervously over their right shoulder.

On many occasions, I have written that I don't think that it really matters if charedim are anti-evolution or if they believe that Chazal were scientifically infallible. I am actually very sympathetic to their wanting to adopt the anti-rationalist approach. But this is one potentially lethal effect of that worldview.