The Kosher Octopus
Well, this was a miscalculation.
Last week, the Biblical Museum of Natural History hosted a "Feast of Legends from the Sea" in Beverly Hills. This is one of our three different banquets in which we serve foods that are kosher but highly unusual from either a halachic or culinary perspective. The full photo gallery and article is yet to come, but in the meanwhile, I posted the following photo on Facebook, with the comment that he was so charming that it seemed almost a crime to eat him: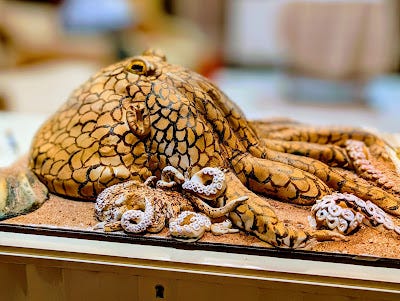 To my mind, it was perfectly obvious that we did not actually serve octopus at the event. But much to my surprise, several people - all educated religious Jews - expressed their surprise that there is such thing as a kosher octopus!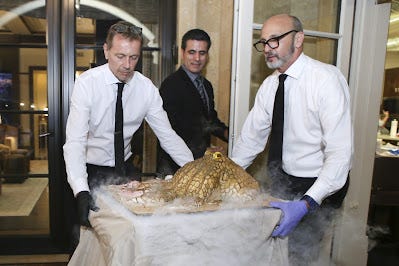 I suppose the mistake is ultimately mine. Considering that we serve many foods that people do not expect to be kosher, such as sparrows and piranhas and locusts, it's to be expected that some people expect to be surprised to learn that various creatures are actually kosher. (And it's not such an outrageous mistake - in fact there really is a species of squid, the Grimaldi squid, which has scales and sort-of fins and is arguably kosher!)
In general, while there is a halachic concept of maris ayin - that a permissible act can be forbidden if it gives the appearance of doing a forbidden act - this does not apply where there is no concern that onlookers will err. For example, cooking meat with margarine does not create any problem of maris ayin, since everyone knows that there is such a thing as margarine and that it is not butter. The same is true for pareve coffee creamer and Pesach "bagels." 
I had assumed that this would also be true for these museum special dinners. We often think that maris ayin is about not doing something which make people think that we are sinning, and clearly nobody thinks that we are serving food that is not kosher. But it is also (and in fact primarily) about not misleading people into thinking that something forbidden is permissible. I had thought that nobody would think that octopus is kosher, but this was evidently a mistake.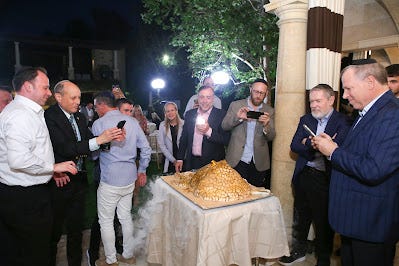 So, let me state for the record that which was made very clear to everybody at the event - octopus is NOT KOSHER. As for the octopus that we presented, which took a lot of planning and craftsmanship, you should be able to figure out the truth about him. (Incidentally, we all found it impossible to refer to him as an "it," and he was affectionately named Timothy.) The clue is that we served him for dessert. I must confess, although it was incredible to watch him be wheeled out amidst swirling smoke and thundering music, I found the sight of Timothy being cut up to be extremely disturbing!
Photos by Jonah Light photography.