Discover more from Rationalist Judaism
Exploring the legacy of the rationalist Rishonim (medieval sages), and various other notes, by Rabbi Dr. Natan Slifkin, director of The Biblical Museum of Natural History in Beit Shemesh. The views are those of the author, not the institution.
Over 4,000 subscribers
The King's Speech
For many years, I was a greatly enthusiastic fan of Bibi Netanyahu, known to his adoring fans as "King Bibi". His book, A Place Among The Nations, made a profound impact on me. As prime minister, he clearly accomplished great things for Israel, especially the international highlighting of Iran as a serious threat and the steps taken to combat it.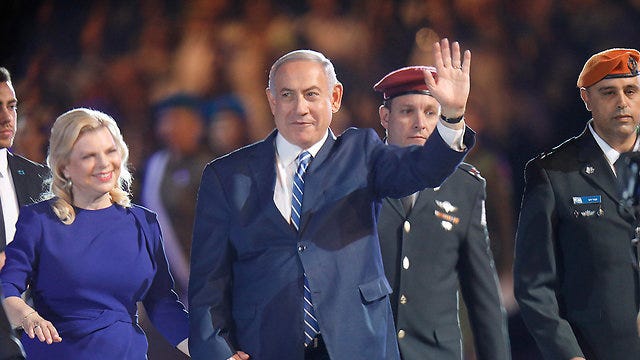 My opinion of Bibi changed dramatically in April 2018, as a result of a certain incident on Independence Day. It wasn't an enormous incident, on the scale of things. But it was immensely revealing.
Independence Day in Israel is marked by a ceremony with the lighting of torches at Mount Herzl. In order to make this an event for the entire nation, it is traditionally kept free of politics. The Speaker of the Knesset presides over the event, and even the president does not speak, and of course not the prime minister.
But in 2018, the Minister of Culture overseeing the event was Miri Regev, a Bibi groupie. And she was determined that King Bibi would speak. The Speaker of the Knesset, Yuli Edelstein, was furious at the politicization of the event, and threatened to boycott it. 
Eventually, a compromise was reached. Netanyahu would be allowed to light a torch, and would deliver a short speech of no more than five minutes in length (compared to the Speaker's eight minutes). And the speech would be limited in scope to discussing the Declaration of Independence rather than any political campaigning. A formal signed commitment from the Office of the Prime Minister was made to this effect.
The day came. The Speaker of the Knesset spoke for eight minutes. And then King Bibi arrived, with an honor guard arranged by Regev. And instead of speaking about the Declaration of Independence, he spoke about the state of the country under his leadership. And instead of speaking for five minutes, he spoke for fourteen minutes.

It was utterly revolting. It's not just that Bibi acted with a complete lack of integrity. It's that he did it so blatantly - that even a signed commitment meant absolutely nothing at all. And it wasn't for any reason other than self-aggrandizement. The country's traditions, the importance of national unity on Independence Day, the commitment to the Speaker, all meant nothing; the only thing that mattered to Bibi was Bibi.
Since then, it became increasingly clear that this was his standard modus operandi, with potentially serious implications for national security. When defense minister Moshe Yaalon asked President Rivlin to ask Chancellor Merkel why Germany had sold submarines to Egypt, Rivlin was astonished to be told by Merkel that Bibi had approved it - and realized that he done so without consulting anyone on such a grave matter. Bibi originally denied having secretly approved the sale; he subsequently admitted to it, but claimed that he had obtained approval from the Attorney General - which the Attorney General immediately flatly denied. 
Another example was brought to light yesterday. Former Mossad chief Ephraim Halevy stated that Bibi had "harmed the spy agency's ability to operate under cover due to his desire to publicly take credit for operations for his own political gain." He added that he hopes that "the expected new prime minister and government would return to keeping the Mossad in the shadows to help maximize its effectiveness and not use it for self-aggrandizement."
As a wise man once proposed, it's good to have term limits for a prime minister. Bibi achieved many great things, but eventually he proved the maxim that power corrupts. It is a tragic end to his illustrious career. Let's hope that future prime ministers will learn from his mistakes and remember to place the national interest ahead of their personal interests.