Discover more from Rationalist Judaism
Exploring the legacy of the rationalist Rishonim (medieval sages), and various other notes, by Rabbi Dr. Natan Slifkin, director of The Biblical Museum of Natural History in Beit Shemesh. The views are those of the author, not the institution.
Over 4,000 subscribers
The Indicator
How can you tell if your political views are all well-founded, or if you are subject to hyper-partisanship, enormous Confirmation Bias, and tribalism? Well, if you're Jewish, a new test just arrived!
The following meme is being shared by a number of people in the Jewish community: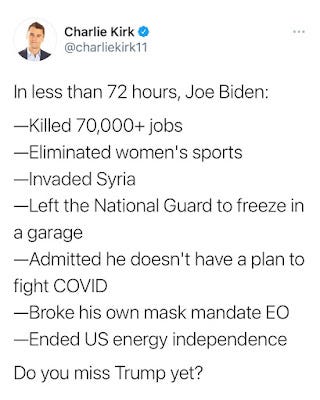 Now, these things might be quibbled by Democrats, but can certainly be pointed to by Jewish Republicans as good reasons to be opposed to Biden and yearn for the days of Trump. But there's one item in this list that most certainly does not belong. Did you notice it?
It's the third item, invading Syria. This is something that Jews are against?! While Trump did many things that are good for Israel (at least from a right-wing perspective) - defending Israel at the UN, moving the embassy and thereby exposing the sham that it would "blow up the Middle East," taking action against Iran, encouraging the Abraham Accords - one significant action that was absolutely terrible for Israel was Trump's withdrawal from Syria. It weakened Israel along with its allies, and massively strengthened its enemies. If Biden were to be reversing this decision by Trump, it would be something to tremendously welcome!

As it happens, unfortunately it does not appear to be true that Biden "invaded Syria." All that occurred was that a large US military convoy entered to provide some support for the Kurds, which routinely happens. Unfortunately, we probably cannot expect Biden to reverse this terribly harmful act by Trump - he is unlikely to pursue policies in the Middle East that are beneficial for Israel.
So, for anyone who values Israel's security, appreciating this meme (and sharing it without any disclaimer) just shows that they are so consumed by their tribalist, hyper-partisan love of Trump and hatred of Biden, that they can't even recognize when Trump did something bad for their own side and won't acknowledge even good things that Biden does. It should serve as a wake-up call. Will it?
UPDATE: Judging from the initial comments on the post, the answer is no! All that happens is that they make a 180 degree turn from the position that they took during the Obama years, when they protested that Obama was not invading Syria quickly enough, and they are now either happy to say that the entirety of Israel's defense establishment was wrong in being upset about Trump's withdrawal, or that they no longer desire America to send troops to do things in Israel's interests. The most important thing is to never, ever acknowledge any shortcoming with Trump or praise Biden for anything at all. Surprise!

See too this post: Know Your Brain
Coming soon: A very special announcement! If you'd like to subscribe to this blog via email, use the form on the right of the page, or send me an email and I will add you.