Discover more from Rationalist Judaism
Exploring the legacy of the rationalist Rishonim (medieval sages), and various other notes, by Rabbi Dr. Natan Slifkin, director of The Biblical Museum of Natural History in Beit Shemesh. The views are those of the author, not the institution.
Over 4,000 subscribers
The Ignoring and Ignorance of Tisha B'Av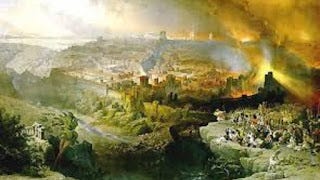 It's surprising to see how Tisha B'Av is ignored by secular Jews, and the ignorance of it among certain fervently religious Jews.
Secular Jews have no interest in Tisha B'Av, which they see as a part of religious Judaism. But they are very passionate about remembering the Nazi Holocaust, and there is a motto of "Never Forget." Surely, by the same token, they should care about preserving the memory of the original Holocaust, the loss of the original State of Am Yisrael.

Meanwhile, at the other end of the spectrum, there are some religious Jews who are convinced that they know all about what Tisha B'Av is all about. In the comments to last week's guest post about finding meaning on Tisha B'Av, someone called Dovid posted the following comment:

So sad. Some people are just missing what life is all about. And in this case, what tisha b'av is all about. What does this author think this day is in fact about? It's supposed to be about feeling like we're missing our basic personal connection with the בורא עולם. The fact that missing this connection doesn't make us sad is even more sad. This article is the writing of a person who has no connection to what Yiddishkeit is supposed to be about... Before the בית המקדש was destroyed there was נבואה. We were so close to הקב"ה that there were those that could talk to Him. Davening, which is supposed to be a conversation with השם, was done properly before the destruction, but with the destruction we have a טענת שיכור. We are missing in our connection, and very much yes, that is why we are sad.
This is a very nice frum sentiment, but it's not actually what Tisha B'Av is all about or even mostly about or even significantly about. The writer speaks about the loss of nevuah, but Yirmiyah was a navi, and he made it very clear in Megillas Eicha what Tisha B'Av is about. Eicha does not talk about the loss of nevuah. It's about the destruction of Jerusalem - including the destruction of the Beis HaMikdash, the loss of Jewish sovereignty, the consequent loss of national pride (which is mentioned several times), the starvation and exile, the rape and persecution, and the terrible loss of life. Likewise, Tisha B'Av commemorates similar national tragedies over the course of our history.

Now, there is also the cause of all this destruction, attributed to various sins, and there is the hope that nashuva. But even that is not about mourning the loss of spiritual connection - it's regretting sins that were committed, which is something very different. And you can also mourn the resultant loss of spiritual connection as a result of the events of Tisha B'Av. But Tisha B'Av itself is not primarily about that.
Does it matter? Yes, I think it does. Spirituality is very important, but we live in a time when many religious Jews rate personal spiritual growth too highly, at the expense of basic national priorities. And there is a sentiment that concern about national issues is somehow not very frum. It's important for people to read Eicha and think about about what it's actually saying.