Discover more from Rationalist Judaism
Exploring the legacy of the rationalist Rishonim (medieval sages), and various other notes, by Rabbi Dr. Natan Slifkin, director of The Biblical Museum of Natural History in Beit Shemesh. The views are those of the author, not the institution.
Over 4,000 subscribers
The Great Dinosaur Mistake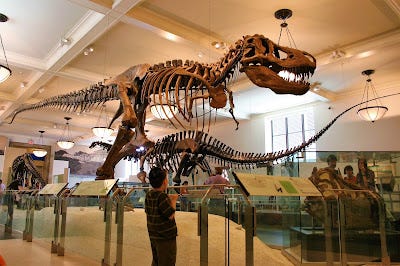 There's a common mistake that religious Jews make about dinosaurs. I'm not talking about whether they did or did not live millions of years ago. I'm talking about a mistake made regarding people who do accept that fact.

When considering the rationalist/non-rationalist divide, there are two types of people. (It's actually a spectrum, but we can broadly talk about the two poles.)

One type of person, the rationalist, follows Rambam's principles that one should accept the truth from wherever it comes, and that we should never cast aside reason and follow views simply because they are traditional, because "our eyes are set in front, never in back." (Note: this is referring to beliefs, not halachic practice, which have independent reasons for allegiance.) Accordingly, such a person accepts that science has satisfactorily proved various things, and is ready to adopt a non-traditional interpretation of Torah in order to reconcile it. If such a person is confronted with something that appears scientifically proven but does not appear possible to reconcile with Torah, then he will honestly admit that he does not have a solution that is compatible with the two.

The second type of person, the non-Maimonidean rationalist, attributes veracity to claims largely based on the religious authority of the one who utters them. They have little regard for the scientific enterprise, if it presents something uncomfortable. And if confronted with something that is claimed to be scientifically proven but does not appear reconcilable with their understanding of Torah, they will insist that the scientific claim is wrong (and they will sometimes turn aggressive against the person issuing that claim, decrying them as a heretic, non-Orthodox, etc.)

Now, it is popularly believed that people who accept that dinosaurs existed millions of years ago fall into the first category.

This is a mistake.

They might fall into the first category. And it is true that everyone in the first category does accept that dinosaurs lived millions of years ago. But it is not true that everyone who accepts that dinosaurs existed millions of years ago falls into the first category.

For example, it is popularly assumed that because the general public of Modern Orthodox Jews accepts that there was an age of dinosaurs, this means that they are ipso facto more rationalist than charedim. But this is not necessarily the case at all. It's just that in that world, the existence of an age of dinosaurs is a given, both scientifically and religiously. It's not considered to be significantly controversial from either a scientific or religious standpoint. It is true that the rationalist viewpoint is vastly more acceptable in Centrist/Modern Orthodoxy than in Charedi Orthodoxy, but any given Centrist/Modern Orthodox person's belief in an age of dinosaurs does not tell you much about whether he is a rationalist.

Likewise, it is often assumed that if a rabbi accepts that the universe is millions of years old, then he is a rationalist, following in the footsteps of Rambam. Not at all! It could well be that he was simply educated in an environment in which the antiquity of the universe was acknowledged to have been endorsed by figures such as Rav Yisrael Lipshitz, Rav Dovid Tzvi Hoffman and Rav Aryeh Kaplan (admittedly based on a misunderstanding of R. Yitzchak of Acco). But when confronted with a different or new challenge, such as evolution, or evidence that Chazal's understanding of zoology or physiology was deficient, this person might be entirely non-rationalist - rejecting that which is scientifically well established, creating unreasonable readings of Chazal, and even aggressively delegitimizing those who adopt a rationalist approach.

One of the most valuable effects of the controversial controversy over my books was that many people suddenly became aware that those people that they had thought were their religious leaders were not actually operating with the same epistemology, and they looked for more suitable religious leaders instead. But when looking for religious guidance, one must be careful; belief that dinosaurs once roamed the earth is a necessary, but not sufficient, condition.