The Disaster That Wasn't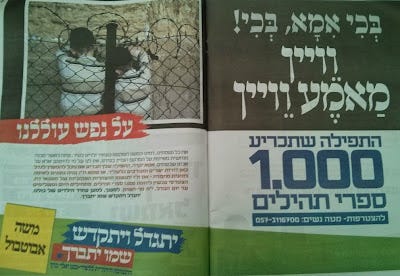 In the last municipal elections in Beit Shemesh, the charedi political movement warned that if the non-charedi candidate was elected, it would be The End Of Torah. There would be buses on Shabbos, treife food being sold in stores, yeshivos would be closed, secularism would run rampant, chassidic children would be in prison camps (see the advertisement on the right)! It could even lead to mixed dancing.
Of course, after Dr. Aliza Bloch was elected, no such thing happened. Religious life in Beit Shemesh - including charedi religious life - is flourishing just as strongly as ever, and probably even more so, especially now that there is a non-corrupt administration. (One of the deputy mayors in the previous, charedi coalition flat-out asked me to bribe him and the mayor.)
Today's news about the opposition's success in collapsing the government reminded me of this terrible religious tragedy in Beit Shemesh that failed to happen. Because the same thing happened (or rather, failed to happen) at a national level. The Bibi-Likud-Smotrich-UTJ camp all cried that the Bennett-Lapid coalition were Evil Leftists who would destroy the country. They screamed about how the government was such a terrible danger that they must be stopped by any and all means, even including previously unthinkable things such as working to protect rapists and to harm the residents of Judea and Samaria. The ends were so crucial that they justified any means.
But what terrible things actually happened as a result of the Bennett-Lapid government? None at all. The fight against enemy states and terrorism continued just as before, in some cases even more decisively so. The economy had its improvements and problems just as before and in line with the rest of the world. None of the terrible (from a right-wing perspective) withdrawals and prisoner releases that happened under previous Likud governments happened under this government. And on the undeniably positive side, there was actually a functioning government and a budget was finally passed, for the first time in years.
What about the allegedly terrible thing of having an Arab party, Ra'am, in the government? Well, this was hardly an innovation - it used to happen regularly. And again, nothing bad actually happened as a result. In fact, considering that neither right-wing nor left-wing politics has any kind of realistic solution for Judea and Samaria, the cooperation of Ra'am provided some much-needed good news that there is hope for long-term change. 
Actually, the only novel and serious harm that happened over the last year was caused by Bibi, the Likud, Smotrich, and UTJ. For the first time in Israel, it became acceptable to deliberately and systemically and explicitly cause harm to the country for the sake of political power.
Well, they got what they wanted. Israel is heading for elections again. And perhaps Bibi will return to power, followed by his adoring groupies who do not know or care that they are compromising the country's interests for the sake of one man's ego and lust for power. Or perhaps we'll be in another endless, expensive, paralyzing cycle of elections. And all for the crucial, all-important need of avoiding the disaster that wasn't.
If you'd like to subscribe to this blog via email, use the form on the right of the page, or send me an email and I will add you.